On Sept. 7, 2013, a group of 31 competitors approached the firing line at Reade Range in Allemans, PA, to fire in the first Pennsylvania State Championship for M1 Garand, 1903 Springfield and Vintage Military Rifles.
Match director Gib Moyer did a great job of working out all of the details of the first-time endeavor, as Jeff Gutshall assisted with pit duties and photography. Randy Ent coordinated the cookout and door prizes that followed the match.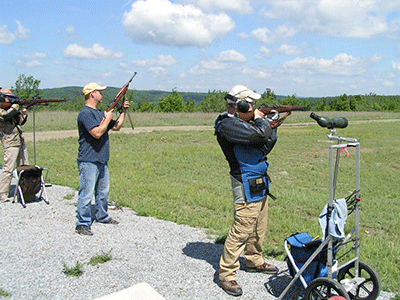 A group of 31 competitors fired at Reade Range in Allamns, PA, during the first Pennsylvania State Championship. Competitors used M1 Garands, 1903 Springfields and Vintage Military Rifles.
The championship adhered to Civilian Marksmanship Program rules and was sanctioned by the PA Rifle and Pistol Association. The 30 Shot match was fired from 200 yards, consisting of 10 shots at slow fire prone with 5 sighting shots, 10 rapid fire prone from standing in a time period of 80 seconds and 10 shots slow fire standing during a period of 10 minutes.
Competitors were broken off into four relays – Relays 1 and 2 fired all three rifles before swapping pit duties with the remaining relays 3 and 4. The match took a total of nine hours to complete, proving to be a true test of competitive ability.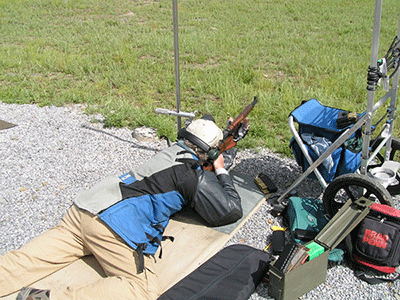 Competitors followed CMP Rules during the match and fired from prone and standing positions.
Reade Range consists of 25 firing points, with target pits. Shooting berms are set at 200, 300, 600, mid-range and 1,000 yard shooting benches.
Competitors traveled from all areas of Pennsylvania, with some visiting shooters traveling from as far as Maryland and New York. Though shooters from surrounding states participated, only a Pennsylvania resident could win the state championship and/or three-gun aggregate competition. Those residing outside of Pennsylvania were classified as Open competitors.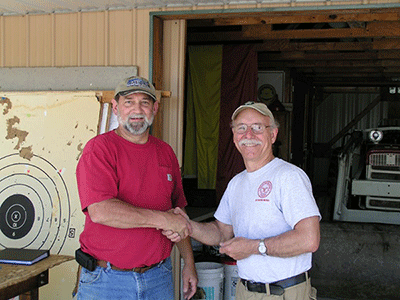 Tom Hemphill, the state three-gun aggregate champion, is congratulated by Jeff Gutshall.
Winners:
Resident Three-Gun Aggregate:
Tom Hemphill, Clarksburg, PA – 843-13x
Open Three-Gun Aggregate:
Richard Bodine, Frederick, MD – 848-18x
M1 State and Open Champion:
Randy Ent, Russell, PA – 286-5x
1903 Springfield State Champion:
Mike Grubbs, Sheffield, PA – 282-6x
1903 Springfield Open Champion:
Richard Bodine, Frederick, MD – 287-7x
Vintage Rifle State Champion:
Jim Madar, Eighty Four, PA – 282-6x
Vintage Rifle Open Champion:
Bob Pestridge, Marathon, NY – 287-4x
Top Five Competitors in Each Rifle Class:
Garand Match:
Randy Ent – 286-5x
Tom Hemphill – 283-4x
Jim Madar – 282-4x
Richard Bodine – 281-5x
Mike Rhodes – 279-4x
Springfield Match:
Richard Bodine – 287-7x
Mike Grubbs – 282-6x
John Shoup – 281-1x
Adam Jones – 280-3x
Tom Hemphill – 278-3x
Vintage Rifle:
Bob Pestridge, M96 Swede – 287-4x
Jim Madar, M96 Swede – 282-6x
Tom Hemphill, M1917 U.S. – 282-6x
Richard Bodine, M1917 U.S. – 280-6x
Chuck Augenstein, M96 Swede – 279-4x
Plans are already in motion for a 2014 State Championship. All are welcome to attend.