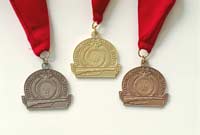 Silver, Gold (center) and Bronze Achievement Medals that are currently awarded to competitors in the National John C. Garand Match at Camp Perry.
One of the most popular goals for participants in CMP As-Issued Military Rifle Matches is to fire a score that earns a Gold, Silver or Bronze Achievement Medal or Pin. Competitors in the CMP Games Matches at the National Matches are awarded medals with neck ribbons when they fire scores that exceed Achievement Medal cut scores. Competitors in the Eastern and Western CMP Games Matches also are awarded medals with neck ribbons. Clubs that sponsor As-Issued Military Rifle or Rimfire Sporter Matches can award, Gold, Silver and Bronze Achievement Pins for scores fired in matches sanctioned by the CMP.

CMP Achievement Medal scores are designed to be achievable by all shooters who are willing to put reasonable effort into learning basic marksmanship skills and doing a little bit of extra practice. Cut scores are calculated on the basis of where the 40th percentile lies in scores fired at National and Region CMP Games Matches. Adjustments may be made to account for difficult weather conditions. After the 40th percentile score level is determined, the scores above that point are divided into first one-sixth, next two-sixths and next three-sixths divisions the same way that EIC match scores are divided into 10, 8 and 6 point legs to determine the gold, silver and bronze score levels.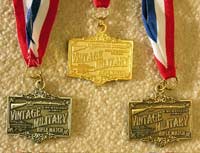 Silver, Gold and Bronze Achievement Medals that were awarded in the Western CMP Games Vintage Military Rifle Match that is now conducted each October at the Ben Avery Shooting Center north of Phoenix, Arizona.

Once the cut scores for the year are determined and posted in the CMP Competition Rules, those scores are used throughout the year to award Achievement Medals or Pins. For example, in the 2007 National John C. Garand Match where 1,374 shooters completed the match and turned in scorecards, 42 competitors fired scores of 279 or higher to win Gold Achievement Medals, 101 shooters fired scores from 272 to 278 to earn Silver Medals and 260 competitors fired scores between 261 and 271 to receive Bronze Medals.

The official Achievement Medal scores for the year will be posted in the new 2008 CMP Competition Rules or CMP Guide to Rimfire Sporter when those publications are released in the next few weeks. CMP Games events and applicable Achievement Medal rules are:
John C. Garand Match Rule 9.2.4

Springfield Rifle Match Rule 9.3.4

Vintage Military Rifle Match Rule 9.4.4

M1 Carbine Match Rule 9.5.4

Rimfire Sporter Rule 7.0 in Guide to RFS
The new Achievement Medal and Pin Cut Scores that will be in effect throughout 2008 are listed in the chart.

<! Nested Table for picture>
Award
2007
2008
2008 (50-shot)
John C. Garand Match
Garand Gold
279+
276+
463+
Garand Silver
272-278
269-275
452-462
Garand Bronze
261-271
257-268
432-451

Springfield Rifle Match

Springfield Gold
277+
278+
466+
Springfield Silver
268-276
270-277
454-465
Springfield Bronze
257-267
260-269
438-453
Vintage Military Rifle Match
Military Gold
275+
275+
461+
Military Silver
266-274
267-274
449-460
Military Bronze
250-265
252-266
425-448
M1 Carbine Match
Carbine Gold
352
352+
Carbine Silver
341-351
339-351
Carbine Bronze
325-340
323-338
Rimfire Sporter T-Class (scope)
RS Gold T-Class
578+
577+
RS Silver T-Class
566-577
564-576
RS Bronze T-Class
550-565
548-563
Rimfire Sporter O-Class (open sights)
RS Gold O-Class
557+
552+
RS Silver O-Class
541-556
542-551
RS Bronze O-Class
515-540
520-541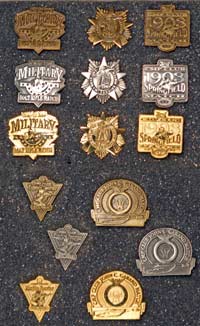 Gold (top), Silver (middle) and Bronze (bottom) Springfield, Garand, Vintage Military Rifle and Rimfire Sporter Achievement Pins that can be purchased by CMP affiliated clubs to award to competitors in their sanctioned CMP Games Matches.

In addition to showing the scores that will apply throughout 2008, 2007 scores are given to show how this year's scores have changed. Garand scores have gone down slightly while other scores have generally edged upward.

In response to requests from several clubs that conduct As-Issued Military Rifle Matches using the 50-shot John C. Garand Course B, 50 shot cut scores have been added so that they can be used to award Achievement Pins in those matches.

CMP affiliated clubs that are not yet using the Achievement Pins for their matches can obtain information on this program from the Instructions and Application to Conduct a CMP-Sanctioned March or Clinic that are posted on the CMP website at http://www.odcmp.com/Competitions/Sanction.htm. Clubs may order these pins at a cost of $1.00 each and keep an inventory of them so that when competitors in their matches fire cut scores, the pins can be presented immediately after the matches.

If you have questions or need additional information about sanctioning As-Issued Military Rifle or Rimfire Sporter Matches, please contact the CMP Competition Support staff at 419-635-2141, ext. 1101 or competitions@odcmp.com.

If you expect to be a competitor in any CMP-sanctioned As-Issued Military Rifle or Rimfire Sporter Matches in 2008, the current winter months are the time to get in a little extra dry-fire practice to boost your scores up to Achievement Medal levels in 2008.