In 2010, the CMP is sponsoring a series of matches in different parts of the country to introduce the new National Match Air Rifle (NMAR) shooting sports discipline. The first CMP NMAR Season Opener Match will be at the Lakeside Moose Family Center, Richmond, Virginia on 27-28 February. If you live in the Central Atlantic Coast area and are interested in trying NMAR, check out the program posted at http://www.odcmp.com/Competitions/NMAR/NMAR_Intro_Match_Program.pdf. Then go to the match registration site at http://clubs.odcmp.com/cgi-bin/matchInfo.cgi?matchID=5149 to sign up online. NMAR Rules and detailed match procedures are posted on the CMP website at http://odcmp.com/NMAR/Rules.pdf. <! Nested Table for picture>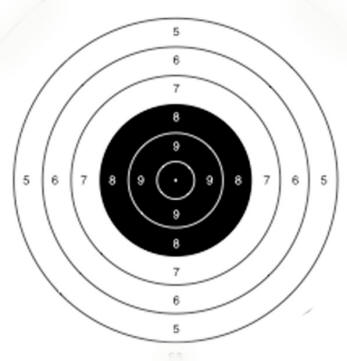 NMAR targets are exact reductions of 200 and 600 yard highpower rifle targets. The 10-meter reduced 200 yard target is shown here. Hits touching the center dot score Xs.
NMAR courses of fire and targets are inspired by highpower rifle competitions. NMAR offers the same tests of rifle position shooting skills, but at a fraction of the cost and with air gun shooting's advantage of being able to set up a range anywhere. NMAR competitors can shoot in one of three classes, the AR-Clone Class with rifles like the Creedmoor AiR-15 or Pilkington BF-17 that duplicate Service Rifles, the Sporter Class with low-cost rifles and equipment that everyone can afford or the Match Rifle Class with precision air rifles. <! Nested Table for picture>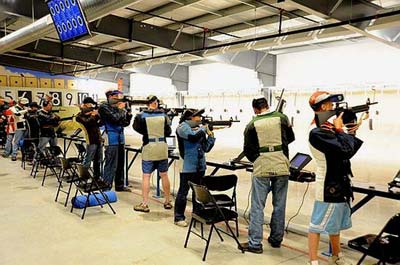 During the 2009 National Matches, 250 individual competitors made 350 entries in National Match Air Rifle events at the Camp Perry Marksmanship Center.
The Richmond, Virginia NMAR Season Opener will squad six relays of shooters, three on Saturday and three on Sunday, who will fire two different events, the NMAR 20-shot Standing Course and the NMAR 60-shot Full Course, that together make up a NMAR 80-Shot Aggregate. The Standing Course consists of two sighters and 20 shots for record fired in the standing position in 22 minutes on the AR-SR target (200 yard highpower target reduced for shooting at 10 meters). The Full Course consists of 20 shots standing, 20 shots sitting or kneeling and 20 shots prone. The sitting stage is a timed-fire event where shooters start in standing as in service rifle shooting, but they have four minutes (competitors with pneumatic rifles have five minutes) to get into position and load and fire ten shots. The extra time is allowed because air rifle shooters must cock and load each shot singly. The prone stage of the full course is like the standing stage, 2 sighters and 20 shots for record, except that this stage is fired on the AR-MR target (600 yard highpower target reduced for 10 meters). <! Nested Table for picture>

NMAR is new shooter friendly. Loaner Sporter Class air rifles with slings, like the Daisy M887 shown here, will be available at the match for new shooters to use. No other special equipment is required to be able to compete in the Sporter Class and there will be New Shooter awards.
Counting the time needed for check-in and a shooter briefing on this new discipline, a competitor in this match will need about four hours to complete the 80-shot aggregate. A 12-point range will be set up in the Lakeside Moose Family Center that the Turkey Creek 4-H Shooting Education Club uses as its home range. Entry spaces at Richmond are limited so early sign-up is important to ensure having a spot. Shooters can choose to fire in one of three relays on Saturday, 27 February, or in one of three relays on Sunday, 28 February. After you review the program, you can sign-up online at http://clubs.odcmp.com/cgi-bin/matchInfo.cgi?matchID=5149. <! Nested Table for picture>

One of the most exciting aspects of the NMAR discipline is the opportunity it gives Highpower Service Rifle shooters to shoot all year with AR-Clone rifles like the Creedmoor-Anschütz AiR-15. These rifles will be available as loaners at the match for shooters who want to shoot in the AR-Clone Class.
Shooters who have their own air rifles are encouraged to bring and shoot them. Shooters who don't have their own air rifles will be able to borrow them at the match. There will be several sporter air rifles for shooters to fire in the Sporter Class. There will also be Creedmoor-Anschütz AiR-15 rifles.

The NMAR Match in Richmond is one of what the CMP expects will be a series of 2010 matches that the CMP co-sponsors with shooting clubs that want to offer NMAR matches in their areas. Shooting clubs interested in sponsoring an NMAR Introductory Match should contact Lue Contreras of the CMP staff, 419-635-2141, ext. 1107, or lcontreras@odcmp.com. Clubs that wish to sponsor these matches should have sufficient space to accommodate 15-20 10 meter air rifle firing points. The CMP can provide loaner air rifles as well as air gun target backstops, if the host club does not have them. Match programs for these matches will be very similar to the NMAR Season Opener at Richmond, VA.