<! Nested Table for picture>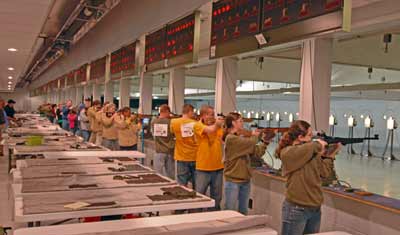 The 2008 Army, Air Force, Marine Corps and Navy JROTC Eastern Region Championships took place on U. S. Army Marksmanship Unit facilities at Fort Benning on 15-16 February.
There could be no better proof of how much junior rifle shooting is growing in the USA than to see the signs of growth on display at the 2008 Eastern Region JROTC Air Rifle Championship. The Championship was conducted by the CMP on U. S. Army Marksmanship Unit facilities at Fort Benning, Georgia on 15-16 February.

<! Nested Table for picture>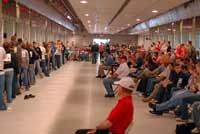 250 spectators squeezed into the Army Marksmanship Unit's Pool Range to see four simultaneous sporter class finals take place. The finalists are in standing position on the left. Spectators are seated on the right and at the far end of the range.
A key indication of junior shooting growth was the number of competitors in this competition. Shoulder-to-shoulder JROTC Region Championships, one for the eastern states and a second for the western states, began in 2004. Participation numbers have grown each year. This year a record 414 high-school-age JROTC Cadets and their Instructors attended the Fort Benning competitions.

The awards banquets that conclude these events have become a special organizational challenge because it is difficult to find facilities large enough to host them. On Saturday evening, over 500 Cadets, Instructors and parents attended the Eastern Region Awards Banquet that was held at the Wynnbrook Baptist Church in nearby Columbus, Georgia. The Cadets and Instructors wore military dress uniforms to this festive ceremony. LTC Frank Muggeo, Commander of the U. S. Army Marksmanship Unit, was the guest speaker.

<! Nested Table for picture>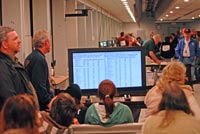 Championship spectators could watch constantly changing leader boards showing live results taken from the range's electronic targets. These results were also shown live on the CMP's Competitor Tracker website.
Another exciting sign of junior shooting growth was the presence of five Air Force JROTC units in a Region Championship. The Air Force approved marksmanship training for its JROTC programs for the first time in the fall of 2006. Since then 70 AFJROTC units were authorized to start air rifle marksmanship programs. Some of them have now reached the point where they can field competitive rifle teams. This competition became the first-ever AFJROTC Air Rifle Championship.

All competitors and unit teams must qualify for the JROTC Region Championships according to the scores they fired in the Army, Air Force, Marine Corps and Navy JROTC postals that were conducted in November and December. Only the top ten percent or so of the 5,974 cadets who fired in this school year's postal matches qualified to advance to the Region Championships. Cadets could qualify either as a member of a unit team or as an at-large individual.

<! Nested Table for picture>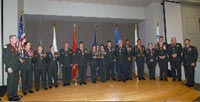 The closest team competition took place in the Army precision team event. Only eight points separated the top three teams. Blackman HS, TN, (center) was first with 2256. One point behind in second was Patch HS, Germany (left), with 2255. Wilcox County HS, GA (right) was third at 2248.
The Region Championships divide the country into two halves that have roughly the same numbers of JROTC units. The 2008 Eastern Region, which was attended by representatives of 99 JROTC units from 16 different states and the U. S. installations in Germany. The Western Region JROTC Championship will take place at the U. S. Olympic Shooting Center in Colorado Springs on 21-23 February. The Region Championship format actually involves four simultaneous competitions, with separate individual and team competitions in two classes, sporter and precision, for each of the four services. All competitors fired a 3x20 prone, standing and kneeling course of fire with scores counting for team and individual rankings. The top eight individuals in each service in sporter and precision classes advanced to individual finals fired on Saturday afternoon.

Four new National Records were set during the competition. Selina Clancy from Gloucester High School in Massachusetts raised her own Marine Corps JROTC record for sporter 20 shots prone from 195 to 197. Jimmie Cooper from Sarasota Military Academy in Florida tied the precision 20 shots standing Army JROTC record with a 192 and went on to break the Army JROTC record for the precision 3x20 + Final aggregate with a 678.8 total. Union Grove High School in McDonough, Georgia established a new Navy JROTC team record with a 2314 total that eclipsed the former record held by rival Henry County High School at 2307.

<! Nested Table for picture>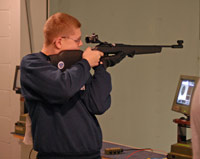 Johann Diedericks, Monroe Area HS AFJROTC, GA, won the first-ever Air Force JROTC Individual Region Championship.
The competitions included two defending National JROTC Champions, King George High School from Virginia and Henry County High School from Georgia. King George easily won the Navy sporter contest and posted the highest overall sporter team score with a 2170. Henry County placed second in the Navy JROTC precision team competition, but still qualified for the nationals where they are expected to continue their rivalry with Union Grove and Marine Corps JROTC powerhouses, East Coweta High School from Georgia and Shelby County High School from Kentucky. East Coweta won the MCJROTC team event at Fort Benning. All individual and team winners are listed at the end of this article.

<! Nested Table for picture>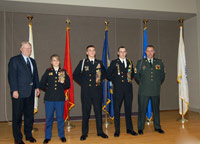 A special feature of the Saturday evening awards banquet was the presentation of badges to new Junior Distinguished Shooters. Double Distinguished Shooters Gary Anderson (l.) and SFC Mike Moore (r.) presented the badges. The honorees were April Dunn, East Coweta HS MCJROTC; Robbie Ferner, Central Crossing HS NJROTC and Christopher Thrasher, Stockbridge HS NJROTC.
Attendance at the instructional clinics offered during the Eastern Region Championship is yet one more indication of the health and growth of junior shooting. SFC Mike Moore, a Double Distinguished shooter (International and Rifle), who is the NCOIC of the Army International Rifle Team, conducted well-attended clinics on both Friday and Saturday. 275 cadets and JROTC instructors participated in the clinics. They are an important part of the JROTC Region Championships since many of the teams that qualify are new to higher level competitive shooting.

The top two teams and top three at-large individuals in both classes among Navy and Army competitors in this event will now advance to the National JROTC Championship to be held at Fort Benning on 27-29 March. The top Air Force team and top two at-large individuals qualify. Marine Corps JROTC qualifiers for the Nationals will not be determined until after this week's Western Region Championship. JROTC Nationals qualifiers are:

Army JROTC Teams: Sporter: Ripley HS, TN Sporter: Henderson County HS, KY Precision: Blackman HS, TN Precision: Patch American HS, APO, Germany

Army JROTC At-Large Individuals: Sporter: Eisar Baza, East Columbus HS, NC Sporter: Gunner Overgaard, E. Columbus HS Sporter: Billie Castle, Craigmont HS, TN Precision: Jimmie Cooper, Sarasota M. A., FL Precision: Jeremy Sinnott, Wilcox Co. HS, GA Precision: Andrea Vautrin, Chattahoochee Co HS, GA

<! Nested Table for picture>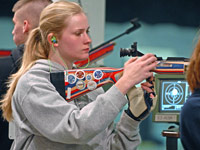 Nicole Heitmeyer, King George HS NJROTC, VA, had the highest overall sporter class score with a 556 and 92.4 final for a 648.4 total.
Navy JROTC Teams: Sporter: King George HS, VA Sporter: West Ashley HS, SC Precision: Union Grove HS, GA Precision: Henry County HS, GA

Army JROTC At-Large Individuals: Sporter: Anthony Freda, Wall HS, NJ Sporter: Katherine Keville, Cary HS, NC Sporter: Courtney Bates, Oviedo HS, FL Precision: Christopher Thrasher, Stockbridge HS, GA Precision: Scott Rojas-Velazquez, McEachern HS, GA Precision: Kyle Phillips, Luella HS, GA

Individual and Team Winners in the Eastern Region Championship are listed below. Complete results are posted on the CMP website at http://clubs.odcmp.com/cgi-bin/report_matchResult.cgi?matchID=2817. Photos taken during the competition and award ceremony are posted at: http://www.odcmp.com/Photos.htm.

Individual Sporter Winners: Air Force: Johann Diedericks, Monroe Area HS, GA; 504 + 88.0 = 592.0 Army: Matthew Berkley, Ripley HS, TN; 542 + 94.0 = 636.0 Marine Corps: Selina Clancy, Gloucester HS, MA; 554 + 83.4 = 637.4 Navy: Nicole Heitmeyer, King George HS, VA; 556 + 92.4 = 648.4

<! Nested Table for picture>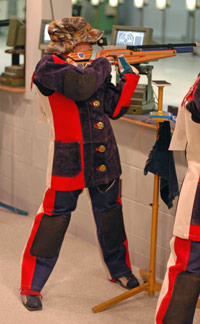 Courtney Duncan, East Coweta HS MCJROTC, GA, had the highest overall precision class score with 585 plus a 99.8 final for a 684.8 total.
Individual Precision Winners: Army: Jimmie Cooper, Sarasota Military Academy, FL; 578 + 100.8 = 678.8 Marine Corps: Courtney Duncan, East Coweta HS, GA; 585 + 99.8 = 684.8 Navy: Juli Yoder, Union Grove HS, GA; 582 + 100.5 = 682.5

Team Sporter Winners: Air Force: Bedford HS, MA 1858 Army: Ripley HS, TN 2074 Marine Corps: R-S Central HS, NC 2071 Navy: King George HS, VA 2170

Team Precision Winners: Army: Blackman HS, TN 2256 Marine Corps: East Coweta HS, GA 2304 Navy: Union Grove HS, GA 2314
| | |
| --- | --- |
| The closest individual final was in the Navy precision event where only six points separated all eight finalists. Juli Yoder, Union Grove HS, GA, 2nd from the left, was the winner. | Jimmie Cooper, Sarasota Military Academy, FL, set two Army JROTC National Records enroute to winning the Army Precision Individual Championship. |

<! Nested Table for picture> NEXT ARTICLE


<! Nested Table for picture>