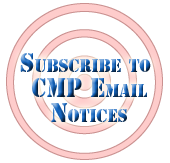 We want your feedback! Please let us know what you think about TFS. Do you have an interesting story or article that you would like to share? If so, please let us know!
Reader Comments:

CMP Shooters' News is one of my favorite email news publications. Information packed, talented authors, timely subjects, and all around well done. What a great service you are providing to the shooting community. Just wanted to say thanks and Merry Christmas. Newt E.
---
I enjoy and look forward to TFS and the excellent articles that are published on a regular basis. Please keep this publication coming and keep the CMP active. Don M.
---
One of the members at Snipers Hide pointed out the newsletter and the High Power Tips articles by the USAMU team.
Darn you! I was up until 1:00 AM last night reading all of the articles. Great newsletter and really great USAMU articles.
Thanks,
Michael E.
---
Great article written on physical conditioning in the latest TFS. I was one of likely many who had asked about the type of conditioning recommended for serious shooters. Sgt. Craig did a great job on describing the routines. Now it's my turn to put it to work.
Thanks to you, Sgt. Craig and other contributors who share best practices of shooting excellence.
Sincerely,
Keith H.
---
I use these articles in our high power clinics and have found them very helpful for both new shooters and reinforcement of the basics for the more experienced.
Thanks, Gary M.
---
Thanks for the great articles on the Carbine, Springfield, Garand matches. All the articles are interesting, but the Carbine, Springfield & Garand are my favorites.
Jim H.
---
The September-07 on line shooting tips by SSG Tobie Tomlinson, USAMU Service Rifle Team Member, is a great article. I have reproduced 15 copies of it to hand out and discuss to our "newbie" first year air rifle shooters on our high school JROTC Air Rifle Team. Come to think about it believe I'll hand out a copy to my advance shooters as well. His explanations are simple to understand but rich in detail. Coupled with the sight pictures this article will go a long way towards helping all our JROTC shooters obtain better sight patterns. Keep up the great work. AND…..keep the articles like this coming.
Malcolm V.
CW2 (R), US Army
---
It seemed good to read the article on Infantry Trophy Match. As a shooter on the Marine Corp Team way back in 1967 I participated in the Match. We were the second team for the Marines but placed second overall. One of our shooters forgot to put the windage on his rifle. I enjoyed shooting the M-1 and M-14 at Camp Perry and always wanted to go back but never seemed to find the time. The top over all shooter at that time was my team mate Lt. Bowen. I remember some of the team members carrying him from the 600 yd line back to the rest of us. It was a great time in my life and will never forget it. Thanks again for the article.
Mike A.
---
Thanks for the great series of articles from the USAMU – they are very readable, and usable!
Tom, AZ
---
Great articles. Great to identify those who are participating as well as those who are working behind the scenes to make the whole of the National Matches run so well.
David D.
Boxford, MA
---
This is a special note just for my friends at the CMP, I want to thank you all for your hard work and attention to details, it's a great program!
"You help our shooting dreams come true!"
Best Regards,
Tony M.
---



2008 Camp Counselor Announcement

By Sommer Wood, CMP Writer/Editor




The Civilian Marksmanship Program is seeking qualified individuals to fill counselor positions for its Three-Position Air Rifle Summer Camps. This premier program has a long established history of providing the highest quality air rifle instruction for high school athletes in the country.

Camp counselor positions are open to college students who have completed at least one year of college and are members of an NCAA or college club rifle team. Applicants must be available to work and travel from 27 May-1 August 2008. These are highly competitive positions. Selection will be based on academic performance, shooting experience, coaching and youth leadership experience, and references. A background check is required of all candidates and a mandatory drug test will be performed by CMP on all hired.

Job duties primarily consist of working with groups of five or more high school athletes at five day summer camps, following a camp curriculum designed by the Director of the Civilian Marksmanship Program Gary Anderson, and modified by Camp Director Dan Durben. Additional duties include range set-up, break down, general clean-up and additional range duties. Counselors will work 40 hour weeks, and will not be responsible for campers in the evenings.

Employment will begin 27 May with a training session at CMP South Headquarters in Anniston, AL. This training is mandatory for everyone hired. The camp schedule includes seven full-length camps and one advanced three-day standing position camp. The staff will have the week of 28 June-6 July off to allow counselors to compete in the USA Shooting National Matches. Competing in this event is highly encouraged and CMP will cover ½ of each counselor's entry fee for the matches. Also staff will be provided housing in Columbus, GA and ½ pay during that week. Counselors will also be given 10-13 July off without pay, but housing will be provided in Columbus, GA during that time for those who request it. A complete camp schedule is provided below:

| | | |
| --- | --- | --- |
| Training | Anniston, AL (CMP South) | 27-29 May |
| Camp 1 | Kerrville, TX | 2-6 June |
| Camp 2 | Kerrville, TX | 9-13 June |
| Camp 3 | Rapid City, SD | 16-20 June |
| Camp 4 | Camp Perry, OH | 23-27 June |
| Camp 5 | Fort Benning, GA (Standing Position Camp) | 7-9 July |
| Camp 6 | Fort Benning, GA | 14-18 July |
| Camp 7 | Fort Benning, GA | 21-25 July |
| Camp 8 | Fort Benning, GA | 28 July - 1 August |

The pay scale begins at $400 a week for first year counselors, $450 for second year, $500 for third year and beyond. A per diem of $30 a day is also provided. (Staff will be paid per diem during their time off.) All travel and lodging is covered by CMP once the camps begin, though the counselors are responsible for providing their own transportation to the training location and home at the end of the summer. Any additional travel counselors wish to make during their time off is their responsibility, and they are expected clear departure and return times with either Dan Durben, Sommer Wood or James Hall to make sure it does not conflict with their job duties.

Interested candidates may download an application form at http://www.odcmp.com/Programs/CCApp.pdf and send it to Sommer Wood, CMP Junior Rifle Camps, P. O. Box 576, Port Clinton, Ohio 43452. Forms may be faxed to Sommer Wood at: 419-635-2573. Email questions to swood@odcmp.com. Applications must be received by 28 March 2008. Successful applicants will be notified by 4 April 2008.