<! Nested Table for picture>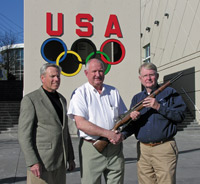 The CMP presented Martin Edmondson (center) with an M1 Garand rifle to recognize his extraordinary service to junior shooting during his tenure as the USA Shooting Manager of Youth Development. Also shown in the presentation photo are Robert Mitchell (l.), USA Shooting Executive Director and CEO, and Gary Anderson (r.), the CMP's Director of Civilian Marksmanship.
Martin Edmondson, Manager of Youth Development at USA Shooting, is retiring this month from a position where he served as one of the most active and most respected youth shooting sports leaders in the United States. Edmondson, who will turn 62 this month, decided after completing a military career followed by twelve years as the National Running Target Coach and the past six years as USA Shooting's junior shooting leader, that he wanted to have time to spend with his wife Helga and to fulfill many plans that the long hours of a shooting sports organization staff member rendered impossible. The Edmondsons now plan to spend the next several months traveling through the U. S. and Canada. In the future, he also plans to continue being involved with youth shooting programs as a volunteer.

On 22 February, at the Olympic Training Center in Colorado Springs, the CMP honored Edmondson for his service to junior shooting by presenting him with a selected M1 Garand rifle in a special ceremony. CMP Director Gary Anderson presented the rifle. In a letter of recognition that accompanied the rifle, he stated:
During the time you served in this important capacity, you have truly made a real difference. Your selfless dedication to growing youth shooting sports participation and the tremendous energy and hard work you invested in making this happen were extraordinary. The number of junior shooters in the United States, and their skill levels, has grown significantly in the last few years. Much of that improvement is due to your devotion, intense effort and sincere belief in how youth benefit from shooting sports participation.
Edmondson began shooting at the age of six with his father on their farm near San Saba, Texas. By the age of 19, he was in the U. S. Army and shooting competitively with the 24th Infantry Division rifle team. He was assigned to the U.S. Army Marksmanship Unit from 1972 to 1981. There he competed in both service rifle and international running target shooting. During that period, he won many marksmanship awards, highlighted by winning the NRA National Highpower Rifle Championship in 1972 and by making the U. S. Olympic Team in 1976 and 1980. Edmondson is one of only two highpower rifle shooters to ever win the NRA National Highpower Rifle Championship with a service rifle. He placed 14th in the 1976 Olympic Games 50 meter running boar event and was unable to compete in 1980 because of the U. S. boycott of the Moscow Olympics.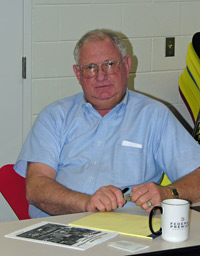 Martin Edmondson who culminated his competitive shooting career as a U. S. Olympian and National Highpower Rifle Champion, has been a member of the USA Shooting staff for 18 years. During his USA Shooting service, he has become one of the most highly respected junior shooting leaders in the country.
Edmondson retired from the U. S. Army as a Master Sergeant and shortly thereafter became the National Running Target Coach, a position he held for 12 years. After a short break, he returned to USA Shooting in 1999 to take up the challenges of being its Youth Development Manager. He has now completed six years in that position. USA Shooting is the National Governing Body for Olympic shooting in the USA; its headquarters are located at Colorado Springs, at the Olympic Training Center.

While serving as USA Shooting's Youth Development Manager, Edmondson was active in many of the initiatives that contributed to the growth of junior shooting in recent years. He shepherded the National Junior Olympic Three-Position Air Rifle Championship to its present position as the major position air rifle championship in the country. He was active in the development of the National Three-Position Air Rifle Council and its programs. He served on the National 4-H Shooting Sports Committee's Executive Committee and played a key role in developing the National 4-H Invitational. He also was instrumental in the creation of USA Shooting's National Progressive Position Air Pistol Program for junior pistol shooters that is now growing impressively.

Martin Edmondson truly is one of those people who selflessly dedicated himself to the challenges of bringing more American youth into the shooting sports. In doing this, he cooperated closely with the CMP and its youth shooting programs. CMP Director Anderson said, "the CMP was pleased to give Edmondson a presentation M1 Garand rifle in recognition of his extraordinary service to youth shooting and it sincerely wishes Martin and his wife all of the best in their travels in this new phase of their lives. We all hope their travels will still bring them back into contact with their many friends in shooting, many more times."