CAMP PERRY, OHIO – Jamie Gray, 27, of Phenix City, Alabama, was a model of consistency throughout the 2012 USA Shooting Olympic Trials for Airgun, first in Anniston, Alabama in early December and again at Camp Perry in late February. Remarkably, Gray fired identical qualification scores of 396 and 397 at both sites, respectively, in winning a place on the women's U.S. Olympic air rifle team. Her two best finals were consistent as well at 103.5 and 103.2.
<! Nested Table for picture>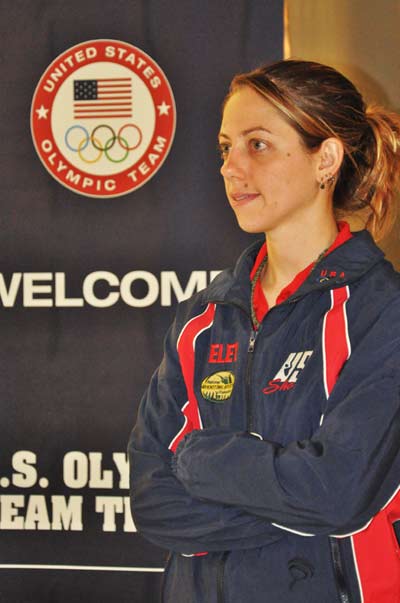 Jamie Gray proved consistency is perfection in shooting as she captured the top spot in the 2012 USA Shooting Olympic Trials for Airgun in the women's air rifle division at Camp Perry on 25 February. She is one of two women nominated to Olympic roster slots at the trials.


The Pennsylvania native, formerly known as Jamie Beyerle, is now married to men's rifle competitor SSG Hank Gray of the U.S. Army Marksmanship Unit. Jamie is a veteran of the 2008 Beijing Olympic Games.
<! Nested Table for picture>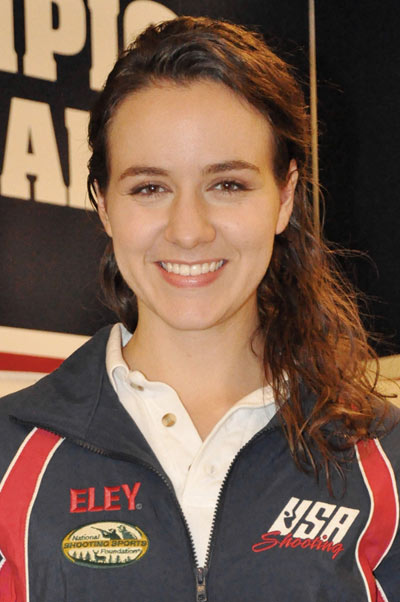 Sarah Scherer, just six-tenths of a point behind Jamie Gray in total aggregate scoring, punched her ticket to the London Olympiad. Scherer was the co-leader of the trials coming into Camp Perry in late February.


She was joined by junior Sarah Scherer, 21, of Woburn, Massachusetts, winner of the remaining slot on the women's team, just six-tenths of a point behind Gray in total aggregate scoring, 1792.7 to 1792.1. The Texas Christian University junior, who came into the second half of the trials deadlocked with Emily Caruso, punched her ticket to the London Olympiad with a pair of 395 qualification scores and two best finals of 104 and 104.1. Among her four 40-shot qualifiers was a near-perfect 399 fired on the second day of competition in Anniston at the CMP South Marksmanship Center.
<! Nested Table for picture>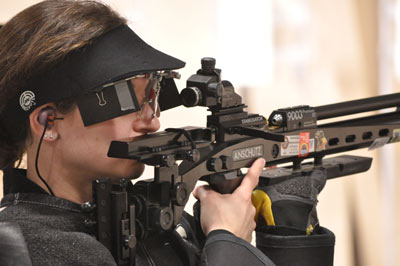 Emily Caruso, 34, a veteran of the 2004 Athens Games and 2008 Beijing Games, came up just short of earning a third trip to the Olympics. The 2011 Pan American Games gold medalist valiantly tried to recover after a slow start but came up 2.1 points out of second place.


Caruso, 34, of Fairfield, Connecticut, is a veteran of the 2004 Athens Games and 2008 Beijing Games. She opened the first trial in December with a 399, but her Day 4 392 left too much room for Gray and Scherer to advance and she finished in third place with an aggregate score of 1790. On the final day Caruso dropped four points in her first seven shots. She recovered but needed Gray or Scherer to balk in the late-going, which didn't happen. The 2011 Pan American Games gold medalist valiantly fired 14 consecutive 10's to conclude her Day 4 qualifier.
<! Nested Table for picture>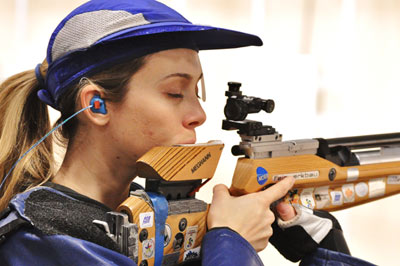 Meghann Morrill, of Charlottesville, Virginia, finished fourth with an aggregate score of 1785.9 in women's air rifle. She fired her best score of the series, a 399, on Day 2 of the trials in Alabama.


Meghann Morrill, 25, of Charlottesville, Virginia, finished fourth with an aggregate score of 1785.9. She fired her best score of the series, a 399, on Day 2 of the trials in Alabama.

Scherer is now the second member of her family to earn an Olympic berth. Scherer's brother, Stephen, was a member of the 2008 Team, and passed away in 2011.

"Honestly, thank you Lord. Without him I could not have made it through this match," said Scherer who battled a severe head cold throughout the weekend. "The only thing that I had left in my shooting that was still me was my focus and concentration. I couldn't hear or see as well as normal and my heart rate was all over the place. My body was shaky and I'm just so thankful that I made it through."

Scherer, a junior at Texas Christian University (TCU), will be shooting with the TCU Horned Frogs for the NCAA Rifle Championships later in March. Following the NCAAs, Scherer will join other nominated members of the 2012 U.S. Olympic Team and hopefuls in the "London Prepares" event on the 2012 Olympic ranges in April.

Gray, already nominated to the 2012 U.S. Olympic Team for Women's 50m Rifle Three Position, garnered her second start for the shooting events in London. "I had to come from behind, but I had a good day today, performed how I wanted to and it turned out okay. I'm looking forward to shooting two events."
<! Nested Table for picture>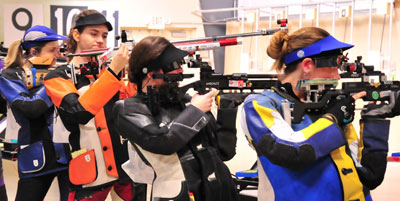 From left, Meghann Morrill, Sarah Scherer, Emily Caruso and Jamie Gray battled for two openings on the women's U.S. Olympic air rifle team at the second trial at Camp Perry. Scherer and Gray emerged and will represent the U.S. in the London Games this summer.


"The Trials are always a very dramatic event in the quad," said National Rifle Coach Major Dave Johnson. "The top men and women fought it out until the very end and unfortunately we can only take two in each air rifle event. Our nominees are very strong and we have time to work on final preparations between now and the Olympic Games and I think we will compete very well there."

In airgun, male and female competitors shoot 60 and 40 shots respectively during a single course of fire at electronic targets 10m (32.8 feet) down range. The maximum number of points available is 600 for men and 400 points for women with 10 being the highest score possible per shot. Male competitors are given 1 hour and 45 minutes, whereas female competitors have 1 hour and 15 minutes to complete all shots. Athletes then qualify for the finals by placing in the top eight after an aggregate match score.

The final for both events consists of ten shots fired on command by the Chief Range Officer. The scoring in the finals is unique from the rest of the match because decimals are counted, so the maximum number of points a competitor can earn is 109 points with 10.9 being the highest score possible per shot. Olympic Team selection is based on the aggregate of four courses of fire and two best finals.

For complete results of the USA Shooting 2012 U.S. Olympic Trials for Airgun, log onto http://clubs.odcmp.com/cgi-bin/report_matchResult.cgi?matchID=7831. To view and download photos from the event, log onto http://cmp1.zenfolio.com/.