CAMP PERRY, OH – Eagle sightings have been known to be a common occurrence at the ranges of Camp Perry. While most are seen flying outdoors around the highpower ranges, sources say they may have recently spotted one inside the air range at the Civilian Marksmanship Program's (CMP) Gary Anderson Competition Center – or, at least, an aspiring Eagle.
Jeffery Wilson, 17, is currently a senior at Lake High School in Millbury, OH. On March 1, 2014, he came to the CMP for help in achieving the most sought-after and difficult rank in the Boy Scout program: Eagle Scout.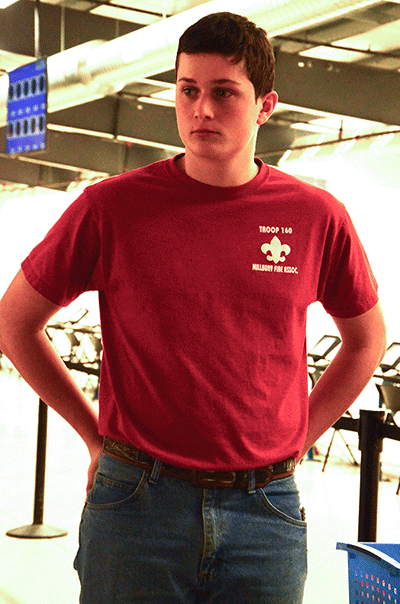 Jeff Wilson, a senior at Lake High School, used the Gary Anderson Competition Center as part of the service project he needed to complete his journey towards becoming an Eagle Scout.
Wilson's scouting career began when he joined Cub Scouts in the second grade, following his best friend who also donned the symbolic sash for the first time. Enjoying the group, Wilson eventually moved up to Boy Scouts, at the end of his 5th grade year. Many campfires and badges later, Wilson has found himself reaching the 10-year mark with Troop 160 and is ready to make the reach for the final step of his scouting journey.
"I want to become an Eagle Scout for many reasons," he said. "I've been scouting for 10 years, and this kind of signifies the culmination of all of those years wrapped up. Also it's a great learning experience. It teaches leadership, character and responsibility."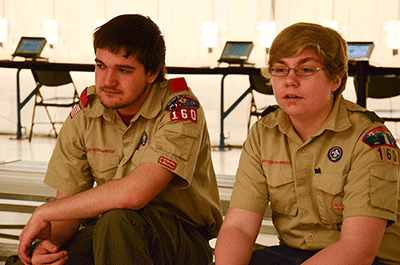 Members of Wilson's Troop 160 showed up to support their fellow scout.
Becoming an Eagle Scout is a long and grueling task. First, a Scout must go through a series of ranks: Tenderfoot, Second Class, First Class, Star, Life and Eagle. It isn't until the Life ranking that an individual may begin working towards becoming an Eagle.
Since its beginnings in 1912, more than 2 million Boy Scouts have achieved the honor of Eagle Scout. In 2012, the centennial celebration of the Eagle Scout Award, a record-breaking 57,979 Scouts earned the ranking, which was only around 7 percent of all Boy Scouts.
"The Eagle Scout rank is the highest rank in all of scouting and is extremely coveted and rare to achieve," said Wilson. "It's one of the highest honors a young man can achieve."
Notable Eagle Scouts include 38th President of the United States, Gerald Ford, former New York City mayor, Michael Bloomberg, and world-famous astronaut Neil Armstrong, among many others.
According to the Boy Scouts of America, the process towards becoming an Eagle Scout includes:
Being active in your troop, team, crew or ship for a period of at least six months after achieving the rank of Life Scout;
Living by the principles of the Scout Oath and Scout Law in daily life;
Earning a total of 21 merit badges;
While a Life Scout, serving actively in a unit for a period of six months in a specified role;
While a Life Scout, planning, developing and giving leadership to others in a service project helpful to any religious institution, any school or community;
Taking part in a unit leader conference; and
Successfully completing an Eagle Scout board of review.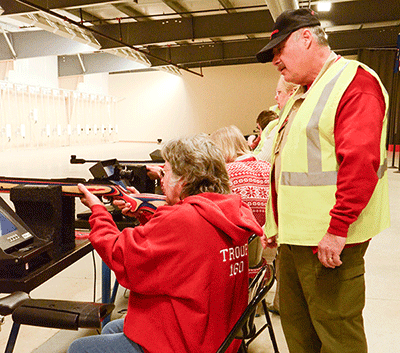 Women, as well as men, tried their hands at firing the air rifles.
Wilson had completed most of the requirements when it came time to brainstorming for his service project. Though this can be a difficult step in the proceedings for most, for Wilson, it was a no brainer.
"I knew I wanted to give back to veterans. Since I'm an outdoorsy person, I thought about doing a hunt for wounded veterans at Camp Perry," he said.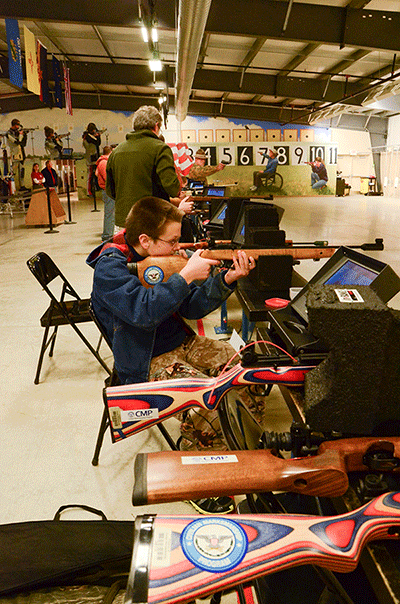 Participants used CMP's own air rifles, which are safe and simple for all ages. The air rifles are available for use, free of charge, every Tuesday and Thursday during Open Public Shooting at the air range.
A call to the administrators at Camp Perry at first led to disappointment when Wilson's request was denied. However, he was then given the contact information of CMP North Competition Center coordinator, Lue Sherman, and another opportunity to fulfill his Scout Project.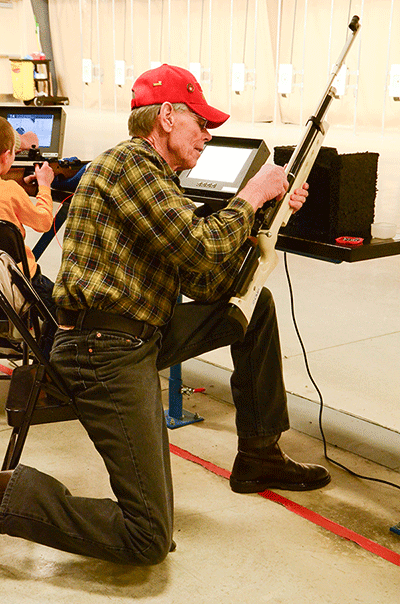 Enthusiasts of all ages arrived to fire upon the electronic targets in the temperature-controlled range. The indoor range allows an opportunity to shoot while avoiding the elements of nature outside.
Sherman offered the suggestion of using the air rifle range, instead of doing an outdoor event. She also asked that juniors be included in the project, as a way of furthering CMP's mission to teach both youth and adults about gun safety.
"With talking to her and explaining my needs to meet the requirements of an Eagle Project, along with her wishes of reaching youth as well as veterans, we came up with the project," Wilson said.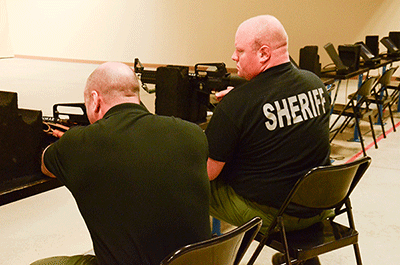 Members of the Ottawa County Sheriff's Department also took some time to shoot after leading a safety class for participants.
On March 1, a group of 61 youth and veterans crossed the threshold of CMP's newly renovated Gary Anderson Competition Center. The center, which includes a large reception area and fully equipped classrooms, houses a state-of-the-art, world-class air rifle range. The range consists of 80 firing points, all containing MEGALink electronic targets – used in some of the most elite ranges in the world.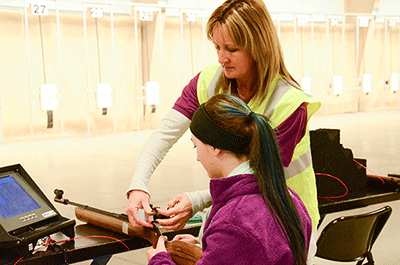 CMP's Lue Sherman helped Wilson plan the project, to appeal to youth as well as veterans. CMP staff and volunteers were on hand to assist participants and ensure safety on the firing line.
"I had been to the range three or four times before," Wilson said. "I thought it was awesome, and it looks very nice. The renovations really help the building's flow and presentation. I absolutely recommend the range to all shooting enthusiasts."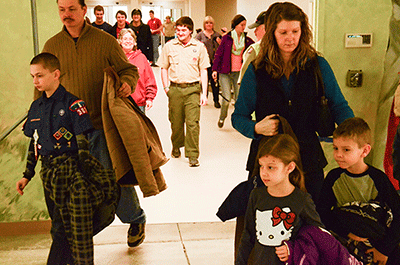 On March 1, a group of 61 youth and adults arrived at CMP's air rifle range to spend the day learning, shooting and having fun.
The youth (ages 8-18) and vets spent the cold winter day firing CMP's air rifles inside the warm, temperature-controlled range. Participants also took part in a safety class, conducted by Sgt. James Reagan and Sgt. Zach Bowling of the Ottawa County Sheriff's Department. CMP staff and volunteers were on hand throughout the event to answer questions and ensure the safety of all in attendance.
"I believe the day was a huge success, to reach that many people," said Wilson. "I learned the generosity of others and their willingness to help me through this challenging and rewarding process."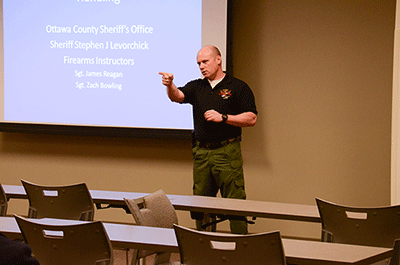 Sgt. James Reagan and Sgt. Zach Bowling of the Ottawa County Sheriff's Department conducted a safety class in one of the new classrooms of the Gary Anderson Competition Center.
Now that the project is complete, all that lies between Wilson and his Eagle Scout dreams is paperwork and a board review. Soon, he'll find out if he has done enough to reach the goal he has worked a decade to achieve.
In the future, whether an Eagle or not, the dedicated Wilson plans to spread his wings by attending the United States Air Force Academy or the United States Naval Academy. If he becomes one of the few privileged to accept an Eagle Scout patch, Wilson says he hopes to give back to his troop, which has helped him immensely throughout his project.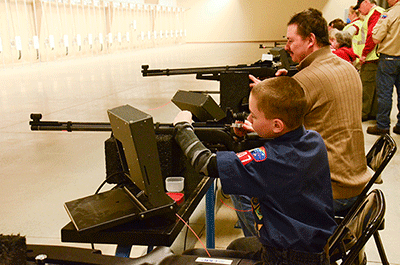 Some younger Scouts arrived at the range, draped in their uniforms and patches. Wilson hopes that his project will help inspire young Scouts to follow their dreams and to stay with the scouting program.
He also hopes he has shown others that with just a little work and motivation, anyone can soar to success.
"I hope to have a lasting impact on the kids that attended the range day, and hopefully I inspired the younger scouts to stick with Scouts, maybe wanting to become Eagle Scouts themselves one day," he said.