At the 2013 Western CMP Games, SGT Robert Evans accomplished what a lot of shooters strive for their entire shooting careers – a Distinguished Rifleman's Badge. For most riflemen, the feat of becoming Distinguished is so big that they must reach for it with both hands, but, for Evans, he only needed one.
Coming from a long line of excellent shooters, including his grandfather, Duane, who was in the Navy and shot pennies and washers from the air, and his grandfather, Leonard, who was a Master Sergeant in the Army during the Korean War and on the All Army Pistol Team during the 1950's (who went Distinguished his first year), Evans always knew he too wanted to become a talented marksman.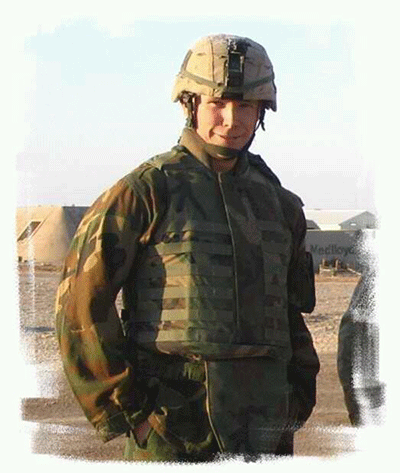 SGT Evans in Iraq, sometime in 2005, going on a night "terrain denial" mission
"I love firearms. It's my absolute favorite thing in the world. I hope my wife doesn't read this!" he said, in good humor.
Evans, 29, currently lives in Reno, NV, with his wife of nearly eight years, Karen, and their two dogs – a golden retriever, Steven, and a Border Collie, Breagh.
Before meeting Karen, Evans fell in love at the age of 4 – with the sport of shooting. Introduced to the pastime by his grandfather, Duane, Evans soon began to bug his father, uncles and whomever else he could find to take him outside to fire off a few rounds. Once he turned 12, he was able to take his grandfather's Remington M512 Bolt action .22 to the open Nevada air by himself to go hunting.
Though living in rural Nevada made shooting easy, living in such a desolate area didn't allow many opportunities for competitive shooting. Joining the Army in 2003, Evans craved to be a member on the U.S. Army Marksmanship Unit team, but deployments and training kept him from being able to be recruited. He served two tours in Iraq, suffering a spinal injury on the first tour. Though the first slowed him down, the second would prove to be the one that would change his life forever.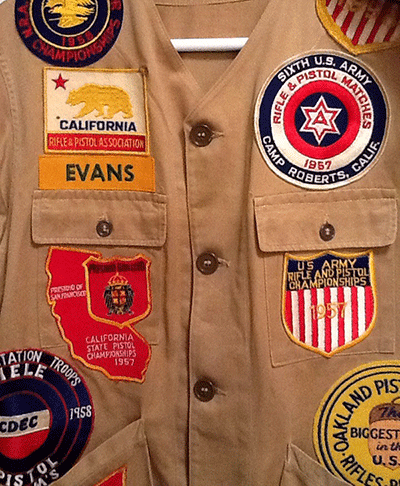 His grandfather, MSG Leonard Evans earned his Distinguished Pistol Shot badge in 1957 and also shot for the U.S. Army Pistol Team. Here, his jacket shows only some of the matches he participated in as a marksman.
On May 31, 2007, Evans was driving under an old Fedayeen guard shack as a Bradley Commander. As he was reaching for a hand mic on top of the vehicle, an IED on top of the guard shack detonated above his head, causing an immediate amputation of his right hand below his wrist.
Evans was semi-conscious when he arrived at a hospital in Baghdad after the explosion, disoriented from the shock of what had just happened, as well as from the massive blood loss he sustained. He managed to call home on a satellite phone. He wanted his family to hear about the incident from him, personally.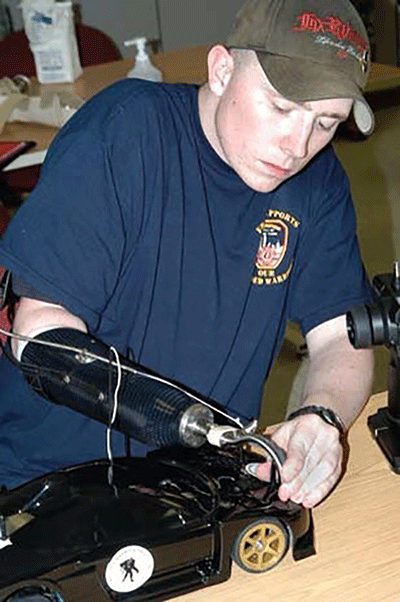 Here, Evans is shown at the Walter Reed (WRAMC) during his daily occupational therapy session. He built the RC car as part of his rehabilitation.
"My wife thought I was trying to prank her. It didn't sink in until I said I needed to call my mother and grandmother, to let them know. She knew it was serious then," he said.
About a quarter of his palm was left after the blast, and after the fourth surgery, they removed the rest of my wrist. Doctors wanted to amputate nearly halfway up his forearm, but Evans made it very clear to the surgeons that losing that much of his appendage wasn't an option.
"I knew I wouldn't like a prosthetic all that much, as I don't like to rely on things too much," he said. "So after an argument with the surgeon while on the operating table while going under anesthesia, I talked him into allowing me to keep as much of my arm as possible."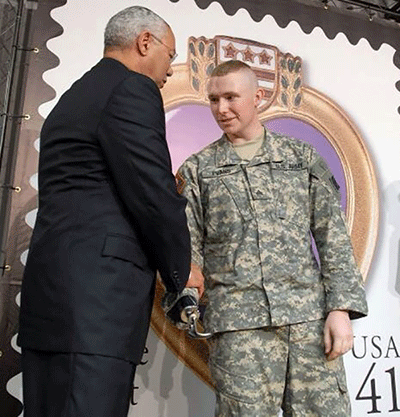 SGT Evans with Gen. Colin Powell at the Purple Heart ceremony at Walter Reed Army Medical Center in 2007
After his return to the United States, Evans received the Purple Heart during a special ceremony for the introduction of the $0.41 Purple Heart postage stamp and the anniversary of the Badge of Military Merit, which was a precursor to the Purple Heart medal. During the nationally televised event, Gen. Colin Powell and Post Master General John Potter presented SGT Evans his medal.
"I'm not one for large crowds or publicity, and that ceremony brought both in spades," he said. "My wife and family were there, and it was a unique experience to say the least."
Since his amputation, understandably, everything in his life has changed. From career plans to long-term goals, to simple, every day tasks like putting on a pair of pants, to bathing, life has become a constant challenge for Evans.
"Buttons, zippers and clasps have become my mortal enemies!" he said, jokingly. "I went from being a completely self reliant Infantryman to asking my wife to cut my meat for me. It hasn't been easy, but then again, we don't get to choose when these things happen. I just try to cope the best way I can."
Moving on with life after his injury proved to be an extremely hard task for Evans. His injury kept him from being able to pursue law enforcement or commercial aviation. He searched for hobbies that would motivate him to keep moving. He found that in order to start over, he'd have to reconnect with his first love – shooting.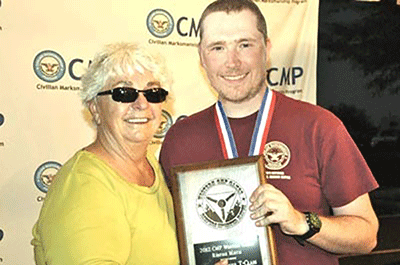 At the 2012 Western CMP Games, SGT Evans received a plaque for winning the Rimfire Sporter Match
"I couldn't give up shooting after I lost my hand. It's always been too important to me," he said. "No matter what is going on in my life, when the sights are aligned and the hammer is about to fall, nothing in the world matters at that second. It's my nirvana."
With nothing but support and encouragement from those around him, Evans worked his way back into the sport by starting in F-Class, on his belly. The position allowed him to hold hard and pull the trigger, while also being able to use his optics. Once he began to learn how to manipulate the firearm with one hand on a bipod, he began to graduate into tactical mechanics. After becoming more comfortable with his firearms again, a short article in the back of an American Rifleman magazine brought on an entirely new venture for Evans.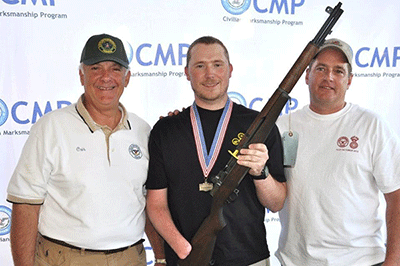 Evans earned silver during the M1 Garand match as well as a donated CMP M1 Garand at the 2012 Western Games. He's pictured here with Cris Stone from the CMP (left) and John Marx (right).
The article featured J.J. O'Shea and his M1 for VETS project. The project is meant to transition wounded combat veterans back into the world of shooting, with equipment arrangements, position training and mental preparations. Evans became immediately drawn to the group, so he drafted up an email expressing his interest to 0'Shea, clicked send and prepared for his life to change.
Just like that, Evans was back in the shooting game. Of course, it didn't come without its challenges.
"The first time I shot after my amputation, it was very frustrating," he said. "I couldn't hold still, and shooting left-handed was so foreign."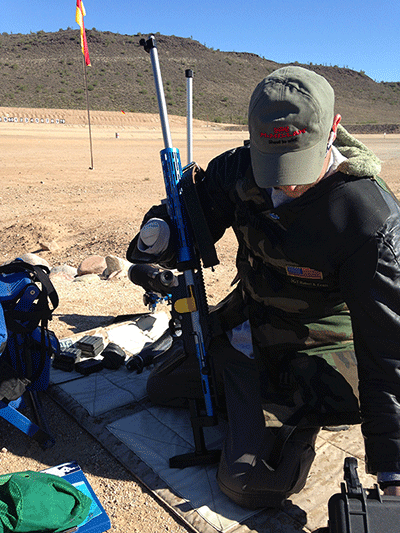 Evans firing in a team match during the 2013 Western CMP Games
Being extremely right-eye dominant his entire life, the loss of his right hand caused him to relearn many things, including how to shoot. Learning how to reload and adjust for wind while slung up became a pain for Evans, not to mention the real, intense pain the prosthetic caused his sensitive arm, at the point of amputation.
"It's tough some days to push through," he said. "I make it through these challenges by persevering and training."
In 2008, after several months and rigorous hours of dry firing, Evans found himself crossing the threshold of Camp Perry – a dream he had waited to fulfill his entire life. He scored around 50 points standing, out of 100, on his first trip. Though not bad for someone with an amputation, that wasn't enough for Evans.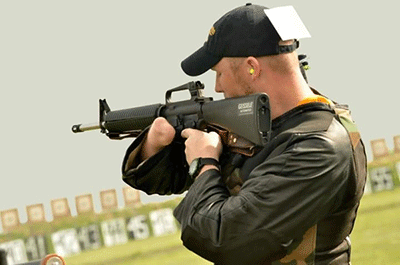 Evans firing at CMP National Matches
"I want to be considered a good shooter because I post good scores, not a good shooter for a one-handed guy," he said. "I want to compete with every other shooter out there, on a level playing field. I don't want special treatment."
With that sort of attitude, further support from his family and fellow shooters and hours upon hours of training and practice, Evans now averages a score in the low 90's. Having gone through five to eight prosthetic arms and hands from the pressure of the sling he uses to shoot, his consistency in scores started him on the long road to his lifelong dream of becoming Distinguished.
He began to realize his dream as he earned his first 10 points at Camp Perry in 2012. It took him 15 months to LEG out. His next 6 points came at the 2013 Eastern Games in Camp Butner, NC, followed by 10 more points at the 2013 National Matches. There, hoping to "bronze out," he managed to one-up himself to actually earn a silver medal.
Then came the 2013 Western Games at the Ben Avery Shooting Facility in Phoenix, AZ. Never giving up hope and remembering his long journey, from the hospital bed to the firing line, he received his final 8 points. SGT Robert Evans had become a Distinguished Rifleman.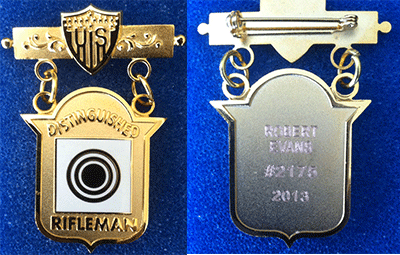 At the 2013 Western CMP Games, SGT Robert Evans completed his EIC Points to earn Distinguished Badge #2175.
"There was a lot of pressure, speculation and competition as to who would be the first Combat Wounded Veteran to "go Distinguished" within M1 for VETS," he said. "I'm very proud to have earned my badge, but more importantly, I hope that more wounded veterans will realize that it is within their grasp. It's not an impossibility anymore."
He added, "I hope it motivates everybody to train a little harder and hold a bit tighter – not just wounded veterans. If I can do it, anybody can."
Besides being an inspiration to shooters everywhere, Evans currently builds and repairs firearms and does motivational speaking for veteran and non-profit organizations. M1 for VETS leader J.J. O'Shea also has Evans in charge of the M1 for VETS Long Range Team and also got Evans involved with the U.S. SOCOM Paralympic Team, where he serves as rifle/pistol coach.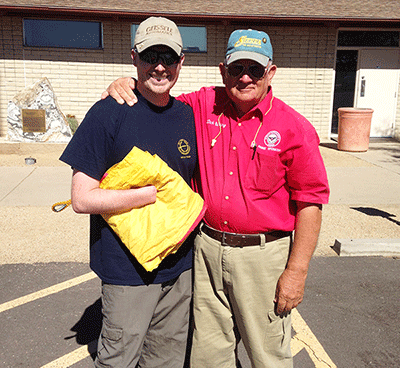 At the 2013 Western Games. Evans had just learned he earned the last of his EIC Points while helping range master Dick Whiting put away range flags. Dick took his Distinguished pin off his hat and pinned it onto Evans's. Evans said it was one of the best moments of his life! "I didn't even have time to put down the flag before a barrage of photos were taken!" he said.
"I thoroughly enjoy it. It's a good group of people, both on the team and off," he said. "I love shooting on a team and learned a great deal about my own shooting skills and processes from coaching those guys."
With all of his achievements and his words, it's clear that SGT Evans has a deep appreciation for M1 for VETS and for the one who initially got him back into the shooting sport, J.J. O'Shea. And, according to O'Shea, the feeling is mutual.
"I have seen this young man not only excel as a competitor, but gain enormous confidence and acquire a sense of leadership. He is driven and never gave up," said O'Shea. "If you have a chance to meet him, you will see a smile that is well deserved. He is what we all must look up to when things are tough. We love him."
In the end, the best advice Evans can give anyone is to, "just roll with the punches." He says that life doesn't stop or slow down for anyone, regardless of injury – everyone must be wiling to push hard to meet life goals, despite challenges that will inevitably arrive. He challenges everyone: Prove to yourself that you can do it. After all, you can.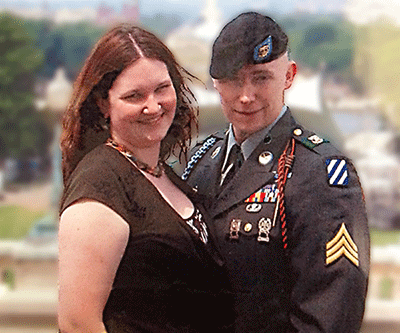 A portrait of Evans with his wife Karen at the nation's capital after a meeting with Nevada's Senators Harry Reid and John Ensign
A SPECIAL MESSAGE FROM SGT EVANS.
Though his hard work and determination have been essential to accomplishing his dreams, there's one essential element that he would have been lost without – support from those around him. With that, newly-Distguished shooter, mentor and inspiration SGT Evans has a long list of individuals to whom he owes his successes.
"I think it's necessary to let our fellow competitors and enthusiasts know how important they've been to me and the rest of the M1 for VETS shooters. They are the ones who keep us going and make our world go round," he said. "Without all of the support from the shooting community, organizations and businesses that have donated to M1 for VETS, it never would have happened. Thank you all so very much!"
"I'd really like to thank the CMP and everyone who has helped me. That's the real reason I went Distinguished," he said. "M1 for VETS is a fantastic organization, and I really can't thank them enough for what they do. No matter where my shooting career takes me, I'll always be thankful to them for teaching, mentoring and accepting me. They are a fantastic group of guys and the reason I had the opportunity to even try."
"I'd also like to thank John and May Marx. John has been instrumental in helping to develop my mental management. He and his wife are some of my best friends," he said. "Dick Whiting has been a huge influence and help to me too. I have a tremendous amount of respect for him and his shooting accomplishments. Only after his coaching did I start to become a threat to the EIC LEG match scores."
"The gals at the CMP are a MASSIVE help. They are so busy during the matches, they still find the time to be friendly and courteous, and they treat the wounded vets like royalty."
"My mother, father and grandparents have always been there for me and are a constant source of encouragement," he said. "And last, but certainly not least, my loving wife, Karen. She supports me no matter what I do and backs me up entirely. She's my world and I can't thank her enough for her support and loyalty. I love you, Karen."
NEXT ARTICLE