<! Nested Table for picture>
CAMP PERRY, OHIO – The 2010 summer three position air rifle camps are underway and CMP Camp Director Sommer Wood is excited about enhancements to camps taking place here at CMP North and at CMP South in Anniston, Alabama. The camps are designed to teach intermediate and advanced rifle marksmanship skills to junior shooters and their adult leaders. <! Nested Table for picture>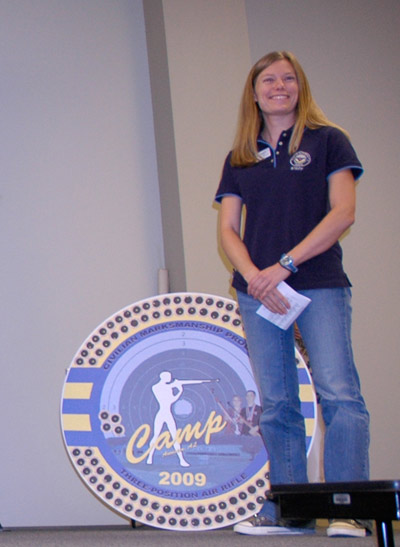 CMP staff member, Sommer Wood, is the 2010 Summer Camp Director.
"This is my seventh summer with the camps," she says. "I started as a counselor after graduating from Clemson University where I shot on the air rifle team. I took over as Assistant Director and Camp Coordinator for four years and then took on the role of Camp Director last year."

Wood said the camps have a pretty big change in format this year – all being full-length camps for high school-aged shooters. Each camp will host 55 to 65 athletes.

"In the past the camps traveled to different locations, but this year we will be holding three Western Outreach clinics in place of full traveling camps, each being three-day, three positions air rifle clinics," she said. All other camps will be held at the CMP Marksmanship Centers. <! Nested Table for picture>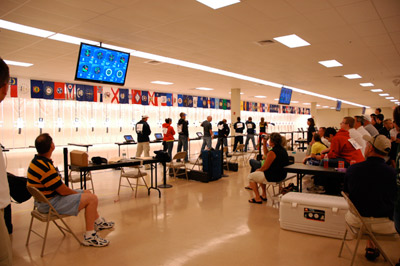 Camp participants will get to experience the CMP's state-of-the-art air rifle ranges. Both ranges are equipped with MEGALink electronic targets.
This year also marks the first year that CMP will be working jointly with the US Army Marksmanship Unit (USAMU) to hold an advanced smallbore camp at Fort Benning, Georgia.

Though she's not saying, there will be some surprises with a new curriculum for summer campers this year. Calling it the 2010 Camp Experience, Wood will be using high tech electronic targets as a focal point in the camps. With new 80-firing point marksmanship centers featuring the MEGALink target scoring systems, camp participants will experience a state-of-the-art classroom using TV monitors to assist in presentation of the camp.

Participants will hear from some of the top shooters in the country via video recording during the camp series and will be treated to interactive question and answer sessions.

<! Nested Table for picture>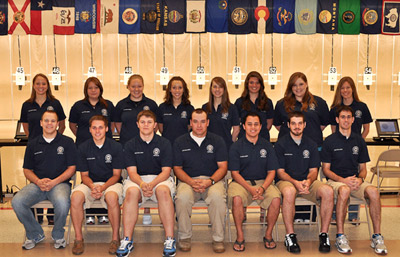 Back Row L to R: Natasha Dinsmore, Colleen Tillson, Heather Greathouse, Sarah Broeker, Ashley Rose, Carmen Luke, Kellie Zurowski, Camp Director Summer Wood. Front Row L to R: Brian Carstensen, Michael Kulbacki, Kasey Meyer, Keegan Singleton, Kyle Rebillion, Ed Ryznar, Paul Miller.
Wood has enlisted the help of several experienced scholastic shooters from across the nation including:

• Kasey Meyer, Murray State University, Senior (class in school is what they just completed), 4th yr (with the camps)
• Sarah Broeker, University of Kentucky, Junior, 3rd yr
• Ashley Rose, Murray State University, Sophomore, 2nd yr
• Colleen Tillson, University of Mississippi, Junior, 2nd yr
• Paul Miller, West Virginia University grad (University of Nebraska grad student), 2nd yr
• Heather Greathouse, University of Kentucky, Freshman, 1st yr
• Carmen Luke, University of Nevada-Reno, Freshman, 1st yr
• Kellie Zurowski, University of Tennessee-Martin, Sophomore, 1st yr
• Brian Carstensen, Jacksonville State University, Sophomore, 1st yr
• Kyle Rebillion, University of Tennessee-Martin, Freshman, 1st yr
• Ed Ryznar, University of Kentucky, Freshman, 1st yr (transferring from the University of the Sciences in Philadelphia)
• Michael Kulbacki, University of Kentucky, Sophomore, 1st yr
She will also be assisted by:

• Natasha Dinsmore- Assistant Director- West Virginia University grad 5th summer with the camps
• Keegan Singleton- Gunsmith-Assistant Director, University of Memphis, Senior, 4th summer with the camps

All these counselors shot or currently shoot for their respective schools on NCAA rifle teams.

CMP Junior Three Position Air Rifle Camps are for school-age junior shooters with three-position air rifle competition experience. Athletes should have completed basic rifle marksmanship training and at least one season of three-position competition shooting.

The camps are designed for students who will be in grades 9 through 12 during the coming school year; admission of athletes who have not yet reached high school will be at the discretion of the Camp Director. There is no minimum score requirement for the weeklong camps--CMP camps are open to all athletes who want to improve their rifle marksmanship and competition skills. <! Nested Table for picture>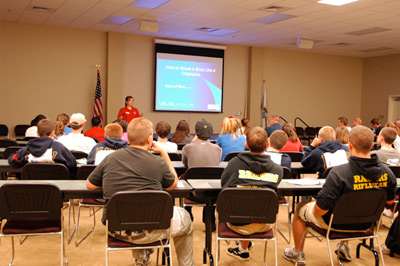 Camp counselors present several instructional topics and activities during the Summer Camp Program.
The camp schedule includes a variety of instructional topics and activities designed to help the participant develop the tools necessary to excel as a three-position air rifle shooter. Participants will learn how to: construct stable and balanced prone, standing, and kneeling positions, personally tune their positions through an "inner position" approach, effectively analyze performance and training, set effective goals, control anxiety and self-talk, improve confidence, train efficiently, optimize the performance of their rifle and equipment, understand safety and rules, design a physical training program, shoot finals, and optimize their performance in competitions.

An important feature of the CMP camp format is the emphasis on athletes and adult leaders learning together. At least one adult leader (coach, team or club leader, parent, etc.) must accompany each athlete or group of athletes who attend. Adult leaders are encouraged to attend all instruction and coaching sessions with their athletes. Sessions specifically covering coaching topics will be held for interested adults. Adult leaders are also responsible for providing transportation for their campers.

A formal competition (3x20 plus final) will be conducted on the last day of each camp. Medals will be awarded for both sporter and precision classes after each camp competition. The End-Of-Camp Competitions for all three-position air rifle camps also are part of a combined CMP Cup Match where the top 10% of all sporter class and the top 10% of all precision class competitors earn credit points towards the prestigious Junior Distinguished Badge.

For more information about the CMP summer camp program, log onto http://www.odcmp.com/Programs/camp.htm.