CAMP BUTNER, NC – For one Ohio family, the Eastern Games came a little sooner than expected – mainly since they didn't even know that the event, or the Civilian Marksmanship Program (CMP), for that matter, existed until a few days before it began. And so started a remarkable adventure for the Morrow family that they won't soon forget.
Maria Morrow has always been a fan of shooting. Whether at the range or hunting around her home of Hannibal in Monroe County, OH, the feel of the trigger on the tip of her finger and the loud pop from the barrel are often sources of enjoyment for the 15 year old.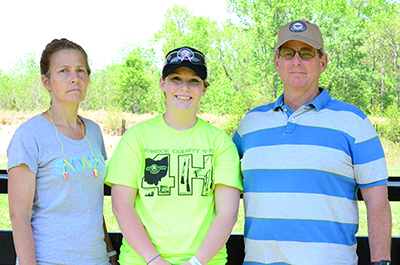 Maria Morrow (center), her mother Rebecca (left) and father Jeff (right) made the seven-hour trip from Ohio to North Carolina only a day after finding out about the Eastern CMP Games.
Though always a constant in her life, marksmanship has only become a competitive outlet for Maria within the last few years. Not even her peers know it's one of her favorite pastimes.
"My close friends are kind of like, 'You shoot?'" she said, smiling. "For some reason, not a lot of kids I know do it."
Until recently, Maria's only competition experience was a 4-H shoot between two counties in Ohio, but she still manages to be extremely active in the sport. She's a junior leader in her county's junior sports program (with the same training as an instructor), has fired in Ohio's state shooting camp and has even been invited to a Nebraska state shooting event, taking place this summer.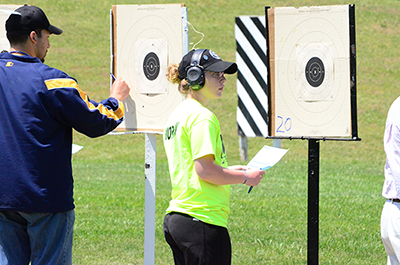 Because this was her first real competition experience, Maria was learning during each phase of the events – including target scoring. Luckily, her fellow shooters offered their help.
Though she's been involved with as many firearm programs as she can find, she's realized a lot of them have the same thing in common – no juniors.
"When I went to my junior leader training, there were no kids there. In my distinct rifle group, there were only a few and the rest were adults. It's not the same because they're all old, and you want to have fun!" she said as she laughed.
Despite being one of the youngest enthusiasts on the firing line in most cases, Maria doesn't allow herself to become intimidated by the age difference. Wanting to absorb even more, she's been on the search for new places to indulge her firearm appetite. Thanks to the help of her mother, Rebecca, and the click of a mouse, Maria found the perfect arena to cultivate her shooting passion: the Civilian Marksmanship Program.
"I was just looking for more opportunities for her to continue to learn and grow in this, so I got online and did a Google search, and this event came up," said Rebecca. "I was very surprised."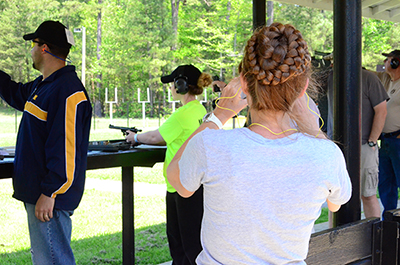 Rebecca Morrow and her husband Jeff were there to support Maria during each of her events.
The event Rebecca found was the Eastern CMP Games at Camp Butner, NC, May 2-6. The Morrow's discovered the CMP website on Tuesday, signed up for Eastern Games on Wednesday and made the trek to North Carolina Thursday evening before the start of the Games on Friday.
"We JUST found out about this. I never knew that CMP existed until Tuesday. We literally knew nothing," said Rebecca. "We jumped in the car and came down – figured we'd give it a try."
Maria and her mom, as well as her dad, Jeff, packed up all of the essential firearms for the trip and hit the road for the seven-hour trip to North Carolina. At Eastern Games, Maria participated in everything she could fit into her schedule: Small Arms Firing School and the coinciding M16 match, Rimfire Sporter, the Pistol Shooting Clinic and the EIC Pistol Match.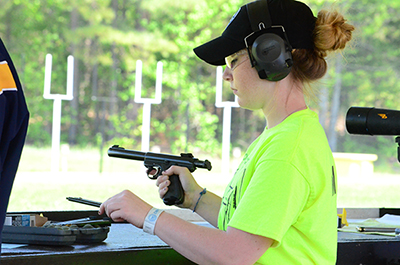 Maria was the only junior to compete in the EIC Pistol match, but did so with confidence.
The Eastern Games was her first glimpse into the world of real competitive shooting. Surrounded by CMP Games veterans, the experience was a little unsettling at first.
"I was scared," she said, laughing. "After the M16 match, my nerves were shot because I've never shot anything competitively."
"But, she was grinning the whole time," Rebecca added.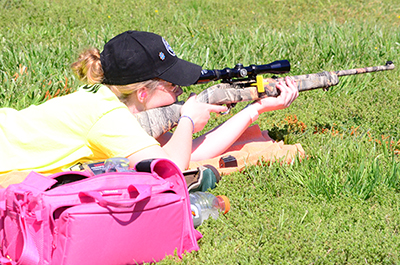 Maria fired in the Small Arms Firing School M16, Rimfire Sporter and EIC Pistol matches.
Maria was shooting on the third relay, which meant she had to begin her first M16 match down in the pits – an area she had never even seen before. Luckily, she quickly learned the sort of generosity and camaraderie the competitor community gives to one another during CMP events, no matter the age or experience.
"When we went down to the pits, I had no idea how to score the target because I've never had to do that before. And the people beside us didn't know either, but they tried to help us even though they didn't know what was going on either," she said. "Everyone was very helpful."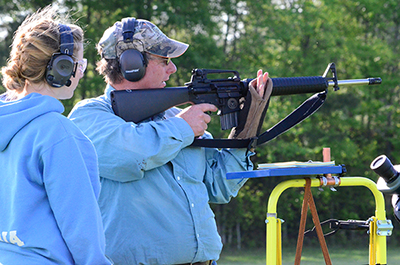 Jeff Morrow shot with Maria during the M16 Match.
The generosity continued once Maria reached the firing line. Because the Morrow's left home with little time for preparation, Maria came to the event without a mat, shooting jacket, gloves or even a sling. But with the help of a fellow marksman, she still fired the match fully equipped.
"The shooter before me gave me all of his equipment," she said. "It was amazing."
Out of all of the events she participated in, Maria said the M16 was her favorite match. There, not only did she get to shoot an AR-15 at a longer distance, she also got to shoot with her dad.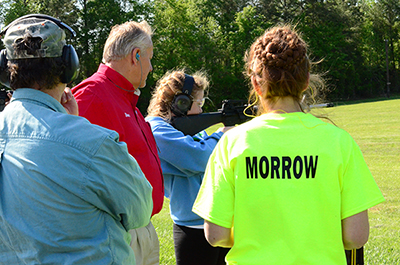 Steve Cooper of the CMP (in red) assisted the Morrow's during the M16 Match, offering them suggestions during each phase.
"It was a lot of fun," remarked Jeff, beaming a wide grin. "Everyone we met was extremely supportive. Even your neighbor, whoever you're shooting next to, even they are very helpful."
Steve Cooper, CMP's marketing and advertising manager, as well as a common face on the firing line with his camera and his rifles, also assisted the Morrow's during the match – offering them his many years of rifling wisdom.
"A big thank you to Steve!" Maria said, with a laugh. "And thank you to everyone who helped us."
A "thank you" should also be given to Rebecca and Jeff Morrow, who, quite literally, drove their daughter towards her ambition – seven hours worth. It's the help and dedication of parents and other patrons that allows the next generation of marksmen to grow.
"We're very supportive," said Rebecca. "But we need to do this for her. So, here we are."
For Maria, she encourages juniors to give up any reservations they may have about coming to the events. Just because the matches are filled with "old people," doesn't mean juniors can't enjoy themselves as well.
"It's a great experience. Juniors shouldn't be scared to come here just because it's mostly adults. They're all helpful. Just because there aren't a bunch of young people here doesn't mean they can't do it," said Maria as she smiled. "If you like it, go and do it."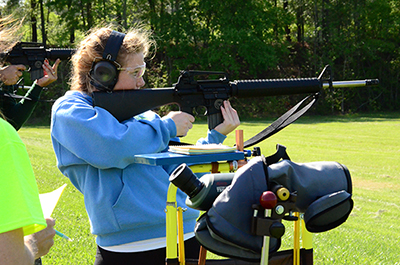 Maria's favorite event during the Eastern Games was the M16 Match during SAFS. She enjoyed the challenge of shooting at a longer distance.
With the Morrow's first CMP event behind them, the family is left with only good memories. One trip down, their spontaneous endeavor has now sparked into a hopeful future of competitive shooting.
"We didn't have a clue what we were doing. Not a clue! But any time we had a question, it was well answered. I would encourage anybody to do this," said Rebecca. "It's a very positive experience. We'll definitely be up in Ohio (for the National Matches)."