<! Nested Table for picture>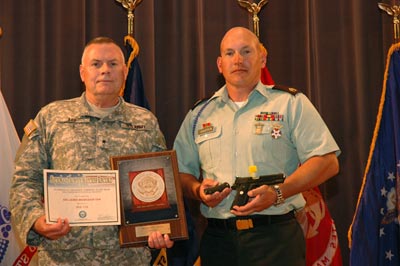 BG Jack Lee, USA, awards SFC James Henderson the Pistol President's Trophy Match plaque. SFC Henderson also set a new National Record in the President's Pistol Match.
CAMP PERRY, OHIO Ė U.S. Army SFC James Henderson put on an impressive display of service pistol shooting at the 2009 National Trophy Pistol Matches. Over the four-day event Henderson was an individual winner and team trophy winner in six categories, and set two new national individual scoring records in the process.

He led the field in the President's Pistol Match with an aggregate score of 393-17X out of a possible 400. He also set a new record in the National Trophy Individual Match with a score of 297-13X out of 300.

Henderson, 42, of Columbus, Georgia, is a member of the Army's elite Marksmanship Unit, which fared very well in individual and team competition at this year's matches. Henderson was also the top Overall Individual Service Pistol shooter with an aggregate score of 981-4X.

"I think I'm finally starting to realize who I'm supposed to be as far as what level of shooter I am," Henderson said following the President's Match.

"But honestly, I wouldn't be here without the support of the AMU and the guys on the team. It's absolutely got to be the best job in the Army. We get to help train soldiers to shoot better in the field and that's about as rewarding as winning this championship, especially if it helps save someone's life, that definitely helps me keep things in perspective," Henderson added.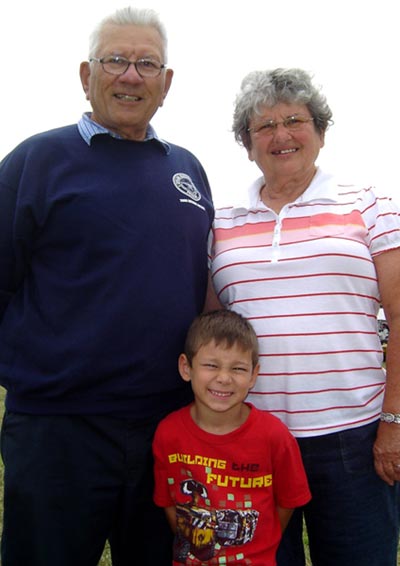 Retired USMC shooter Matt Kokoszka, 70, of Oceanside, California, his wife Joan and their great grandson Isaiah Swim, 6, came to the Matches this year as a shooting vacation and will visit family from Kentucky, Virginia, Connecticut and Georgia along the way.
998 shooters participated in the National Trophy Pistol Matches, which is sponsored by the Civilian Marksmanship Program. The event was first held in 1903 and moved to Camp Perry, Ohio, in 1907 where it has remained ever since.

Henderson victory in the Presidentís Pistol Match placed him at the top of the prestigious Presidentís100 list, a goal that shooters strive for each year at the National Matches. The top 100 finishers in the event receive a congratulatory letter from the President of the United States. The cut-off score (100th place) in this yearís Presidentís Match was a 351-3X, fired by Wesley Curtis, 49, of Fleming Island, Florida.

The Presidentís Pistol Match is a service pistol event featuring 20 slow-fire shots from 50 yards in 10 minutes, 10 timed-fire shots at 25 yards in 20 seconds and two-strings of five shots fired in 10 seconds each. The match has been fired since 1981.

Henderson's AMU teammates, SSG John Ennis IV, 33, of Fortson, Georgia and SSG Lyman Grover, 40, of Columbus, Georgia took second and third place in the President's Pistol Match with scores of 391-20X and 388-9X, respectively. Ennis briefly held the new match record until eclipsed by Henderson.

In the National Trophy Individual (NTI) Pistol Match, retired USMC GySGT and National Manager of Pistol Programs in the NRA's Competitions division, Brian Zins, 40, of Centreville, Virginia captured second place with an aggregate score of 292-16X. Army SSG Robert Park II, 30, of Ft. Mitchell, Alabama finished third with an aggregate of 292-13X.

The NTI is a 300-point match fired with 10 shots of slow-fire at 50 yards in 10 minutes, 10 shots of timed-fire at 25 yards in 20 seconds and 10 shots of rapid-fire at 25 yards in two strings of five shots each at 25 yards. The NTI is an Excellence-in-Competition (EIC) match in which the top 10 percent of all Non-Distinguished competitors, military and civilian, earn EIC points that count towards earning the Distinguished Pistol Shot Badge.

The Presidentís Pistol Junior Trophy match is similar to the Presidentís Pistol Match except it is fired with a .22 caliber pistol. This year the event was won by Joseph Totts, 17, of Mogadore, Ohio, who fired a 366-11X, comprised of a 171-2X, 98-6X and 97-3X in slow, timed and rapid-fire respectively. Greyson McCaig, 17, of Columbia, Tennessee fired a 364-7X to finish second in a tiebreaker over Zachary Hedrick, 17, of Boerne, Texas, who shot a 364-6X and finished third.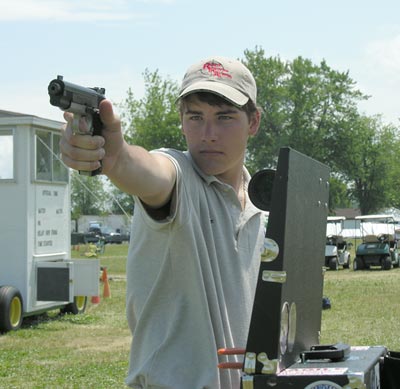 Seventeen year-old Blake Fleming of Gloucester Point, Virginia, was the High Overall Junior in the National Trophy Individual Junior Match.
The National Trophy Individual Junior Pistol Trophy is also a .22 caliber event and the top spot went to Blake Fleming, 17, of Gloucester Pt., Virginia who shot a 273-6X. Fleming finished just ahead of Greyson McCaig who shot a 267-3X and last year's winner Ryan Nichols who shot a 266-3X.

In National Trophy Pistol Team (NTT) competition the US Army Blue team of SFC Henderson, SSG Ennis, SSG Park and SFC Daryl Szarenski, 41, of Seale, Alabama, scored a combined 1142-41X to retain the Gold Cup 4-person team trophy which they've held since 2007. The USMC Scarlet Team of SGT Ben Footer, SGT John Lewis, LCpl Peyton Hebert, and SGT Jesse Durrant earned second place honors with an 1133-26X team aggregate. The USAMU Grey Team of SSG Timothy Barber, SSG Adam Sokolowski, SSG Jason Sargent and CPT Mathew Neyland took third place with a team total 1123-37X.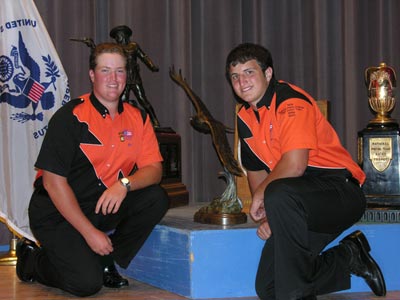 The new Junior Pistol Team Trophy was awarded to the Ohio Rifle and Pistol Association juniors, Joseph Totts and Ryan Nichols.
The two-person National Trophy Team Junior match was won by the Ohio Rifle and Pistol Association (ORPA) Junior team of Joseph Totts (280-12X) and Ryan Nichols (262-6X) who shot a combined 542-18X team aggregate score. The Marvel Custom Juniors team of Blake Fleming and Walker Buckman placed second with a team composite score of 532-8X and the TSRA Silver team scored a 519-11X for third.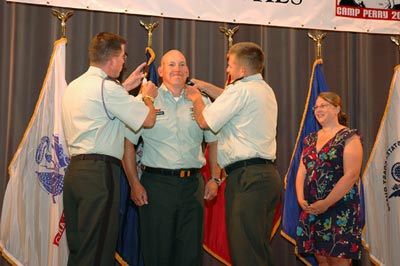 At the conclusion of the National Trophy Pistol Awards Ceremony, 2009 Pistol Champion James Henderson was promoted to SFC on stage.
In the new Service Pistol Warm-Up Match, SFC Henderson won first place overall with a score of 392-15X. The High Senior was Steve Locatelli with a 368-9X. High Woman shooter was Judy Tant with a 365-6X, and the High Junior shooter was Alex Tuomi with a score of 325-6X.

The Law Enforcement Team Trophy went to the FBI team of Keith Hanzel and Charles Byrd II with a score of 562-15X. Brian Zins shot the top civilian aggregate score in the NTI and NTT with a 578-25X. Judy Tant shot the top female aggregate the President's and NTI with a score of 632-16X.

For complete National Trophy Pistol Match results log onto http://clubs.odcmp.com/cgi-bin/report_matchResult.cgi?matchID=4583.