<! Nested Table for picture>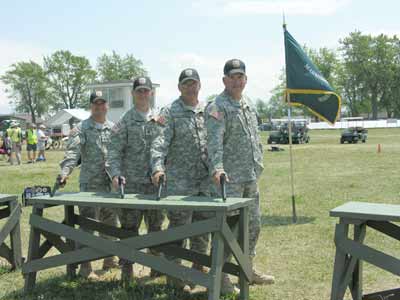 U.S. Army Blue, 2009 National Trophy Pistol Team Champions, fired a 1142-41X.
CAMP PERRY, OHIO – The United States Army Marksmanship Unit pistol team seems to have become the proverbial "elephant in the room" as of late in discussions about the National Trophy Pistol Matches and it appears, given the team's depth, the beast may be around for a while.

With increasing frequency, greater numbers of the Army's elite pistol team are finding themselves in the top 20, top 10 and top five places in individual and team pistol competition.

At this year's National Trophy Matches, USAMU shooters scored well in each match, including record-setting performances by team leader SFC James (Jim) Henderson, 42, of Columbus, Georgia who won an unprecedented sixth President's Pistol Trophy Match with a record score of 393-17X. He also won his third National Trophy Individual Match, setting a new record of 297-13X.

"It's very impressive," said SFC Jason St. John, the AMU's pistol team non-commissioned officer in charge. "It's going to be a lot of fun between the three men who are on the stage, Phil Hemphill, Brian Zins and Jim Henderson, over the next few years."

"We are probably going to see a pivotal battle year after year between these guys. It will probably be like a flashback to the late '60s and early '70s when we (the AMU) had some of the biggest names in the sport going back and forth winning national championships," St. John said.

Henderson credits his unit, his teammates and his wife, Samantha, for his success. The couple married between the pistol and rifle phases of the National Trophy Matches.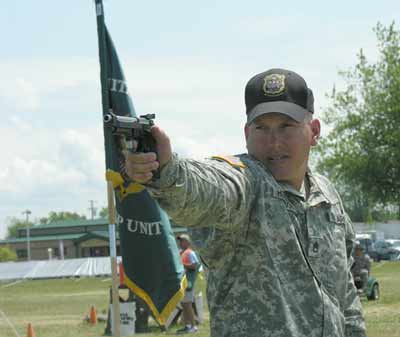 SSG Henderson won several National Trophy Pistol awards and broke two National Records during the 2009 National Trophy Pistol Matches.
"Jim (Henderson) casts a very large shadow on this AMU team," St. John said. "But there are several guys nipping at his heels, trying to get to his level and their efforts are showing up in the results of these matches."

To put things in perspective, using the President's Pistol Trophy Match as an example, the number of AMU individuals finishing in the top 10 have steadily increased over the last six years. In 2004, two members of the AMU reached the top 10 in this event. In 2005 and 2006, the number increased to four AMU shooters in the top 10. In 2007, Henderson resumed active duty from the Army Reserve and five AMU shooters reached the top 10. In 2008, six AMU shooters reached the top 10, and this year seven members of AMU finished in the top 10, taking the top five places in the President's Pistol Trophy Match.

In the 2009 National Trophy Individual Pistol Match, AMU members had another strong showing, with five team members placing in the top 10, including Henderson's first-place finish. Retired US Marine Gunnery Sergeant Brian Zins placed second in the event.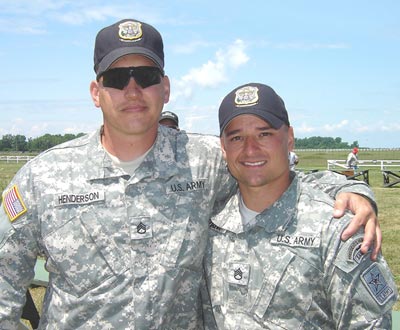 SFC James Henderson and SSG Robert Park II finished first and third respectively in the National Trophy Individual Pistol Match. Both were also part of the four-person US Army Blue team that won the National Trophy Pistol Team Match.
"Our second-best shooter, and I really don't like to rank these guys because it gets really tight after Jim, is SSG Robert Scott Park II. Our running joke on the team with Scott (Park) is his name, he's referred to as 'The Second' because he always seems to be second behind Henderson no matter how well he shoots," St. John chuckled.

"The names really stack up so fast after Henderson and Park that it would be offensive to the rest of the team to attempt to rank them. We are so deep that on any given day they are almost interchangeable," he said. "From third to ninth, there really isn't any separation that's noticeable."

St. John pointed out that because accomplished pistol shooters are usually older on average than top rifle shooters, it takes time to field a successful pistol team.

"It requires more time and training to develop a pistol shooter than a rifle shooter and that's why we see greater success with more experienced shooters," St. John said.

He said in order to perpetuate team success, there must always be younger shooters joining the group. Newer shooters grow and develop into seasoned pistol shooters and chase the older shooters until they eventually reach the top. Rules require that a new shooter be added each year.

At 42, Henderson said he often reflects on his younger days when he learned the ropes from experienced shooters who passed the baton to him and his peers. Now shooters like Park, 30, and Ennis, 33, are pushing him to be better and one day hope to vie for the top spot.

"It is no accident, worldwide, that pistol shooters are older than rifle shooters," said AMU pistol team training instructor Rick Hawkins. "A rifle shooter has four points of contact; the right hand, left hand, shoulder and cheek. And the idea is to get that rifle over your body and as balanced as possible," he said.

"In pistol, it's dangling out there at the end of your arm and it is tougher, a lot tougher. It takes time to build the muscle groups to support the arm and learn technique, and that means you're now looking at an older shooter, said Hawkins who has very high expectations for the team.

"We have a very young team. Some are shooting very well and some are getting frustrated because there's no where for them to go. I've got nine High Masters and they say 'I'm never going to beat Hendo.' The problem is, 15 or 18 years ago when Henderson was in their boots, behind other quality shooters, he was saying the same thing. Except he never gave up because he knew eventually those guys were going to get old and were going to fall off," said Hawkins. "So my job is to tell them not to worry about him, he's a phenom. Just shoot what you're capable to doing and provide the depth," he added.

For more information about the 2009 National Trophy Pistol Matches log onto http://clubs.odcmp.com/cgi-bin/report_matchResult.cgi?matchID=4583. For more information about the US Army Marksmanship Unit log onto http://www.usaac.army.mil/amu/.