<! Nested Table for picture>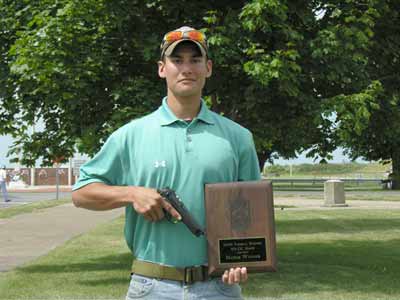 Nineteen year old Christopher Hudock was the top competitor in the 2009 M9 Pistol EIC Match.

CAMP PERRY, OHIO – Christopher Hudock, 19, of Raleigh, North Carolina, attended his first Small Arms Firing School (SAFS) Pistol at the 2009 National Trophy Pistol Matches, and then went on to win the Excellence In Competition (EIC) M9 Match on 13 July with an aggregate score of 269-6X.

Hudock, an accomplished rifle shooter as a junior, earned his Distinguished Rifle Badge in May 2008. Later that summer he also won the Springfield Rifle Match and was the High Junior in the Vintage Military Rifle Match. This year Hudock is competing in pistol as an adult, and has his sights set on becoming Double Distinguished.

SAFS Pistol instruction was provided by US Army Pistol and Rifle Teams with the support of Marine Corps, Navy, Air Force and Coast Guard team members, and the clinic has long been regarded as one of the best available anywhere. All training, practice and match firing was conducted using military-issued Beretta M9 service pistols.


<! Nested Table for picture>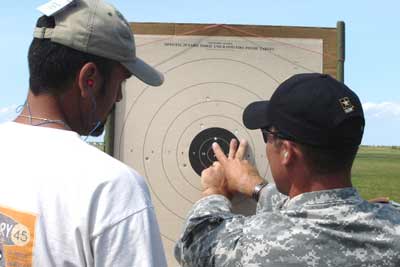 Part of the attraction of the Small Arms Firing School is the opportunity for shooter to receive hands-on instruction from the top military shooters in the country. Participants sit through a half-day of classroom instruction, which is followed by a practice session and EIC match on the range.

Hudock and his SAFS classmates participated in hands-on training on the range with their coaches, and then concluded the school by firing in an official EIC match. This "Special EIC Match" offers competitors who have not earned any EIC credit points a chance to compete for 4-point "introductory legs" that are awarded to the top 10% of these shooters. Competitors may only earn points once in a 4-point introductory leg match towards the 30 points that are required to earn a Distinguished Badge.

U.S. Coast Guard Chief Gunner's Mate (GMC) Shannon Shull, 35, of Port Clinton, Ohio finished second in the EIC match. He fired a 268-5X. Third and fourth place went to a tiebreaker between Michael Burke, 50, of Annapolis, Maryland and Joe Novoa, Jr., 22, of Springville, New York, with a score of 267-3X.

This year's SAFS Pistol course was consolidated from two days to one, providing students an opportunity to learn pistol fundamentals during a morning session in the classroom. This instruction was followed by live-fire one-on-one practice with an instructor, and the EIC match in the afternoon.

<! Nested Table for picture>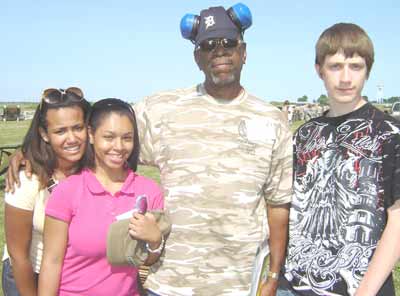 "I liked the change in format down to one-day from two," said Sam Rucker, 61, of Detroit, Michigan. He said the consolidation of training and firing gave his family an opportunity to enjoy Camp Perry and surrounding attractions like Cedar Point amusement park in neighboring Sandusky before returning home.

"It's a young man's game," exclaimed Harry J. Pearson, 70, of Vermilion, Ohio. Pearson and his younger buddy, Howard Fuller, 64, also of Vermilion, enjoyed the experience despite not scoring as well as they would have liked.

It was Pearson's first return to SAFS Pistol since 2002 and was Fuller's first experience in the school. Both have participated in SAFS Rifle, and both are looking forward to returning next year.

"The distance is the same and the targets are the same, but the pistols are 100 percent better than '02. These guns are like new, nice and tight," Pearson said.

<! Nested Table for picture>
Jonathan Ursich, 15, and his brother Timothy, 18, of Centerburg, Ohio enjoyed their first SAFS Pistol experience. "It was a good learning experience. Pretty informative and the instruction was great," Jonathan said.

Heath and Amanda Baus of Elyria, Ohio have been shooting informally together for some time, but the EIC match was their first. "Shooting a match is a pretty humbling experience," Amanda said. "The Marine instructor we had was very helpful."

For a complete list of SAFS/EIC Match competitors and results log onto http://clubs.odcmp.com/cgi-bin/report_matchResult.cgi?matchID=4583.