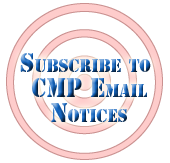 We want your feedback! Please let us know what you think about TFS. Do you have an interesting story or article that you would like to share? If so, please let us know!
Reader Comments:

Regarding the latest update, outstanding work again by the whole CMP crew! New or improved programs, expanded scholarships, new or improved facilities, new rifle and accessory offerings and the super relationships CMP has developed with the ONG and NRA leadership are shining examples of what can be done when one's heart is in the program. You all should be justifiably proud of how the program has progressed into its second century. Somewhere President Teddy Roosevelt has a big grin and is saying a hearty Bully for the CMP! Regards, LTC John F., USAR ret'd
---
I have truly enjoyed your Shooting Tips site. Even as a 25 yr veteran police sniper/high power shooter,I still find interesting,and useful tips from the successful younger folks coming up through the military,and law enforcement. Keep up the good work! Det.Tim R.
---
Wow! Please forward my thanks to everyone responsible for all the improvements I just read about at Camp Perry. Recent years have included quite a few impressive improvements and it looks like there are more this year. The Air Gun range, bath house at RV Park, Bataan Armory remodel, etc are all great. Just letting you know how much we (competitors) appreciate all the work.
Sincerely...
Grayson P.
---
CMP Shooters' News is one of my favorite email news publications. Information packed, talented authors, timely subjects, and all around well done. What a great service you are providing to the shooting community. Just wanted to say thanks and Merry Christmas. Newt E.
---
I enjoy and look forward to TFS and the excellent articles that are published on a regular basis. Please keep this publication coming and keep the CMP active. Don M.
---
One of the members at Snipers Hide pointed out the newsletter and the High Power Tips articles by the USAMU team.
Darn you! I was up until 1:00 AM last night reading all of the articles. Great newsletter and really great USAMU articles.
Thanks,
Michael E.
---
Great article written on physical conditioning in the latest TFS. I was one of likely many who had asked about the type of conditioning recommended for serious shooters. Sgt. Craig did a great job on describing the routines. Now it's my turn to put it to work.
Thanks to you, Sgt. Craig and other contributors who share best practices of shooting excellence.
Sincerely,
Keith H.
---
I use these articles in our high power clinics and have found them very helpful for both new shooters and reinforcement of the basics for the more experienced.
Thanks, Gary M.
---
Thanks for the great articles on the Carbine, Springfield, Garand matches. All the articles are interesting, but the Carbine, Springfield & Garand are my favorites.
Jim H.
---
The September-07 on line shooting tips by SSG Tobie Tomlinson, USAMU Service Rifle Team Member, is a great article. I have reproduced 15 copies of it to hand out and discuss to our "newbie" first year air rifle shooters on our high school JROTC Air Rifle Team. Come to think about it believe I'll hand out a copy to my advance shooters as well. His explanations are simple to understand but rich in detail. Coupled with the sight pictures this article will go a long way towards helping all our JROTC shooters obtain better sight patterns. Keep up the great work. AND…..keep the articles like this coming.
Malcolm V.
CW2 (R), US Army
---



New York Native, Mark Laramie, wins the 2009 National Trophy President's Rifle Match

Written by Steve Cooper, CMP Writer



<! Nested Table for picture>

Mark Laramie gets doused with a water cooler after winning the 2009 President's Rifle Match.

CAMP PERRY, OHIO – If you follow sports, you've probably heard the reference to a team or an individual who "keeps hanging around." It is a form of respect often given to a dangerous opponent who demonstrates the ability to seize the lead at any moment.

That is just what Mark Laramie did to win the prestigious President's Rifle Trophy Match on 3 August. The 41-year-old Oneida County civil engineer from Boonville, New York jumped to the top of the 1,262-shooter pack and earned the top position in the 10-shot prone final used to determine the match winner. And once the 600-yard final began, Laramie did not disappoint the crowd.


A large crowd gathered on Rodriguez Range at Camp Perry, Ohio to watch the President's Rifle Match final. The final is used to determine the winner of the event. Many spectators watched the event unfold on-line with the CMP's on-line results system.

The final format, adopted in the 2007 for the President's Match, pits the top 20 competitors from the 30-shot qualification round in a shoulder-to-shoulder contest at the end of the match. The qualifiers fire an additional 10-shots in prone at 600-yards, and this final score is added to their qualification score to determine the winner.

Shooters faced blustery wind conditions all day, and a change from sunshine to overcast skies in the middle of the final. Despite the conditions, Laramie outlasted second-place finisher Tyler Rico, 15, a junior phenom from Tucson, Arizona and perennial challenger U.S. Army SFC Grant Singley, who finished third in the competition.

Laramie, a husband and father of three children, has been riding the President's Rifle Match roller coaster since his first appearance in the event in 2005. And like many other scrappy competitors Laramie has just kept hanging around, that is until Monday's victory.

Laramie's road to becoming a champion began with a very good 35th place finish in 2005, just six-points shy of the winner, Norman Anderson, who was an active duty U.S. Army Staff Sergeant at the time. In 2006, Laramie dropped a third of the way down in the pack, 23-points behind the leader; but the following year he fought back, finishing in the top 20 percent of all shooters. In 2008, Laramie once again finished in 35th place, just seven points behind Anderson who was then shooting as an Army reservist.


Competitors on the firing line at the conclusion of the President's Rifle Match final at the 2009 National Matches. The 10-shot prone final fired from the 600-yard-line was added in to the President's Rifle Match in 2007.

As the qualification round of the President's Match wrapped-up, it looked as though 2009 might be the year that Laramie closed the deal. Entering the final Laramie had resounding 296-10X qualifying score, and went on to shoot a gutsy 94-3X to maintain a two-point margin over Rico and SFC Singley who were both nipping at his heels. Both Rico and SFC Singley shot higher scores in the final than Laramie, but could not overcome his commanding lead.

"I am very happy," Laramie said following the presentation of the President's Rifle trophy. "I was just hoping to make it to the shootout and was very surprised to hear that I placed that high," he said.

It was a clear and sunny day, with low humidity for Camp Perry, but a driving southwest wind with gusts of 15 to 20 miles per hour made it a challenging match for all shooters, particularly as the day wore on.

"I think my offhand was okay but firing at 600 was a challenge," Laramie added. "I was just very happy to see my score."


Tyler Rico nearly closed the gap during the President's Final. He started the final in 12th and finished 2nd overall in the 2009 President's Rifle Match. He is shown here being congratulated by his teammates.

Rico's 97-6X performance in the final improved his position 10-places, and brought him within two-points of Laramie. Rico is the youngest shooter in the history of the President's Trophy match to place second. He is also the youngest-ever recipient of the Distinguished Rifle Badge, which he received at the 2007 National Matches.

The top finisher in the President's Trophy Match receive a letter of congratulations from the President of the United States. The tradition began with Theodore Roosevelt in 1904, a renowned advocate of rifle training, who wrote a congratulatory letter to that year's trophy winner. The cut-off for this year's President 100 was a 283-4X. The "President's 100" will also receive President's 100 medallions and certificates.

For a complete list of President's 100 place finishers and scores, go to http://clubs.odcmp.com/cgi-bin/report_eventAward.cgi?matchID=4689&eventID=1&awardID=1. Full National Trophy Rifle results are posted at http://clubs.odcmp.com/ntrifle. Event pictures may be viewed at http://www.odcmp.com/photos.htm.