<! Nested Table for picture>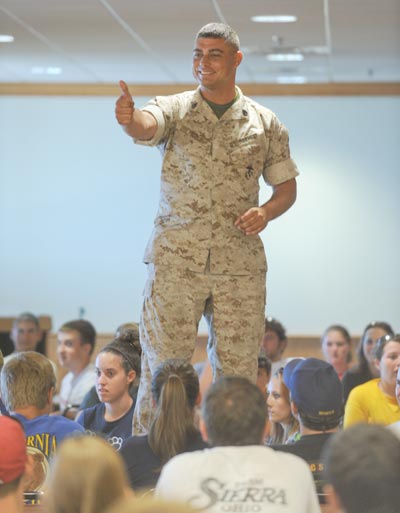 The USMC Highpower Rifle Team gave instruction to about 150 juniors during the CMP-USMC Junior Highpower Clinic prior to the start of the National Trophy Rifle Matches.
CAMP PERRY, OHIO - Just when you thought the CMP-USMC Junior Highpower Clinic was starting to look like just another shooting school, SSgt Jason Haislip leapt upon and marched down the center row of tables and began flinging five-inch Marine Corps shooting team window stickers as rewards for correct answers to rapid-fire questions.

The Marines were back in camp for three days beginning 31 July and were prepared to do whatever it took to grab and hold the attention of some of the nation's most talented young rifle competitors.

SSgt Haislip was one of five USMC Shooting Team instructors who addressed 150 junior shooters on topics that were blended to give junior shooters an inside look at how the Marine Corps rifle team conducts its approach to championship match preparation.

To qualify for entrance to the clinic, participants needed some previous highpower rifle competition experience. The CMP organizes the clinic and members of the U.S. Marine Corps Rifle Team provide instruction.

In addition to SSgt Haislip's energetic presentation on positions and shot process in the classroom, Sgt Emily Windmassinger discussed proper use of the data book, GySgt Christopher Stephens covered range and pit safety, GySgt James Otto instructed proper care and cleaning of equipment and SSgt Guillermo Sandoval explained effects of weather and the science of calculating minutes of angle in sighting the service rifle.

CWO3 (Gunner) Peter Burns, rifle team Officer in Charge, said it's all part of giving back to the sport. The clinic is held each year just prior to the start of the highpower rifle phase of the National Matches. <! Nested Table for picture>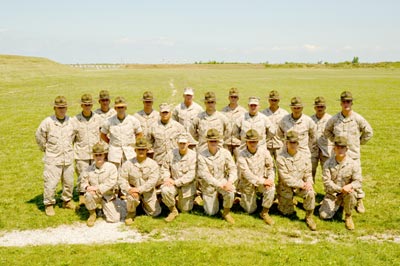 The USMC Highpower Rifle Team consisting of 21 members provided instruction and support for the 2009 Clinic.
"We're not here for any other reason than to show the Corps' support of these programs," Gunner Burns said. "We're not here to promote ourselves or anything else - it's how we give back to those who support us."

"We get the satisfaction of working with juniors knowing that they are the future of the sport," he added.

As a Gunner, Burns is designated as an Infantry Weapons Officer (MOS 0306). Gunners are found in Infantry & Light Armored Reconnaissance Battalions, Infantry Regiments, and the Schools of Infantry. They are the "duty experts" on all infantry weapon systems within the Marine Corps inventory. He is currently serving his 20th year in the Corps. He earned his Distinguished Rifle badge in 1999 and his Distinguished Pistol badge in 2005. <! Nested Table for picture>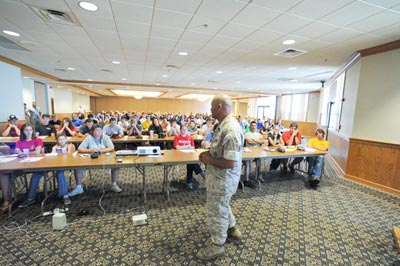 SSgt Sandoval explained the effects of weather and the science of calculating minutes of angle in sighting the service rifle during the classroom portion of the clinic.
The course began with a four-hour lecture and demonstration session at the Camp Perry Conference Center and then it was out to the firing range for another day and a half of training, capped off by a new Excellence-In-Competition match.

This year, eligible juniors in the CMP-USMC Junior Highpower Clinic competed for the same "introductory" 4-point EIC credits that eligible competitors in the Rifle Small Arms Firing School are able to earn. These are one-time only legs that can be earned by competitors who have earned no previous EIC points. USMC Clinic students fired a 50-shot National Match Course over two days.

The overall EIC Match winner was Christopher Hudock, 19, of Raleigh, North Carolina who fired a 482-10X out of a possible 500. He edged Tyler Rico, 15, of Tucson, Arizona who placed second with an aggregate score of 482-9X. Anthony Henderson, 19, of Sonora, California placed third with a total score of 479-12X.

There were a dozen juniors who earned introductory leg points and they are: Matt Gillenberger, Steven Hahn, Michael Storer, Mike Roesel, Trevor Causey, Taylor Grissom, Trevor Mourer, Isaac Dow, James MacMillan, John McDonald, Michael Liuzza and Jerika Wallace, with a cut-off score of 459-7X.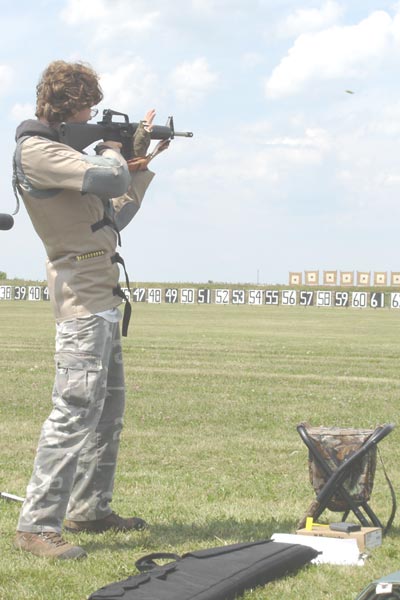 Lee Wagoner of Michigan fires a shot downrange during the Junior Highpower Clinic. He attended the clinic with his cousin, Marshall, of North Carolina.
Lee Wagoner, 15 of Farmington Hills, Michigan and his cousin Marshall Wagoner, 16, of Greensboro, North Carolina attended the course together this year.

Lee's dad Brian, 46, said he was very happy with the training his son received. "It was all positive, absolutely. The communication, sign-up, service and volunteers were excellent," he said. "The service folks are doing a great job too."

Jerika Wallace, 15, of Oregon City, Oregon said the clinic was enjoyable. A member of the Douglas Ridge Rifle Club and Estacada Rod & Gun Club, Wallace said she was surprised by the wind at Camp Perry. Her home ranges are closed in by trees on the ends, she commented.

"The wind was really pushing me around, but I shot pretty well in the EIC match," she said. Wallace was one of the 12 juniors to earn a 4-point EIC leg.

Bob Colombo, 67, of Joliet, Illinois brought his grandson Brandon Burzawa, 14, to his second USMC clinic.

"He's really growing in the sport and learning some responsibility," Colombo said. Burzawa is a member of the Illinois State Rifle Association, also known as the Hard Dogs.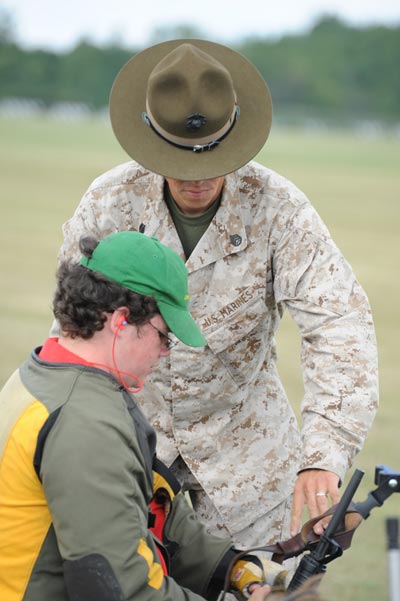 A Marine helps a junior on the range adjust his sling before the firing exercises. Clinic attendees received not only classroom instruction but also hands-on instruction on the range.
On the range, juniors were subjected to a number of shooting drills which provided valuable experience including magazine changes while firing under pressure, blind spotting of rounds on target, confirming zeroes and moving from standing to prone position. Drills were conducted at 200, 300 and 600 yards.

Ken Bugg, 53, and his wife Patricia of Vacaville, California brought Brittany Rhodes, 16, also of Vacaville to this year's junior clinic. They are the parents of Distinguished Rifle shooter Kathryn Bugg who originally planned to attend with Brittany but couldn't make it because she's currently attending Air Force Academy basic training in Colorado.

Ken and Patricia made good on their commitment to come to Camp Perry for the junior clinic despite the absence of their own daughter.

"Brittany is our adopted daughter at this year's matches," Patricia Bugg said enthusiastically.

A novice shooter and member of the Coalinga Rifle Club, Brittany said "It's a lot of shooting - we get up early everyday and shoot, but I'm having a lot of fun."

"This clinic is always beneficial - it gives them confidence in their abilities," Ken said.

Patricia said her daughter Kathryn has really benefitted from shooting. "It has really shaped her personality and she has developed tenacity, determination and a real work ethic as a result."

At the conclusion of instruction and the EIC Match on Sunday, 2 August, all students received a CMP-USMC Highpower Rifle Clinic T-shirt, a USMC Shooting Team sweatshirt, a certificate of completion and were treated to a pizza party, sponsored by Bushmaster Firearms Inc.

For complete results of the CMP-USMC Junior Rifle Clinic EIC Match, log onto http://clubs.odcmp.com/cgi-bin/report_matchResult.cgi?matchID=4689.