<! Nested Table for picture>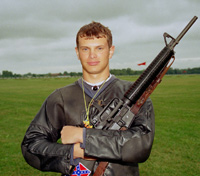 Chris Atkins, a 17-year-old junior from Brunswick, Georgia was the first junior and only the second civilian since 1976 to win the prestigious Presidentís Rifle Match at Camp Perry.

The Presidentís Rifle Match has been a fixture of the National Matches since their inception in 1903. In fact, the original President's Match was initiated in 1894 as a highpower rifle competition for service rifles to determine the ďIndividual Military Rifle Championship of the United States.Ē It was incorporated into the new National Matches in 1903 and President Theodore Roosevelt began the tradition of awarding a congratulatory letter from the President to the winner in 1904. The Presidentís Match was opened to ďany citizen of the United StatesĒ in 1921, but throughout its history, it has been dominated by military competitors. From 1977 through 2002, every Presidentís Rifle Match winner was military.

That chain was broken last year when Stanton Noon, a civilian from New York, won the match. Mr. Noon was the first civilian to win the trophy since Gary Anderson, the current Director of Civilian Marksmanship, won it in 1976. Now, in 2004, another civilian, Christopher Atkins from Brunswick, Georgia, has won the coveted Presidentís Rifle Trophy. There is another historic twist in this story that is even more significant. Atkins was not even born until 1987; he is just 17 years old junior. He is the youngest shooter and most likely the first junior ever to win the Presidentís Match.

<! Nested Table for picture>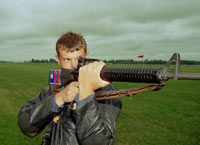 Presidentís Rifle Match winner Chris Atkins demonstrates his standing position. He was the only shooter among 1300 competitors in the match to shoot a perfect 100 standing.

A member of the Georgia Junior High Power Rifle Team, Chris Atkins is no stranger to the National Matches or to shooting. He has been coming to the National Matches with his father since he was two years old. Christopherís father is the record holding, legendary long-range shooter Billy C. Atkins, who for many years dominated long range events in National Matches service rifle competitions. Billy already has an NRA National Championship trophy named after him. Christopher won an award for being the High Junior in the 2003 Presidentís Rifle Match when he made the Presidentís 100 with a 291-5X score. He also is an accomplished position air rifle shooter with his Navy JROTC team in Brunswick. The Brunswick team was the top precision air rifle team in the Navy JROTC Air Rifle Championship conducted earlier this year by the CMP at Fort Benning, Georgia. And he hopes to compete in college where he will shoot air rifle and smallbore.

<! Nested Table for picture>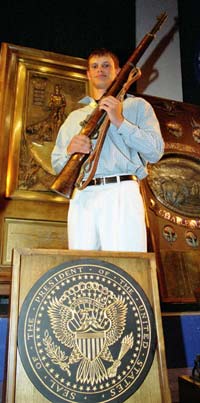 2004 Presidentís Rifle Match winner Chris Atkins poses with the presentation rifle he won. The Presidentís Rifle Trophy stands in front of him.

Atkins fired the Presidentís Match on an early relay on Viale Range. He took an early lead in the match with a perfect 100-4X in the standing stage; it was the only clean standing among the 1300 shooters in the match. He followed that with a strong 99-6X in the prone rapid fire stage. When scores started being posted on the CMPí Internet-based results system, it showed him on top of the leader board and he stayed there throughout the match. When the shooters moved back to the 600 yard line, only Atkins and the Armyís Sergeant William Pace were down one point and only two shooters were two points down. The question was whether he could hold on to his lead in the final 600 yard slow fire stage. Atkins quieted the doubters and permanently placed his name on the Presidentís Rifle Trophy when he finished with a solid 99-5X. Pace also fired a 99 at 600 yards, but his final X count was 6Xs behind the junior from Georgia. The rifle Atkins fired was a Bushmaster DCM rifle obtained through the CMP AR-15 rifle sales program.

At this yearís National Rifle Matches, Atkins showed his fellow competitors that no one should ever be counted out because of age or experience. His score of 298-15x ties the second highest score fired in the Presidentís Match since it its current service rifle only 30 shot, 200 standing, 300 prone, 600 prone course of fire began in 1977. In fact his winning score was just one point and four Xs behind the all-time record, 299-19X, fired by Marine SSgt Scott Threatt in 2001.

Christopher received a presentation M-1 Garand rifle prepared by Phil Arrington of Arrington Accuracy Works, Phoenix, Arizona, as well as a plaque commemorating his achievement. He also will receive a congratulatory letter from President George W. Bush that honors his victory in the 2004 Presidentís Rifle Match.