<! Nested Table for picture>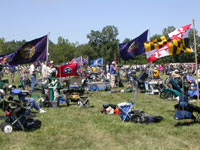 Flags from many states and some shooting clubs graced Viale Range on the day of the Springfield Match. Shooters come from all over the country for the chance to fire these historic rifles in competition.

Each year for two days in August, fans of vintage military rifles take over the National Matches ranges at Camp Perry, Ohio in what has become the most popular two days of the matches. This year, the 3rd Annual Springfield and Military Bolt Rifle Match and the 6th Annual John C. Garand Match took place at Camp Perry, Ohio on August 6-7. They, were once again the biggest draws of the National Matches with a record 816 shooters entering the Springfield Match and 1401 shooters registering for the Garand Match. These two matches took place at the same time as the National Trophy and National Trophy Infantry Team Matches so nearly 2000 shooters were at Camp Perry competing during those two days.

<! Nested Table for picture>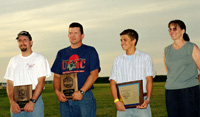 CMP Board of Directors member Marsha Beasley (r.) presented awards to the 2004 Springfield Match Winners. John Friguglietti of Denver NC (l.) with a 286-6X won the Springfield Match. Anthony Craft of Munith, MI (2nd from l.) won the Vintage Military Rifle Match with a 278-4X. Mark Patterson of Fort Walton Beach, FL (3rd from l.) was the high junior with a 272-3X.

Competitors in this match have their choice of firing an as-issued M1903 Springfield rifle and competing in the Springfield Match or they can fire an as-issued foreign military rifles of the same vintage or other U. S. military rifles like the Enfield or Krag. The course of fire is the same as the Garand Match. All firing is at 200 yards on the SR target. It starts with 5 sighting shots and 10 shots for record slow fire prone (one minute per shot). Then shooters fire a prone rapid fire series where they start from the standing position and have 80 seconds to get into position, fire five shots, reload and fire the five remaining shots. The match concludes with ten shots slow fire standing.

The day of the Springfield Match saw some carryover weather from the previous days when strong winds prevailed. The wind from the National Trophy Individual Match was still blowing, but thankfully the rain had abated. With firing done at 200 yards the wind which was mostly blowing in off Lake Erie, didn't affect the strike of their bullets very much, but the wind blowing on the shooters' positions during the standing stage of the match did have an effect.

<! Nested Table for picture>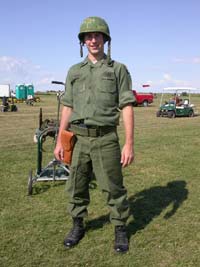 Like many shooters, this competitor chose to fire the match dressed in period clothing.

The Springfield Match is always a colorful match, drawing competitors dressed in World War I period uniforms. One group of shooters firing Swiss rifles in the Vintage Military Bolt Rifle event, arrived wearing camouflage fatigues of the Swiss Army. This all contributes to the fun, friendship, fellowship and camaraderie that exemplifies these matches and the CMP Games in general.

Scores from this year's Match were overall very good. John Friguglietti of Denver, North Carolina was the top competitor firing a 1903 Springfield rifle. His score of 286-6x was enough to best Ohioan Robert Elka's score of 285-8x by a single point. In third place was Martin, Ohio's Mark Witt with a 285-5x.

<! Nested Table for picture>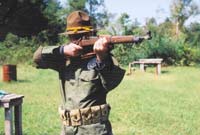 Shooters in the Springfield/Vintage Military Rifle Match may fire either M1903 Springfields or vintage military rifles of the same era from other countries. Period uniforms are worn by many competitors.

In the Vintage Military Bolt Rifle Match, scores weren't quite as high as those fired with Springfield rifles, though good scores were posted. Anthony Craft of Munith, Michigan fired a score of 278-4x with a Model 96 Swedish Mauser. In second place was another shooter firing the venerable Model 96 Mauser. Michael Filozof of Alden, New York used a M96 to fire a score of 277-6x. Third place was fired by another Mauser shooter, but this one was from another part of the world. Joseph Russum of Franklin, Massachusetts fired a score of 274-4x with a 1929 Persian Mauser.

A presentation rifle is awarded in the Springfield Match, but it is presented through a special draw procedure. During the match five shooters were picked at random off of each relay to have their rifles inspected by CMP gunsmiths for compliance with as-issued rifle rules. Each one of these competitors whose rifles passed inspection had their name entered in the drawing for a beautiful M1903 Springfield rifle that was transformed into a presentation rifle by Eric Pierce of the National Match Armory in Rendon, Texas. The winner of the 2004 Springfield Match presentation rifle was Phillip Gaddy of Statesville, North Carolina.
CMP South Staffer Bryan Otwell of Anniston, Alabama fired in one of the early relays of the Springfield Match. Brian is an accomplished Highpower shooter, having fired in the National Match courses as part of the All-Guard teams.

Tommy Whitten of the CMP assists a competitor at the ammunition wagon on the day of the Springfield Match. Ammunition was issued to competitors prior to their lining up to shoot the match.

CMP Staffers Christie Sewell and Gina Brummett assist competitors under the CMP tent that became a landmark on the range during the Springfield and Garand Matches. With competitor check-in and a permanent CMP staff presence on the firing range, these matches went smoothly.

This competitor fires his British Enfield rifle the in the Military Bolt Rifle match that ran concurrently with the Springfield Match. Besides the 1903 Springfield, shooters fired Enfields, Mausers, Arisakas and Carcanos in the match.

A competitor prepares to fire another shot during the Springfield Match. Despite some winds, the weather from previous days passed through and good scores were posted overall.