The Book of Dreams
Sophie McDonald, 13, attended the 2002 National Youth Leadership Conferece with her parents who are junior club leaders. She was the youngest person at the Conference. She brought with her to Camp Perry a special book, entitled Olympic Shooting (copyright 1978).

The book's introduction was written by an Olympic gold medalist from the United States named Gary Anderson. Anderson is now the Director of Civilian Marksmanship and was the Conference leader.

Sophie, who has been shooting for 4 years and dreams of one day winning Olympic gold herself, by chance found the book at the Paducah Shooters Supply in her hometown of Paducah, Kentucky. "I just happened to find it. It was $10, on consignment."

The book (which Anderson gladly autographed) has been an additional inspiration to Sophie. She, in fact, practices every day at home, dry firing smallbore and shooting air rifle. Of course, it also helps that her father, Stan, is a 4-H shooting coach in Paducah.

She has set her sights on the 2008 Olympics. She'll be 19 by then. "It's a goal that I can work towards," she said.

Sophie was excited as well by the opportunity on Sunday night of the conference to visit Gary and Ruth Ann Anderson's home, which contains over 40 years of shooting memorabilia.

Of note, during the conference, Sophie also had Olympic medalist Bob Foth sign the book, although his picture isn't in it. She smiled and said, "It was a little before his time."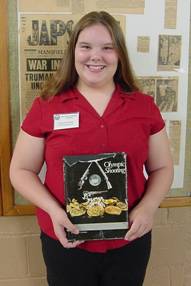 Sophie McDonald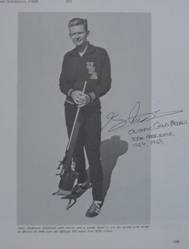 From the book, "Olympic Shooting," a photo of Gary Anderson after he won the 300m free rifle Olympic gold medal in 1968