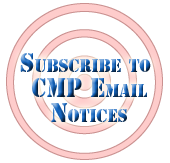 We want your feedback! Please let us know what you think about TFS. Do you have an interesting story or article that you would like to share? If so, please let us know!
Upcoming CMP Events:
Tuesday & Thursday Night Open Public Shooting

CMP Marksmanship Centers,
Port Clinton, OH
Anniston, AL
Shooters, including aspiring new shooters are invited to take advantage of a new opportunity to do practice shooting. Both ranges consist of 80-point, 10-meter air gun range and are fully equipped with electronic targets that accommodate air rifle, air pistol or National Match Air Rifle shooting. Instruction and equipment are also available. Visit http://www.odcmp.com/
MarksmanshipCenters.htm for additional information.
---

CMP iPhone App - CMP is the official app for keeping score at Civilian Marksmanship Program sponsored shooting events. It features an easy to use interface that allows for quick recording of your score after each string. The CMP app calculates your shooting percentages automatically to let you know how you are doing throughout the event. You can also enter notes and record conditions so that you have a permanent record of details of each event. This application is sponsored and endorsed by the Civilian Marksmanship Program and a portion of the proceeds from the sale of this software are donated to the CMP. The CMP app is designed for both the iPhone and iPad. This application is sponsored and endorsed by the Civilian Marksmanship Program and a portion of the proceeds from the sale of this software are donated to the CMP. Visit http://itunes.apple.com/us/app/cmp/
id379873392?mt=8# to view and purchase the CMP app.
---
2010-2011 JROTC Air Rifle Postal Competition Now Open for Registration. The 2010-2011 JROTC three-position air rifle competition program starts in September with Army, Navy, Marine Corps and Air Force postal competitions. All JROTC units that offer rifle marksmanship training for their cadets are encouraged to shoot in these popular matches. Indeed, a major objective this year is to increase participation by JROTC units and individual cadets. All firers in the open postal competitions will fire a 3x10 air rifle course of fire. The deadline to enter the JROTC Postal Competition is 12 November. Visit http://www.odcmp.com/3P/JROTC.htm for additional information and on-line registration.

---
Air Rifle and Air Pistol Marksmanship Competitions - Camp Perry, Ohio and Anniston, Alabama. The Civilian Marksmanship Program (CMP) invites you and your club rifle team to participate in the CMP's Monthly Matches. The matches will take place on the above dates at the CMP's Marksmanship Centers North and South. The competitions will feature a Junior Air Rifle 3x20, 60 Shots Air Rifle Standing, 60 Shots Air Pistol, a 20 shot Novice Prone stage a National Match Air Rifle 20 Shot Standing, Garand Course and 3x20 events. Monthly Match Date is 20 November. Visit http://www.odcmp.com/
MarksmanshipCenters.htm to view the CMP Monthly Match Program or to register for the Match.
---
Dixie Double, Anniston, AL. The Civilian Marksmanship Program (CMP) invites you to participate in its second annual Anniston Marksmanship Center Dixie Double. This match offers 60-shot international air rifle standing and 60-shot air pistol events for open men and women and junior men and women. USA Shooting is sanctioning this match as a PSA/PSI match sanctions; it is also sanctioned as a PTO. Members of the National Rifle and Pistol Teams will attend. National Rifle Coach David Johnson will present a coaching clinic for all interested persons on Saturday afternoon, 13 November. The match is a two-day event where competitors will fire one 60-shot event on each of two days, 13 & 14 November 2010. Visit http://www.odcmp.com/3P/
DixieDouble.htm for additional information.




USAMU's Parker Wins Air Rifle Aggregate and USA Shooting's Lutz Wins Air Pistol at Second Annual CMP Dixie Double

ANNISTON, ALABAMA – A pair of US Army Marksmanship Unit heavyweights took the top two podium spots in the open category of the Civilian Marksmanship Program's second annual Dixie Double Precision Air Rifle and Air Pistol Event, but University of Kentucky and USA Shooting's Ashley Jackson, 22, of Cuyahoga Falls, Ohio wasn't far off the pace. Despite a calendar crowded with airgun events taking place nationwide and abroad, several of the country's top air rifle and air pistol shooters brought their talents to the CMP Marksmanship Center and shared their wisdom with junior shooters during the 60-shot-times-two standing event, held Saturday and Sunday, 13 and 14 November.

2010 Dixie Double Event Provides Airgun Shooters Opportunities for Improvement

ANNISTON, ALABAMA – The 2010 Dixie Double Precision Air Rifle and Pistol Event gave junior and veteran shooters alike an opportunity to improve their game in a challenging environment at the 80-firing point CMP Marksmanship Center, 13-14 November. <! Nested Table for picture> Selina Curren, 14, of Pelham, Alabama picked up a BB gun for the first time a year ago and began shooting competitively with her 4-H club and has shown rapid improvement. At the 2010 Alabama Sports Festival she placed first in the 13 to 15-year-old class BB gun championship, second in the .22 rifle silhouette match and third in three-position .22 rifle match.

CMP Western Games – A Great Place to Vacation, Meet Old Friends and Shoot in a Friendly Atmosphere

PHOENIX, ARIZONA – No matter where you shoot, everyone's got their own description of their weather. Texans call their seasons drought, flood, blizzard and twister. At Camp Perry they say "if you don't like the weather, wait 'til the next relay." Mark Twain said "climate is what we expect, weather is what we get." <! Nested Table for picture> And of course in Arizona you can fry eggs on the hood of your car, but they say "yep it's hot, but it's a dry heat." But in all fairness to the good folks of Arizona, October is a great month to visit and meet up with friends at the shooting range. They say Montana is Big Sky Country, but Arizona has horizons that stretch all four compass points too.

Hilliard Elliott – Pearl Harbor Survivor
Still Going Strong at 89

PHOENIX, ARIZONA – As members of America's "Greatest Generation" decline by triple-digit numbers each day, they leave behind a legacy of heroism, leadership and prosperity that is unmatched in our history. One member of that fraternity, Hilliard "Curly" Elliott, of Granada Hills, California continues to defy the effects of aging. In fact, he spent his 89th birthday at the CMP Western Games on 17 October, shooting in rifle matches and hanging out with his shooting buddies at the Ben Avery Shooting Facility. It's something he has done for the past seven years.

Vintage Sniper Test Match a Big Success at Western Games Set to Become Newest CMP Games Match at Camp Perry in 2011

PHOENIX, ARIZONA – Having passed muster at the 2010 CMP Eastern and Western Games, the Vintage Sniper Match has been approved as the newest match and will be sponsored by Hornady Manufacturing at the 2011 CMP National Trophy and CMP Games Matches at Camp Perry, Ohio. <! Nested Table for picture>

Seven Earn EIC Points in Special M1 Garand Match and Edward Hotz Wins M1 Carbine Match at CMP Western Games

PHOENIX, ARIZONA – By scoring in the top 10 percent of eligible shooters in the Special As-Issued M1 Garand Excellence In Competition (EIC) Match during the 2010 CMP Western Games, seven Non-Distinguished shooters earned four introductory or "leg" points of the 30 required to earn a Distinguished Rifleman Badge, a coveted honor among marksmen.

Whiteside Wins O-Class Title and McKinney Wins T-Class in CMP Western Games Rimfire Sporter Match

PHOENIX, ARIZONA – Andy Whiteside, 22, of Tucson, Arizona took top honors in the Open Sights (O-Class) division of the Rimfire Sporter Match and Lee McKinney, 64, of Rio Rico, Arizona won the Telescopic (T-Class) championship and was the High Senior as well in T-Class at the CMP Western Games at the Ben Avery Shooting Facility, 17 October.

Krupp Wins CMP Western Games John C. Garand Match as Rutherford Wins Springfield and Vintage Matches

PHOENIX, ARIZONA – Maury Krupp, 57, of Tucson, Arizona, won the John C. Garand Match, firing an aggregate score of 293-6X. As a result of his first place finish, Krupp took home a CMP Match Winner engraved plaque and a Fancy Grade M1 rifle stock donated by Dupage Trading Company of Chandler, Arizona. Krupp fired a 98-3X in prone slow, a 99-1X in prone rapid and an impressive 96-2X in standing slow-fire.

Shooters Take to the Sun at 2010 CMP Western Games

PHOENIX, ARIZONA – The 2010 CMP Western Games event held 16-19, October was highlighted by four sunny days under a Sonoran Desert sky, made even better with a series of clinics and rifle matches attended by some of the nation's best shooters and others who simply enjoyed firing their favorite rifles in a competitive format. <! Nested Table for picture> As with all CMP events, camaraderie amongst the shooters made the seventh annual CMP Western Games matches and clinics a big hit as 458 event entries were registered at the Ben Avery Shooting Facility on the northern boundary of Phoenix. Temperatures reached the high 80s during the first two days and dropped a few degrees on days three and four, with no threat of rain.

Rutherford Wins Overall GSM 3-Gun Aggregate at 2010 CMP Western Games

PHOENIX, ARIZONA – Glendale "Don" Rutherford captured the Garand-Springfield-Vintage Military rifle three-gun aggregate championship at the 2010 Western CMP Games at Arizona's Ben Avery Shooting Facility with an overall score of 865-27X. The games concluded Tuesday, 19 October after four days of clinics and a variety of matches. The match was part of the seventh annual event held in conjunction with the Western Creedmoor Cup Matches.