ANNISTON, AL – Dempster Christenson, 22, of Sioux Falls, SD, grabbed the early lead in the open division of the fourth annual Dixie Double and never looked back, winning by 16 points over the next closest open division competitor, SPC Erin Lorenzen, U.S. Army.
<! Nested Table for picture>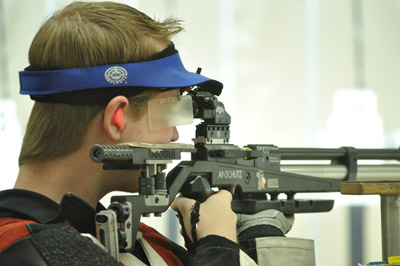 Dempster Christenson, of Sioux Falls, SD decisively won the open class division of the 2012 Dixie Double air rifle match at the CMP Marksmanship Center in Anniston, AL.


Elizabeth Gratz, 16, of Sigel, IL, won the junior division, leading both days and scoring high enough to place second among junior AND open shooters, which included a field of notable U.S. and international competitors.
<! Nested Table for picture>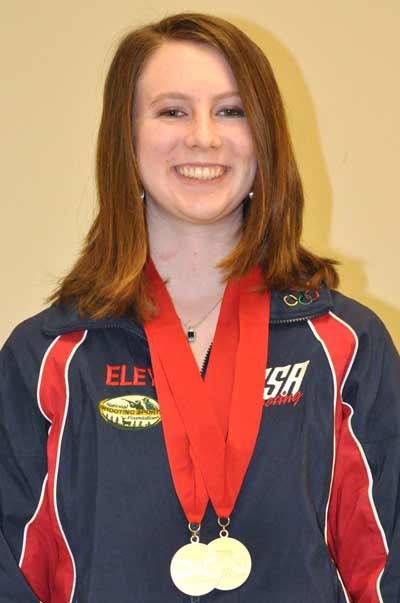 Elizabeth Gratz, of Sigel, IL, won the air rifle junior division, leading both days and scoring high enough to place second among junior AND open shooters.


Christenson turned in a stunning performance in the 10-meter, 60-shot times-two standing event, scoring a 594 on Day I and backing it up with a 596 on Day II. In addition, his finals were equally impressive – a 104.6 on Day I followed by a 104.9 to cap off the event with an aggregate score of 1399.5.

The open division included several notable shooters including U.S. Olympian Jonathan Hall, 24, of Columbus, GA, U.S. Army Marksmanship Unit veteran SSG Hank Gray, 33, USAMU teammate Lorenzen, 24, and West Point cadet and former JROTC national champion Richard Calvin, 20, of Murfreesboro, TN, to name a few.
<! Nested Table for picture>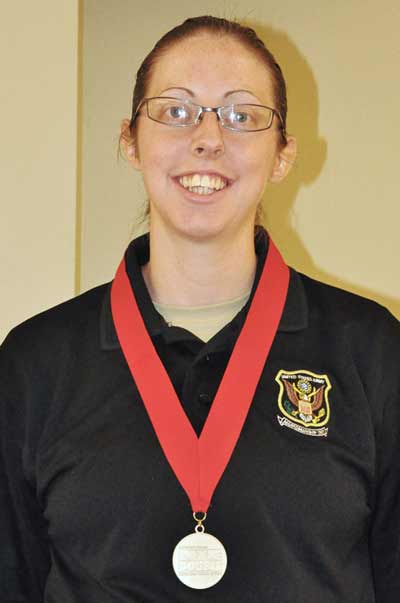 SPC Erin Lorenzen, of Ft. Wayne, IN, placed second in the open division of the Dixie Double air rifle match.


Lorenzen, of Ft. Wayne, IN, fired an aggregate score of 1383.7 in the open division, including strong finals on both days (102.4 on Day I and 103.3 on Day II). Calvin placed third with a two-day score of 1381.6.

Gray finished fourth, followed by Hall, Ethel-Ann Alves, Lisette Grunwell-Lacey and Mark McClallen.

<! Nested Table for picture>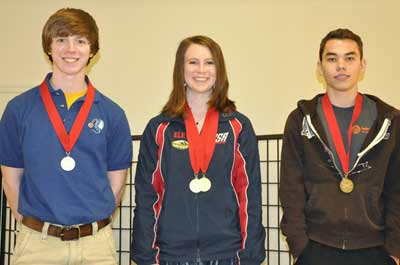 From left to right, Quintin Wotring, Elizabeth Gratz and Jedidiah Huie, receive awards and recognition on the Dixie Double podium for placing second, first and third, respectively, in air rifle competition.


In junior competition, Gratz was followed by Quintin Wotring, 15, of Kingsport, TN, with an aggregate of 1356.1 and Jedidiah Huie, 20, of Oneonta, AL, who fired a combined score of 1354. Wotring's performance in the final on both days was instrumental in moving him into second place.

The top eight were rounded out by Shelby Brummett, Rachael Schoenrock, Spencer Brandon, Robert Broadstreet and Makennon Doran.

<! Nested Table for picture>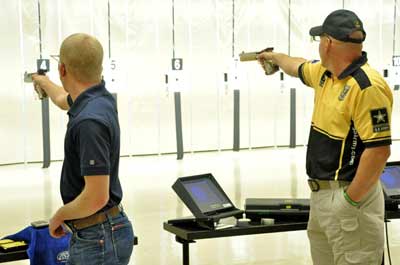 Will Brown, left and SFC James Henderson square off in a one-shot tiebreaker following the Day II final in which both shooters scored a 681.8. Brown edged Henderson with a deep 10 to sweep both days of air pistol competition in the open division.


U.S. National Development Team member Will Brown, 20, of Twin Falls, ID, outlasted USAMU's SFC James Henderson, 45, of Midland, GA, in a two-day dogfight to win the 60-shot, 10-meter air pistol event with an aggregate score of 1363.2 to Henderson's 1358.7. Brown led after Day I, 681-676 but Henderson kept the pressure on Brown, but Brown's consistency prevailed. Henderson made the Day II final interesting, matching his younger opponent's Day II score of 681.8 after the 10th shot, forcing a one-shot shoot-off. In the extra competition shot, Brown fired first and scored a deep 10. Henderson raised and lowered his pistol, raised it a second time and fired a 10.1, conceding the match to Brown.

Nick Mowrer, 24, of Ramsay, MT, a member of the U.S. National Team, placed third with an aggregate score of 1351.2. Mowrer came back from a disappointing Day I score of 570 to hang a 581 on the Day II leader board.

Finishing out the top eight in the two-day event were John Ennis, Greg Markowski, Sandra Uptagrafft, Seth Berglee and Patrick Franks.
<! Nested Table for picture>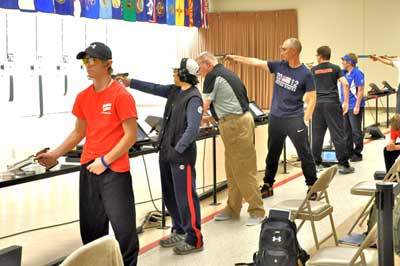 Ronnie Pierson, 16, far left, prepares to send a pellet downrange at the Dixie Double in Anniston. Pierson was the high junior in the air pistol match.


In junior air pistol shooting, Ronnie Pierson, 16, of West Blocton, AL, placed first with an aggregate score of 1247.7 Pierson fired a 509 on Day I and jumped to 549 on Day II with finals of 95 and 94.7, respectively.

Pierson was followed by Kara Moody, 16, of West Blocton, AL, who finished with a two-day total of 1185.4. Zachary Miller, 12, of Sylacauga, AL placed third with a combined score of 1155.2. The remaining junior pistol shooters were Layne Smith, Ashley West and Zackery Benson.
<! Nested Table for picture>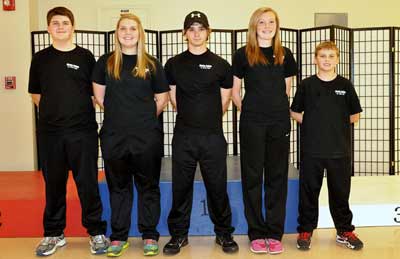 Members of the Blocton Bullets, Blocton, AL, shooting club dominated the junior air pistol lineup at the 2012 Dixie Double. Pictured from left are Zachary Miller, Kara Moody, Ronnie Pierson, Ashley West and Layne Smith.


In team competition, two-person teams comprised of one open and one junior shooter in both air rifle and air pistol, combined their two-day aggregate totals to determine place finishes.

In air rifle, the team of Richard Calvin and Quentin Wotring placed first with a combined score of 2338. Jonathan Hall and Jedidiah Huie placed second with 2331 and SPC Erin Lorenzen and Hannah Richardson, 17, of Davison, MI, combined on a 2321 for third place.

In air pistol, the team of Nick Mowrer and Kara Moody placed first with a total score of 2166. SrA Alex Callage, 23, USAF, and Ronnie Pierson combined for a score of 2160 and placed second and Will Brown teamed with Zachary Miller for third place with a score of 1164.

For complete results of the 2012 Dixie Double, log onto http://ct.thecmp.org/app/v1/index.php?do=match&task=edit&match=9135. To view, download and order photographs taken during the 2012 Dixie Double and awards ceremony log onto http://cmp1.zenfolio.com.