PHOENIX, ARIZONA – Several new shooters attended the ninth annual Western CMP Games at Ben Avery Shooting Facility, 13-16 October, helping boost the total number of games entries to 521 compared to 495 last year. The fast-growing Vintage Sniper Rifle Team Match helped swell the numbers, growing by an additional14 teams to a total of 40 compared to 2011.
<! Nested Table for picture>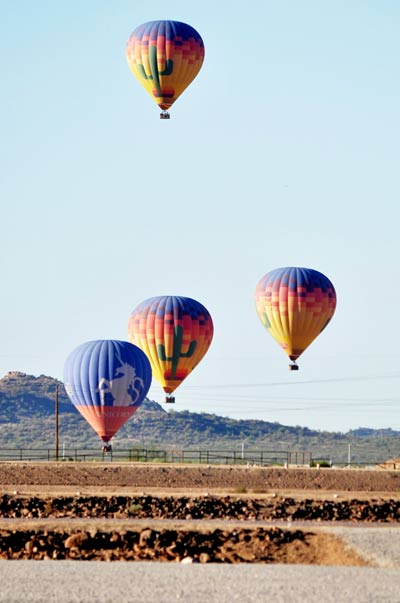 Hot air balloons take to the skies to the rear of the Ben Avery Shooting Facility located near the northern boundary of Phoenix. Temperatures ranged from the low 80s to the mid-90s, with occasional wind gusts during the five-day CMP event.


Shooters were greeted by unusually cool temperatures topping out in the low 80s on the eve and first day of competition, but it gradually warmed to the mid 90s before matches ended four days later. Firing continued with the Creedmoor Cup Matches from 17-21 October, sponsored by Creedmoor Sports, Inc. of Oceanside, CA.
<! Nested Table for picture>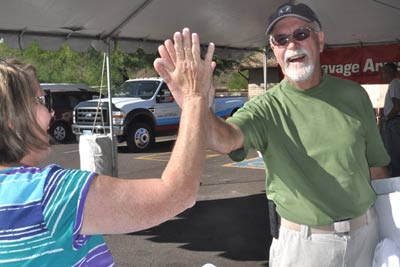 Competitors and CMP staff members reunited at Ben Avery for five days of camaraderie and friendly competition at the Western CMP Games.


With an emphasis on education and sportsmanship, the Western CMP Games included a new shooter clinic on Friday evening, conducted by veteran competitors Don and Leon Rutherford. Dave Emary of Hornady Manufacturing also conducted a pair of reloading clinics on the basic and advanced levels.
<! Nested Table for picture>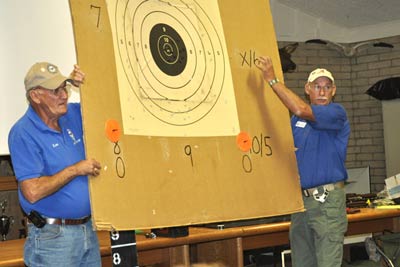 Veteran rifle competitors Leon Rutherford, left, and Don Rutherford, demonstrate how to score targets as part of their GSM new shooter clinic.


The Western CMP Games provided shooters seven matches to choose from, giving them the opportunity to fire one, two or three vintage military guns during the GSM (Garand, Springfield, Military bolt) series. The GSM series gave shooters an opportunity to win Three-Gun Aggregate awards for using one of each type gun in the series.
<! Nested Table for picture>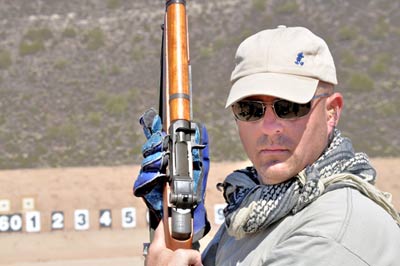 Alan Haywood, 43, of Phoenix, prepares to fire a shot with this M1Garand rifle during the standing stage of the first day of competition.


For shooters who didn't bring three guns to the matches, they had the option of re-entering the same gun in a second or third match over the three-day GSM period. All three gun types share the same course of fire and timing, so re-entering was seamless.
<! Nested Table for picture>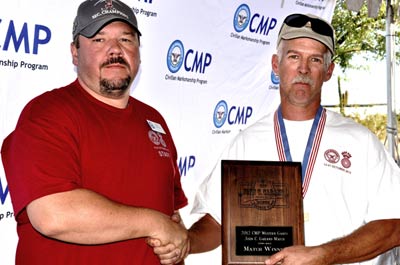 CMP Deputy Chief Operating Officer, Mark Johnson, congratulates Steffen Bunde upon winning the John C. Garand M1 rifle match with an aggregate score of 285-5X.


A total of 151 entries were logged in the Garand matches. Another 74 were fired by Springfield shooters and 57 were registered in the Vintage Military category, plus re-entries in each.

Additionally, the CMP offered an As-Issued M1 Garand Excellence-In-Competition Match, which awarded four intro EIC "leg" points to non-Distinguished shooters. For those wanting more than iron sights shooting at 200 yards, CMP also conducted .22 Rimfire Sporter, M1 Carbine and Vintage Sniper matches on Sunday, Monday and Tuesday, respectively.
<! Nested Table for picture>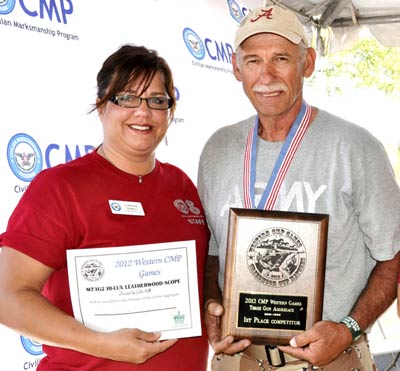 CMP General Manager, Christie Sewell, presents the match winner plaque to Don Rutherford for winning the GSM Three Gun Aggregate championship. As the GSM winner Rutherford also received an M73G2 Hi-Lux Leatherwood rifle scope, donated by Gibbs Rifle. Rutherford won the Springfield and Vintage Military rifle matches enroute to the GSM victory.


In the Vintage Military bolt gun match, Rutherford was high scorer and high senior with an aggregate of 389-5X. Rutherford fired 99-4X, 97-1X and 93-0X in the match. Robert Spurrier, 51, of Lakewood, CO, placed second with a total score of 285-4X and Lee McKinney, 66, of Rio Rico, AZ, placed third with an aggregate score of 282-4X.
<! Nested Table for picture>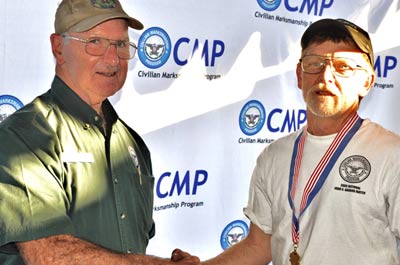 Ron Foos receives congratulations from CMP Board Member, Bill Willoughby during a CMP awards ceremony at Ben Avery. Foos was the highest scoring points-eligible shooter in the As-Issued EIC Match, with a score of 373-10X out of 400 possible.


By taking two out of three GSM matches and just three points off the lead in the Garand Match, Rutherford won the Three-Gun Aggregate award, scoring 865-24X for an average of 288 in the three matches. James Denovchek placed second overall with a total of 842-15X and William Ellis, 47, of Slough, England, placed third with a three-gun total of 840-14X.

Ron Foos was the high non-Distinguished shooter in the As-Issued EIC Match, with a score of 373-10X out of 400 possible in the match that also includes a rapid-fire sitting stage. Foos' score was high enough to place second overall among all shooters, including those who have already earned EIC points or are Distinguished. Johnny Fisher, 37, of N. Hollywood, CA, placed second with a 371-11X and third overall. Robert Spurrier placed third in non-Distinguished with a score of 371-6X and fourth overall.
<! Nested Table for picture>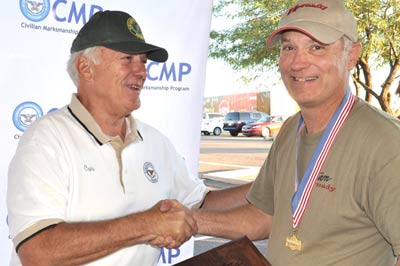 Dave Emary was the overall high scorer in the As-Issued EIC Garand match. Here Dave receives congratulations from CMP Board Vice Chairman, Chris Stone.


The leader in overall As-Issued EIC Match was Dave Emary, who scored a 375-8X aggregate. Emary put together a series of 99-4X, 99-2X, 92-1X and 85-1X in prone, prone rapid, sitting rapid and offhand. Michael Soock, 60, of Sun City, AZ, was the high senior in the As-Issued EIC Match and Patrick Skoll, 19, of Long Beach, CA, was the high junior with an aggregate of 285-0X.
<! Nested Table for picture>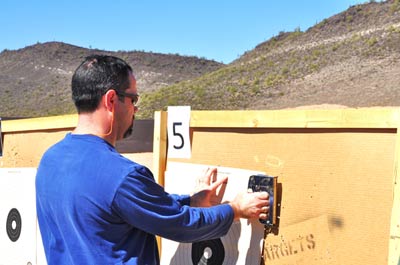 Competitors hung their rimfire targets and scored their neighbors' targets at Ben Avery under a brilliant desert sky.


The Rimfire Sporter Match is fired at 50 yards (prone and sitting, slow and rapid) and 25 yards (offhand, slow and rapid) with .22 caliber non-target type consumer rifles. Robert Evans, 27, of Reno, NV, won the Telescopic Sights class with an aggregate score of 587-25X out of a possible 600. Evans fired 99-5X, 97-5X, 99-9X, 96-0X, 100-4X and 96-2X in each of the six stages.
<! Nested Table for picture>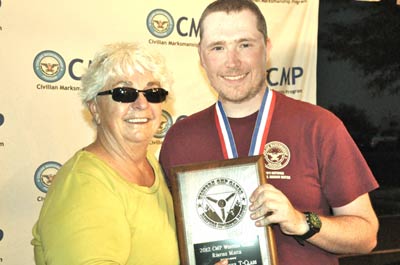 Robert Evans, of Reno, NV, won the Telescopic Sights class with an aggregate score of 587-25X out of a possible 600. CMP Board Chairman Judith Legerski presented Evans with his match-winning plaque.


Lee McKinney placed second in T-Class with an aggregate score of 580-21X and James Fletcher, 61, of Whitney, TX, placed third with a total score of 573-15X.

In Open Sights class, Steve Cooper, 55, Elyria, OH, was high scorer, firing a 553-8X. His six-stage breakout was 91-3X, 96-0X, 97-4X, 83-0X, 93-0X and 93-1X. William Aten, 60, of Kingwood, TX, placed second with a 550-4X and Randall Dwornik, 52, of Tucson, AZ, placed third with a combined total of 542-6X.
<! Nested Table for picture>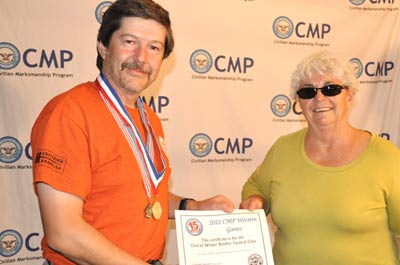 William Ellis won the Tactical Rimfire class with an aggregate score of 576-15X. He received his class-winning award from Judith Legerski, CMP Board Chair.


William Ellis won the Tactical Rimfire class with an aggregate score of 576-15X. He fired 98-4X, 96-1X, 94-1X, 96-3X, 96-2X and 96-4X in his six stages, respectively. Lyle Drenth, 59, of Apple Valley, CA, placed second with a score of 575-15X and SSgt Matthew Benack, 38, USMC, placed third with a total score of 548-5X.
<! Nested Table for picture>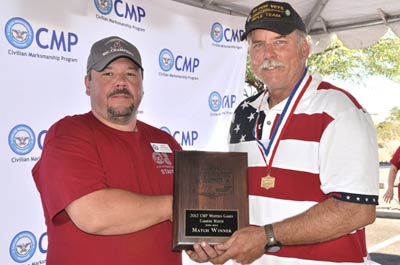 The M1 Carbine competition winner was Lyle Drenth finished with a total score of 356-1X out of a possible 400. Like the Garand EIC match, the carbine match is fired in four stages – prone, prone rapid, sitting rapid and offhand.


In M1 Carbine competition, fired at a distance of 100 yards, Lyle Drenth placed first with a total score of 356-1X out of a possible 400. Like the Garand EIC match, the carbine match is fired in four stages – prone, prone rapid, sitting rapid and offhand. John Henderson, 52, of Sonora, CA, placed second with a combined score of 350-4X and Michael Soock placed third with a 346-4X.

In the Vintage Sniper Rifle Team Match, John Henderson and Murray Moore, 41, of Twain Harte, CA, captured first place under the team name "Killer Rabbits" with an aggregate score of 388-6X. The match is fired at 300 and 600 yards by each shooter, firing 10 rounds apiece at both distances as the other shooter calls wind and corrections.
<! Nested Table for picture>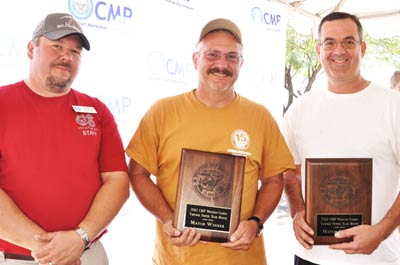 The Vintage Sniper Rifle Team Match winners, John Henderson, (center) and Murray Moore (right), are congratulated on their victory by Mark Johnson, CMP Deputy Chief Operating Officer. It was the team's first appearance at the Western CMP Games.


Henderson fired 98-1X and 98-2X at 300 and 600, respectively and Moore shot a 95-1X and 97-2X. It was the team's first appearance in the Western CMP Games, but second time firing the sniper match. Henderson and Moore gained valuable experience in the sniper match format at Camp Perry at the 2012 National Matches this past summer, shooting under the team name of "Murray's Mutts."

Second place went to Don Rutherford and Dave Emary, firing under the name "Dumb & Dumber," scoring a team total of 385-13X. Team "Payson Hillbillies," placed third with an aggregate score of 383-15X. Payson Hillbillies is an alias for Dennis Pownall, 61, of Payson, AZ, and Edward Traxler, 57, also of Payson.

The top individual scorers in the Vintage Sniper Rifle Team Match were:

•Don Rutherford 198-7X
• William Fairless 197-8X
• John Henderson 196-3X
• Dennis Pownall 193-7X
• Murray Moore 192-3X
• Robert Spurrier 192-3X
• Dennis DeMille 191-6X
• Edward Traxler 190-8X
• John Speer 190-3X
• Steven Brubaker 190-3X

Each of the four days ended with a reception and opportunity to socialize with fellow competitors, a chance to shop the gun and ammo selection at the CMP sales tent and the presentation of awards.

All scores fired by competitors in the 2012 Western CMP Games are posted at http://ct.thecmp.org/app/v1/index.php?do=match&task=edit&match=7850.

Selected photographs taken during the CMP Western Games and awards ceremonies are posted at http://cmp1.zenfolio.com.

The next CMP Games and Matches Events will be the CMP Games at Oklahoma City, Oklahoma on 4-7, April, 2013, followed by the CMP Eastern Games and Creedmoor Cup Matches, North Carolina on 4-12, May, 2013. The CMP Western Games and Creedmoor Cup Matches will return to Ben Avery Shooting Facility on 12-20, October, 2013.