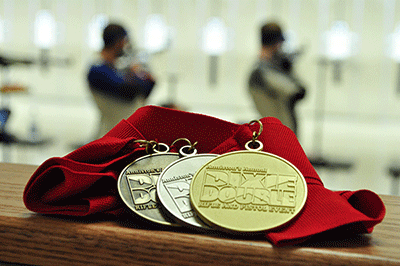 New and experienced shooters made the trek to the CMP South Marksmanship Center in Anniston, AL, the weekend of Nov. 8-10, 2013 to compete in the 5th Annual Dixie Double.
ANNISTON, AL – The 5th Annual CMP Dixie Double was held in Anniston, AL, November 8-10 to a group of 88 air rifle and pistol shooters. New, experienced and junior shooters fired shoulder-to-shoulder alongside some of the best shooters in the country, including members of the Army Marksmanship Unit (AMU), Paralympic team and even those from the 2012 London Olympic trials.
The Dixie Double is a two-day event, where competitors compare 60-shot standing scores. A two-man aggregate team event was also held concurrently with the open shooting competition.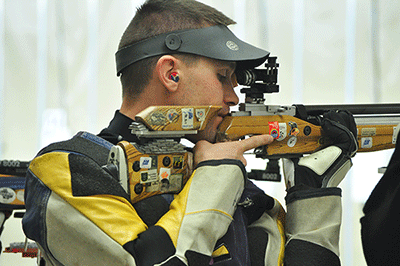 2LT Matt Rawlings, who was one of the finalists for a spot on the 2012 London Olympic shooting team, earned the silver medal on Day 1 of the competition.
During the event, a final is held each day, to determine daily winners, while an award ceremony on the last day of competition recognizes the combined, two-day, overall score leaders. The team award is also presented to the two-man teams with the highest aggregate scores.
Sarah Beard, 22, from Danville, IN, was the air rifle leader at the end of Day 1, with her score of 622.7. SSG George Norton, 29, of Phenix City, AL, and the AMU, followed closely with his score 621.6, while Bryant Wallizer, 26, of Colorado Springs, CO, trailed by only tenths of a point at 621.3.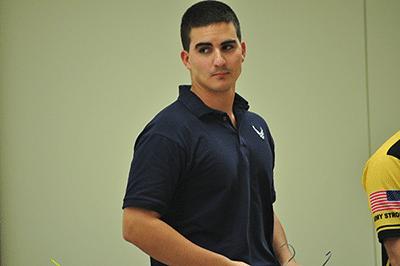 SrA Alex Callage hadn't shot his air pistol in nearly a year. After brushing off the dust, SrA Callage earned the silver medal on the first day of the event.
Beard, Norton and Wallizer all secured themselves a place in the final match, along with the other top eight competitors of the day. After an exciting round of shooting, including a tie between the top three shooters, Norton received the gold medal for his outstanding marksmanship. Securing the silver was 2LT Matt Rawlings, 29, of Fort Benning, GA, while Daniel Lowe, 21, of Olympia, WA, claimed the bronze.
2LT Rawlings, who was 1.3 points away from a spot on the 2012 London Olympics air rifle team, hadn't shot since June, proving that real talent never diminishes.
"I was surprised about where I ended up," he said. "But it was like riding a bike. I'm glad I made the trip here."
High Juniors of Day 1 were Elizabeth Gratz, 17, of Sigel, IL, with her score of 609.4, Quintin Wotring, 16, of Kingsport, TN, with a score of 614.2, and leading the juniors was Brandon Muske, 19, of Burton, TX, who fired a 615.1.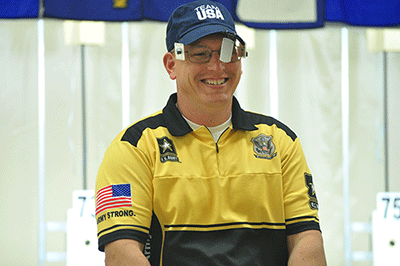 SFC James Henderson of the AMU finished first overall in the air pistol competition, with his aggregate score of 1171-40x.
In the pistol competition, SFC James Henderson, 46, of Midland GA, and the AMU, lead in the open category with his score of 577-22x. Trailing behind were teammates SPC Greg Markowski, 39, of Columbus, GA, with a score of 567-13x and SSG Michael Gasser, 30, also of Columbus, GA, with 567-12x.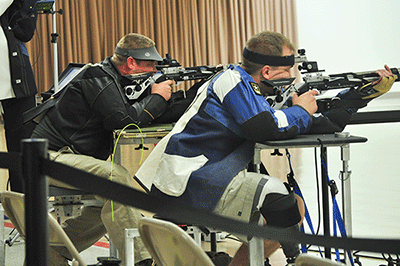 John Joss and Joseph Mille competed against one another in the air rifle final on Day 2 to determine who was the overall disabled shooter of the day. Joss ended the weekend as the overall disabled shooter, with his aggregate score of 1261.3.
After a hard-fought final against the remaining top eight competitors, SFC Henderson earned himself the gold medal. SrA Alex Callage, 24, of Montgomery, GA, and the United States Air Force, battled his way to the silver medal, while SPC Markowski fell short to claim the bronze.
SrA Callage, like Rawlings, had taken a break from shooting, since December 2012, but recently decided to get back into the habit.
"I just moved back into the area, and I had forgotten that this range was even here," he said. "I thought, I might as well take advantage of that. I definitely surprised myself in the final."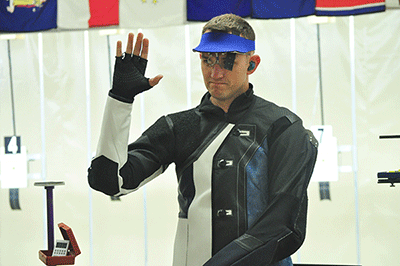 SSG George Norton claimed the gold medal in the overall air rifle competition, with his weekend combined score of 1251.1.
Pistol High Juniors for the day were Zachary Miller, 13, of Syiacauga, AL, with a score of 503-4x, Jessie Jenkins, 15, of Loranger, LA, with 505-7x, and firing an impressive 518-5x was Ronnie Pierson, 17, of West Blocton, AL, to claim the top spot.
A barbecue in the Marksmanship Center Common Area was also held at the end of Day 1 for competitors and guests. Shooters in attendance were eligible to win a prize off of a table containing $1,000 worth of merchandise, supplied by Bass Pro Shop. Winners were determined by the random drawing of CMP competitor numbers. Some prizes included ear and eye protection, targets, binoculars and assorted Bass Pro gear.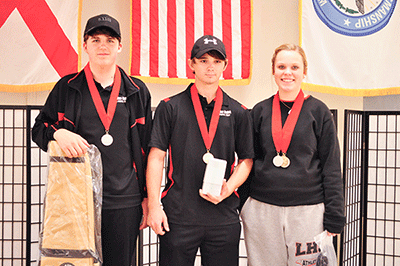 Ronnie Pierson was the overall High Junior in the pistol competition, followed by Zachary Miller and Jessie Jenkins.
Day 2 of the air rifle competition was led by Lowe with a 621.3, followed by Wallizer with 619.3 and Thomas Csenge, 25, of Colorado Springs, CO, with a score of 617.9.
During the final, 2012 Olympian Jonathan Hall jumped from fourth position to earn the gold, while Amy Sowash, 29, of Colorado Springs, CO, landed herself the silver medal. Lowe dropped to third for the bronze.
High air rifle juniors of the day once again were Wotring, Muske and Gratz. Gratz finished on top overall for the day, with her score of 615.
In Day 2 pistol action, SPC Markowski and SFC Henderson led again going into the final, along with Arthur Rozier, 52, of Suwanee, GA, with his score of 563-12x.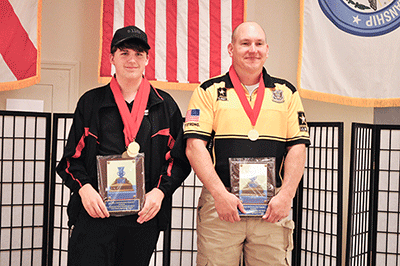 The team of SFC Henderson and Zachary Miller topped the air pistol competition, with they're score of 2174-47x.
With the final complete, the AMU team swept the top three places as Henderson came out overall to earn the gold, while Markowski took home the silver. Fellow AMU shooter SFC Jeffrey Lewis, 34, of Phenix City, AL, won the bronze.
Pistol juniors were again led by Pierson, Jenkins, and Miller. Miller shot the high overall score of 516-3x for the day.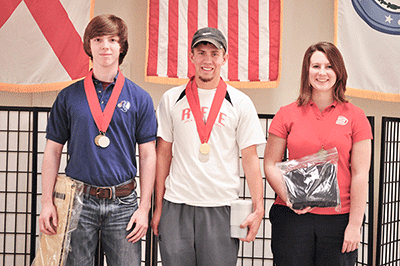 Brandon Muske led juniors in the air rifle competition, firing a 1228.4 for the weekend. Grabbing the silver was Quintin Wotring, followed in theird by Elizabeth Gratz.
In overall pistol competition for the weekend, Ronnie Pierson dominated the junior aggregate with his score of 1029-7x, to earn the gold medal and a case of pellets. Zachary Miller followed in second place with his score of 1019-7x, receiving a new CMP rifle case, as Jessie Jenkins found herself third overall with her score of 1017-12x. She earned a free CMP shirt along with her bronze medal.
SFC Henderson earned first place overall and $200 from the CMP with his two-day aggregate score of 1171-40x. SPC Markowski took home the silver and $150 with his score of 1158-33x, while Rozier claimed the bronze and $100.
Muske was the overall air rifle High Junior for the weekend with his score of 1228.4. Wotring pulled in second place with 1225.1, and Gratz followed closely behind with 1224.4 for third.
SSG Norton was victorious overall in the open rifle competition, firing a score of 1251.3 during the two-day stretch. Lowe came in second with 1250.8, while Sowash recorded a 1248.3 for a strong third place finish.
Overall rifle competitors also received the same merchandise and monetary prizes along with their medals as the pistol winners.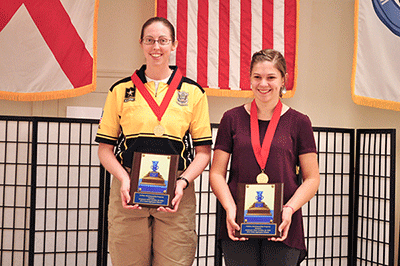 Team X-Factor, comprised of SPC Lorenzen and Ariana Grabowski, beat the boys as they earned the overall top air rifle team position.
In overall team competition, the ladies led in air rifle as team X-Factor, comprised of SPC Erin Lorenzen, 25, of Ft. Benning, GA, and her junior teammate Ariana Grabowski, 17, of Beaver, PA, fired a combined score of 2448.5. The team of SFC Henderson and Miller topped the air pistol competition with their aggregate score of 2174-47x.
Photos of the Dixie Double competition are available for viewing at http://cmp1.zenfolio.com/. For a complete list of results for the weekend, visit http://ct.thecmp.org/app/v1/index.php?do=match&task=edit&match=10635.
NEXT ARTICLE