Our annual Texas State Garand Championship is planned every year for October to take advantage of the warm 70's temperatures. This year we received a surprise: a cold front came through Saturday morning and with it a very significant threat of rain. The weatherman had been predicting terrible conditions for days.
Our Garand Championship/CMP Games Matches started as they all should, with the U.S. Army Band's version of "Reveille," followed by the National Anthem. The only thing missing was the opening cannon report. We'll be working on that.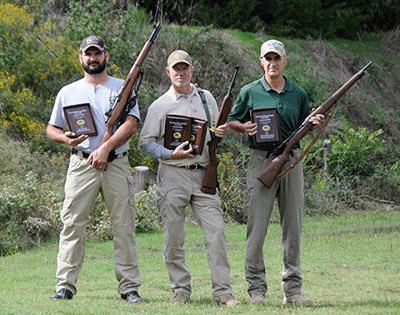 Clay Hefner was the overall Garand Champion, firing a 289-4X. Robert Langham won both the Carbine and Vintage Rifle Matches, while Dan Pate overtook the Springfield Match with his score of 290-10X.
This year, after nearly 80 individual matches were fired, the winner of the Garand Championship was Clay Hefner, with a 289-4X, followed by Dan Pate in the Springfield Match with a 290-10X. Robert Langham was the winner of both the Carbine and Vintage Rifle Matches, with a 370-6X and a 287-7X, respectively.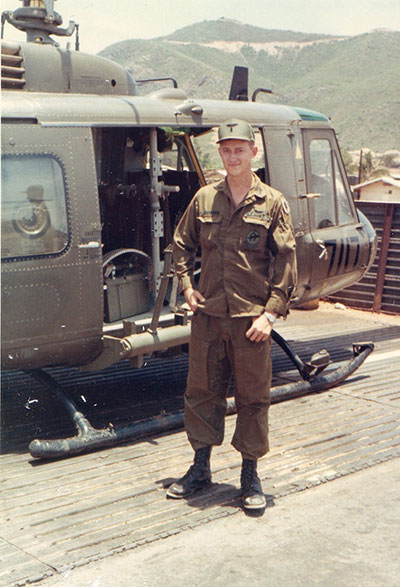 Gary Shannon won the pistol leg match and acquired his last leg points and became the newest Double Distinguished Marksman. He is pictured here when he as a huey pilot in Vietnam.
Our Sunday pistol leg match winners were Gary Shannon, first, with 257-4X, Robert Langham, second, with 256-2X, and David Schaller, third, with 255-1X. Only one point separated each of them. Daniel Miller, second non-distinguished with a 249-3X, picked up the second leg and his second set of pistol points, while Gary Shannon, who won the match, acquired his last leg points and became not just the newest distinguished pistol shot, but the newest double distinguished marksman. Congratulations to all.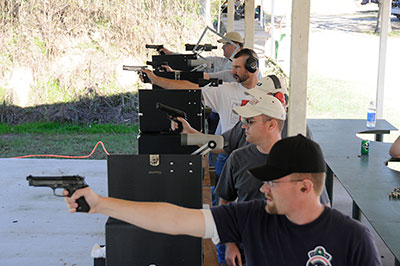 The firing line for the Pistol EIC Match.
Now, you might ask, "How did the weather turn out?" Well, Saturday started with temperatures in the low 40's. We then had overcast skies, giving us flat light for excellent shooting conditions all day. That night, lightning, thunderstorms and lots of rain came until, finally, a very clear second day arrived. We decided that the Championship is like hunting: If you're not in the field, the guys who are will always reap the rewards.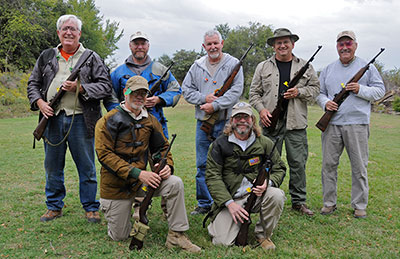 Group of Texas shooters that participated in the Texas State Garand Championship.