<! Nested Table for picture>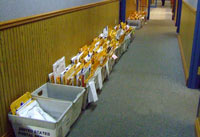 This year 17,922 targets were received by CMP between 5 October and 4 December, this was up from 16,008 in 2006. Part of this increase is due to the addition of the Air Force to the JROTC Postal, they are joining Army, Navy and the Marine Corps in the competition.
For ten years the Civilian Marksmanship Program has overseen the scoring of Navy, Army and Marine Corps JROTC 3x10 three-position air rifle postal competitions. These annual postals now determine which JROTC unit teams and individual cadets advance to compete in their respective service's Eastern or Western JROTC shoulder-to-shoulder championships. From those Region Championships, the best unit teams and individuals representing each service advance to the JROTC National Championships. This year, for the first time, the Air Force joined in the fall postals with 14 units submitting targets. Altogether, 5,974 cadets and 1,101 JROTC unit teams participated in this year's postals.


Postal targets could be fired in October, November or the first days of December, with a target mailing deadline of 5 December. In all, 17,922 targets were scored between the 1st and 15th of December when all scores were posted on the CMP web site. That is an increase of 2006 when 16,008 targets were scored.

<! Nested Table for picture>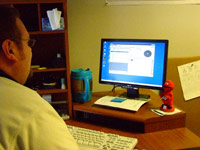 CMP Staff members verified all the targets after they were scored electronically by Orion. Scoring postal targets used to require 20-25 people working over several weeks to complete. Now with the new Visual Imagining Scoring system, the number of staff members needed to complete the scoring process is a quarter of what was needed for hand scoring.
To handle such a large number of targets, the CMP used its state of the art electronic scoring system called Orion. This system uses Visual Imaging Scoring (VIS) technology to score 10-bull paper targets that have been scanned at 300dpi or better. This system was first introduced for the 2006 Postals and the new technology allowed scores to be posted shot by shot on CMP's website. This is a huge improvement from 2005 and before when teams of 20-25 scorers were needed to hand score all of the targets. The Orion system also eliminates much of the range of errors that occur when human scorers are used.

<! Nested Table for picture>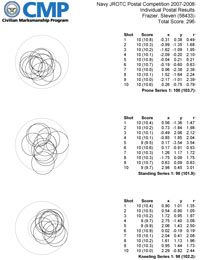 The top precision score in the four 2007 JROTC postals was a 296x300 fired by Steven Frazier from Union Grove HS Navy JROTC in McDonough, Georgia. The score data and shot locations from Frazier's targets are shown here in a *.pdf file that was downloaded from the CMP website.
Scores for the 2007 Air Force, Army, Marine Corps and Navy Postal Competitions can be found on the CMP homepage at http://www.odcmp.com. The top individual precision score in the 2007 JROTC postal was a 296 total fired by Steven Frazier of Union Grove HS NJROTC in McDonough, GA and the top sporter score was a 283 fired by Matthew Berkley of Ripley HS AJROTC in Ripley, Tennessee. The overall top team scores were an 1159 precision team total fired by East Coweta HS Marine Corps JROTC in Sharpsburg, Georgia and a 1099 sporter team score fired by Ozark HS Army JROTC in Ozark, Missouri. To see all of these scores including the top scores in each of the three service individual and team competitions, open the CMP home page at http://www.odcmp.com and click on "Results" below the icon for the JROTC scores you want to view.

<! Nested Table for picture>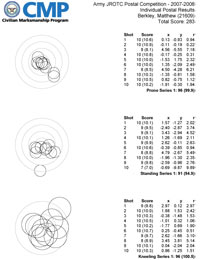 The best sporter class score fired in all 2007 JROTC postals was a 283 fired by Cadet Matthew Berkley who competed for the Army JROTC unit at Ripley High School in Ripley, Tennessee.
Score data and shot group print-outs like the ones shown here for the top sporter and precision class shooters may be downloaded from the CMP website. To obtain a score data sheet, open an individual results list for one of the services and then click on the "Aggregate" total that is shown in red for the shooter whose scores you wish to see. A *.pdf file with the shot data and a facsimile of each position's shot group will download.

The top Air Force, Army, Marine Corps and Navy unit teams and at-large individual cadets are now qualified to advance to either the JROTC Eastern Region Championships that will take place on 14-17 February at Fort Benning, Georgia or the JROTC Western Region Championships that will take place on 21-23 February at the Olympic Training Center in Colorado Springs, Colorado. Congratulations to all competitors for another successful JROTC Postal! The initial list of qualifiers for the 2008 Eastern and Western JROTC Region Championships is posted at http://www.odcmp.com/3P/jrotcinvites.htm.


Individual Leaders by Service:
Category
Name
School
Score
Army Sporter
Matthew Berkley
Ripley HS, Ripley TN
283
Marine Corps Sporter
Casey Donnelly
Granbury HS, Granbury TX
278
Navy Sporter
Nicole Heitmeyer
King George HS, King George VA
277
Air Force Sporter
Austin Maughan
Clearfield HS, Syracuse UT
254
Army Precision
Miguel Labuguen
Douglas MacArthur HS, San Antonio TX
293
Marine Corps Precision
April Dunn
East Coweta HS, Sharpsburg GA
294
Navy Precision
Steven Frazier
Union Grove HS, McDonough GA
296
Team Leaders by Service:
Category
School
Score
Army Sporter
Ozark HS, Ozark MO
1099
Marine Corps Sporter
Gloucester HS, Gloucester MA
1056
Navy Sporter
King George HS, King George VA
1078
Air Force Sporter
Clearfield HS, Clearfield UT
973
Army Precision
Patch HS, Stuttgart, Germany
1140
Marine Corps Precision
East Coweta HS, Sharpsburg, GA
1159
Navy Precision
Union Grove HS, McDonough GA
1152