The 2nd Annual Bass Pro 600 will be fired Jan. 4-5, 2014 at the Bass Pro Shop in Leeds, AL. Just as it sounds, the event will take place in the middle of the Bass Pro store, as shoppers pass by and observe. Events for shooters include an international air rifle and a three-position air rifle competition. The match is open to men and women of all ages and is fired upon the world-class electronic targets of CMP's innovative Mobile Range.
A 3x20 Junior Air Rifle event will be held on Saturday, January 4 and governed by the National Standard Three-Position Air Rifle Rules, for both sporter and precision shooters. Eligible juniors are defined by Rule 3.1 of the National Standard Rules. The event is limited to 60 competitors.
A 60-Shot Standing International Air Rifle competition will be held on Sunday, January 5 for men and women of any age. The match will be shot in accordance with the USA Shooting Rules and limited to 40 shooters. Monetary prizes will be awarded to first, second and third place shooters.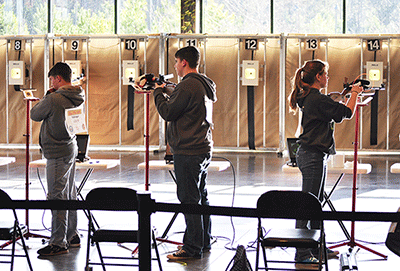 The $425,000 Mobile Range (shown here) is comprised of 60 electronic targets that instantly display scores for shooters and spectators. These targets can be assembled in essentially any space – including the inside of a Bass Pro Shop.
Entry fees are $25 per shooter for each match. To register, visit. http://ct.thecmp.org/app/v1/index.php?do=match&task=edit&match=10824.
Competitors who are age 18 or older must complete and sign a notarized CMP Eligibility Affidavit and Liability Agreement. This can be completed prior to arrival or it may be signed at the event, where a notary is available. Competitors under the age of 18 must provide a Parent Consent Form, completed upon arrival.
The adult liability release form can be found by going to http://www.theCMP.org/Competitions/Forms/Affidavit.pdf.
The Junior Liability Release is available at http://www.theCMP.org/Competitions/Forms/Jr_Release.pdf.
Forms may be submitted to James Hall at: CMP, 1803 Coleman Road, Anniston, AL, 36207, or can be faxed to 256-831-9414. Email queries may be addressed to jhall@thecmp.org. Forms may also be brought to the event, but please pre-register for the event.
For more information, visit http://www.thecmp.org/3P/BassPro600.htm.
NEXT ARTICLE