Occasionally, the CMP North Marksmanship Center is rented out to teams and clubs hoping to better hone their shooting skills. On November 23 and 24, the air gun range, currently undergoing a million-dollar renovation, housed a group of shooters from Canada who brought their skills, as well as the snow.
Patrick Haynes is the Canadian National Pistol and the Canadian Armed Forces CASAM coach, as well as the moderator of the Canadian Airgun Training Camp. On the cold November weekend, the wind howled and snow scattered like confetti across Camp Perry as shooters from as far as the Yukon and Newfoundland travelled to attend the Canadian camp.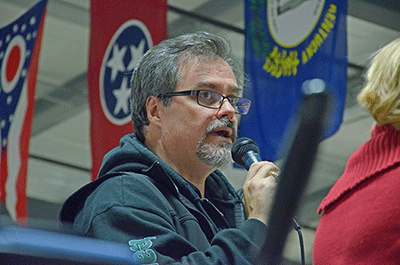 Patrick Haynes, Canadian National Pistol and Canadian Armed Forces CASAM coach, was the head of the Canadian Airgun Training Camp.
The structure of the camp was extremely versatile, accommodating Olympic level, national, provisional and junior shooters, including a Canadian Cadet Corps, comparable to the JROTC in the U.S. Also in attendance were members of the national and military teams, as well as recreational shooters who simply wanted to get better.
"It's very well received, thankfully," Haynes said with a laugh. "Whenever you do these camps, in the back of your mind, you're thinking, a lot of work is going into this, I hope they appreciate this. This range really elevates the stature of the camp, and everyone really looks forward to it."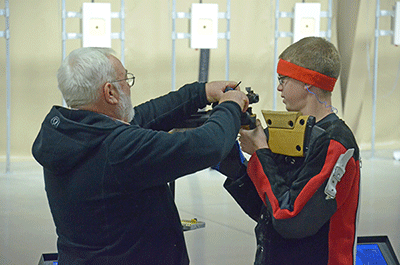 Shooters of all ages and types were able to attend the extremely versatile camp.
Years ago, for his 12th birthday in Dorchester, Ontario, Haynes received a Crossman CO2 air pistol from his parents – and so began his love of shooting. After a brief hiatus from the sport and a stint in Florida when he became an adult, Haynes returned to Canada and decided to pick up his pistol again.
"I started thinking, you know, I want to get back into this. I dusted off an old CO2 air pistol, got back into it, and my wife became involved," he said.
A trip to the range started becoming a cheap date night for the couple, and his wife thoroughly began to enjoy the sport. Then, something happened.
"In about two months, she started to kick my butt," he said, laughing. "So in my mind, I thought I must be a better coach than I am an athlete."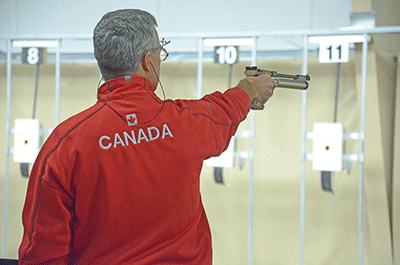 Canadian air pistol and rifle shooters from as far as the Yukon travelled to Camp Perry, OH, for the training camp.
Since then, he has coached at the 2008 Beijing Olympics, the World Military Shooting Championships as a coach of the Canadian Military team and has transformed his role as team leader to dedicated advocator of marksmanship for shooters everywhere through his keenly-developed camps.
Haynes gained his American ties after bumping into Marcus Raab, U.S. National Rifle Coach, when Raab was leading the NRA coaching program and USA Shooting. After developing a kinship, Haynes attended another one of Raab's coaching courses at Camp Perry as an impromptu instructor.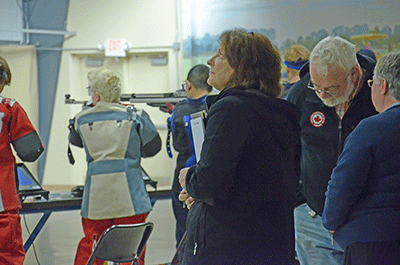 Janet Raab, an ISSF certified rifle coach, gave the Canadians some American perspective on shooting techniques.
"I showed up and he goes, 'Um, the instructor can't make it. Could you teach the course?' And my response was, 'As long as I get the certification, sure!'" he joked.
While being his first taste as a camp instructor, his trip to Camp Perry also gave him his first glimpse of the world-class facilities.
"The marksmanship training center is amazing. And the renovations that are being put in place, this is an Olympic Training Center-quality facility," he said. "In Canada, nothing comes close to this."
He added that the quality of the facilities and the quality of the support staff at CMP are extremely helpful. Though a place formulated around competition, in the end, the range is open to anyone with the will to learn.
"They don't care where you're from – this is about marksmanship, and they want to support that with whoever is coming into the facilities," he said. "It's been a very welcoming place."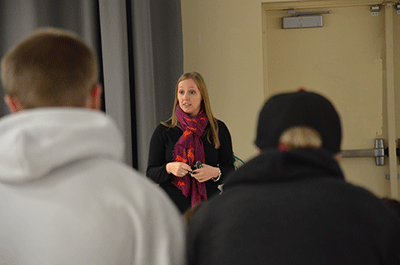 Dr. Kristine Dalton spoke with the camp-goers on a new study that links vision to sports performance.
For his camps, Haynes is attempting to develop what he calls an Integrated Support Team (IST), with experts who can train his shooters on the things he cannot. His IST contains the expertise of vision specialists, mental trainers and chiropractors to train his shooters on state-of-the-art sports science techniques to better prepare them as all-around athletes.
Dr. Kristine Dalton, an optometrist who studies as an assistant professor at the University of Waterloo in Waterloo, Ontario, discussed to campers how vision is related between athletes and their sport.
Research on how shooters can improve their vision is relatively unheard of, meaning the camp-goers were given a rare glimpse into a new realm of sports medicine.
"My whole research project is to understand how vision is related to sports performance. That really has two aspects," she explained. "One thing we look at specifically to shooters is if the vision system is functioning normally. And the second aspect is how do we use that vision more effectively to enhance performance."
Because not all of the experts can make the trek to the U.S., Haynes used technology to bring them into the camp through video conferencing. One digital presenter was Dr. Demetry Assimakopoulos, who spoke on how to spot and avoid sports injuries. Through a microphone, shooters were able to interact with Dr. Assimakopoulos during the video conference.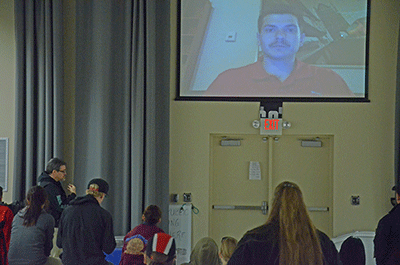 Dr. Demetry Assimakopoulos gave a presentation through video conference on how to spot and avoid sports injuries.
Besides medical experts, Haynes also recruited the help of talented coaches, such as Janet Raab, who is an ISSF A Licensed rifle coach – the highest certification possible.
About seven years ago, Janet met Haynes through her husband, Marcus, and has kept a working relationship with him. Though the coaches are from opposite sides of the northern border, they have taught each other new ways of affectively training shooters.
"Being here, it gives the shooters a different perspective of how we coach in the U.S. versus how they coach. We're kind of learning from each other," Janet said. "What I admire about them is that they're self-funded. They have to pay for everything at every place they go, so they are much more dedicated and serious."
Outside of the high-quality training received at the camp, the walls that house the camp itself is what Haynes says makes the experience even better and keeps him coming back time and time again.
"I've been to the OTC, to Germany, a number of ISSF World Cup ranges, and it's hard to beat the facility here. It's just phenomenal," he said. "The matches here really have elevated the training of our athletes' games and have motivated them to train harder."
"We look forward to coming down here any time," he added. "The staff and the facilities are beyond compare. And if people have ever thought whether or not they should come down for whatever reason, do it. If you have any questions, just do it. It's just an amazing place."
NEXT ARTICLE