Hannah and Josh Black are your typical brother and sister. From the words of their mom and dad, "older sister ignores, little brother annoys." But outside of their societal act, the two are actually extremely supportive of each other and share a unique common interest – both are accomplished junior shooters.
Hannah Black, 19, of Richmond, VA, has earned the title of "Distinguished" shooter by both the NRA and the Civilian Marksmanship Program (CMP) and has achieved such shooting heights as becoming a Virginia Commonwealth Games Sporter Air Rifle Champion, NRA National Indoor Sporter Air Rifle Intermediate Junior Champion, two-time gold medalist at the CMP Dixie Double and was even a finalist at the 2012 Women's Olympic Air Rifle Trials, among her many other medals and titles.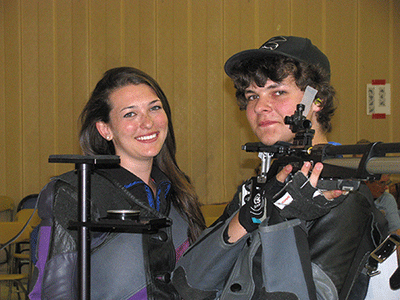 Hannah and Josh Black have more in common than just being in the same family: they are both talented air rifle shooters.
"[The Olympic Trials] was the biggest match, and it was a little intimidating at first," said Hannah. "All the best shooters were at this match and on top of their game. At the time, I shot a personal best."
The Olympic Trials was also where she met Coach Karen Monez, head coach of the Texas Christian University air rifle team, where Hannah is a sophomore athlete. Her freshman year, Hannah placed in 5th as an individual for the Horned Frogs in the air rifle NCAA competition in Columbus, OH on March 10, 2013. Recently, she was named TCU's November Scholar Athlete of the Month.
Hannah was also the American Legion National Sporter Champion in 2010, where she shot the second-highest score in the 20-year history of the event. Along with her title honor, she received a $2,500 scholarship from the American Legion.
Joshua Black, 18, has done well at keeping up with big sister Hannah. The NRA and the CMP have also named Josh a "Distinguished" Air Rifle expert. His list of shooting achievements includes National Junior Olympic 3-Position Sporter J2 and J3 Rifle Champion, a gold medal at the NRA Open Sectional, first place at the CMP 3-Position Air Rifle match, gold at the Virginia American Legion Air Rifle Tournament, and Josh also competed in the U.S. Olympic Trials in 2012.
"I went [to the Olympic Trials] mainly as an educational experience. I got to see the top-level shooters up close. I learned quite a few little tips just from observation," he said.
Accomplished in the sport, Josh has also proven maturity and confidence as he has overcome unforeseen obstacles. He has learned how to control his thoughts in stressful situations.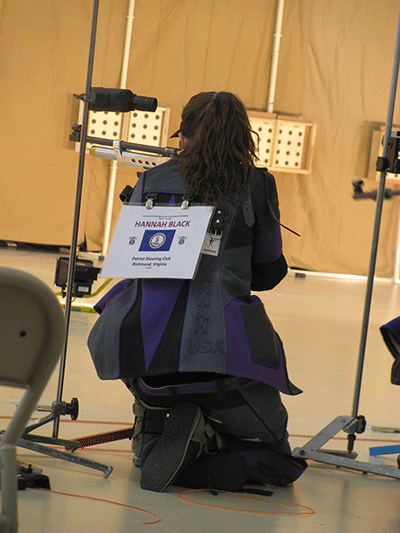 Hannah is a sophomore on the Texas Christian University Air Rifle Team. This past summer, she was also a counselor at the CMP Summer Junior Rifle Camps.
"Josh was in a shoot-off to qualify for the finals at a sporter match when he had a problem with his air cylinder," explained his mother, Donna Black. "We were able to diagnose and fix the problem with the sighter clock running out. He didn't get in a single sighter, and I was almost certain this would mentally derail him, but he picked up the gun and got to work."
Josh managed to win the shoot off and advance to the finals match. In the end, he placed 5th overall in the competition and grew as an experienced and talented shooter under pressure.
The brother and sister duo became involved in the sport of shooting when their father, Scott Black, joined a local gun club in Virginia for recreation and to become more equipped in self-defense. The club offered a Friday night program aimed at getting juniors involved with shooting, which used incentives such as stickers, pins and bars to instill a more goal-oriented teaching. Scott and Donna felt it was important for their children to also have some knowledge of self-defense, so they signed up Hannah and Josh in the junior program.
The siblings both showed natural shooting talent right away. Hannah admitted that one of her favorite parts of shooting was "beating the boys." It wasn't long before the coach of the club's shooting team invited them to participate in matches.
"Our team was sporter national champs four years in a row. I was on the team for three of those championships," Josh said. "After that, I was addicted to shooting."
Married 27 years and even surviving a serious car accident on their first date, Scott and Donna Black have had their share of experiences together, but neither Scott nor Donna knew anything about competitive shooting. So, Scott took it upon himself to quickly study the aspects of the sport.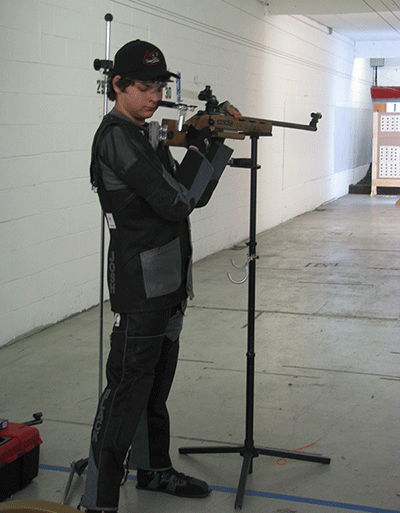 Josh practices weekly with his air rifle in hopes of someday shooting in college as well as on the National team
A high school football and shot put athlete, as well as a certified physical therapist and athletic trainer, Scott found the sport's lack of motion to be an interesting aspect – considering it was completely different from anything he had done before. He quickly learned the large amount of technique, strength, endurance and mental toughness rifle shooting demands.
Up to the challenge, both children showed promise within the realm of rifle. However, competing in a sport together soon brought its own personal trials for Hannah and Josh.
"I'm not going to lie – at first, I didn't like it. I wanted it to be my own thing," Hannah admitted. "As I got older, I got over that and embraced the competition. I think it ended up being good for both of us. We always have something to talk about and help each other with."
Though a bonding pastime, the common activity has brought a new level of sibling rivalry between the two – one that Josh enjoys and even welcomes.
"Hannah HATES it when I beat her, but she's beaten me so many times that I've gotten used to it," he said. "For me, it's a challenge to try to catch up to Hannah, especially since I LOVE beating her. I can't wait for college so I'll have more chances to beat her."
Josh also admits that when he's asked who is a better shooter, he "mans-up" and confesses that Hannah has him beat – for now.
Hannah and Josh haven't been without their setbacks in shooting either. A slight snafu in their careers occurred early on when the gun club where Hannah and her brother first learned to shoot closed the junior air and smallbore range.
At first, it seemed as if Hannah and Josh's shooting days were over. But, Hannah and her fellow junior shooters were determined to keep their rifle dreams alive and founded their own local group, the Patriot Shooting Club. Though a group was formed, finding places to shoot proved challenging in the beginning.
"It was difficult at first when we had nowhere to practice," she said. "My mom definitely wasn't thrilled when I was shooting from the dining room, through the kitchen, into the den."
While Hannah avoided piercing china, tables and chairs, Josh found an area that allows him an uncluttered shooting space where, with the lift of a barrier, he has his own 10-meter range – the family garage.
"I open the garage door that leads to a carport tent right outside of it, and I place a target in there," he described of his ingenious, homemade range.
Although rifle shooting is a big part of their lives, it's not all that defines Hannah and Josh. Both have excelled in other activities as well. Scott and Donna have tried to instill the importance of education in all that they do – spiritually, physically and intellectually. They have stuck with the philosophy of "learning by doing," and, in turn, "doing well."
Josh is enrolled in community college while also being homeschooled. He also goes to the gym regularly.
He joined Cub Scouts when he was in second grade after hearing how the group participated in a lot of fishing trips – an activity he loves. He stuck with Scouts for nearly a decade, reaching the rank of Eagle Scout, an achievement that he says is his proudest moment.
Josh has also spent the last two years mastering his yoyo skills, even compiling advanced level tutorials on YouTube. His constant need to stay active inspired his choice in becoming a yoyo master.
"I like to keep busy, so even when I'm watching TV, I'm playing with my yoyo at the same time," he said.
If that wasn't enough, Josh also participated in Tae Kwon Do for almost 9 years, earning the rank of fourth degree black belt.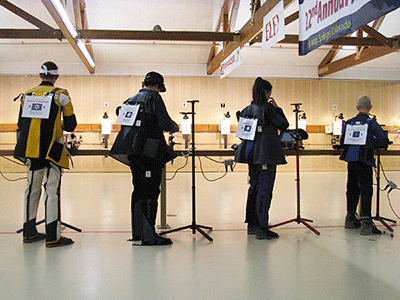 Hannah and Josh have both shot for the Patriot Shooting Club, based in Richmond, VA. Though competitors on the firing line, Hannah and Josh still come together to support each other in all that they do.
Hannah has been dancing since she was enrolled in ballet class at age 3. Her talent in the art form has allowed her to inherit a new skill, be creative and to do unique things. She has also been involved in many recitals and youth performances and even traveled to Israel in December 2008 to train in dance.
"[Training in Israel] was one of the coolest things ever!" she described. "Being able to communicate in a class without ever speaking Hebrew or English was something else, since the teacher was Russian. Dance is truly universal."
Her creative personality also brought her to embody the essences of Ernie, Bert and Elmo, the popular Sesame Street characters, one season while she portrayed them at Busch Gardens in Williamsburg, VA.
In addition to that, Hannah volunteered at the Virginia Living Museum in Newport News, where she learned many things, and even got to hold such sea creatures as horseshoe crabs and sea stars for guests to touch. She also enjoys spending time with her friends and trying new restaurants.
Religion is important to both Hannah and Josh as well. Having grown up with a strong Jewish background, they both directly state that it impacts their everyday lives – it affects how they view the world.
Josh is involved with a Jewish youth group at a Chabad synagogue and is a founding member of a Jewish Scout group. He can also chant Torah.
For Hannah, choosing to go to college at Texas Christian was worrisome at first, but she soon learned that TCU is very accepting of all students, even their Jewish students.
Outside of all of their extra-curricular activities, there is still one common bond that holds Hannah and Josh together – they are family. It's an aspect that is of extreme importance to both of them and has been a positive source of motivation in all that they do.
"My parents have had a lot of influence on me," Hannah said. "My mom and dad have always encouraged me to do what I enjoy doing and taking it as far as it can go."
Scott and Donna added to the sentiment by saying, "We tried to teach them to love God and to be grateful and humble. We want them to be happy, healthy, independent, good-hearted human beings."
So far, so good.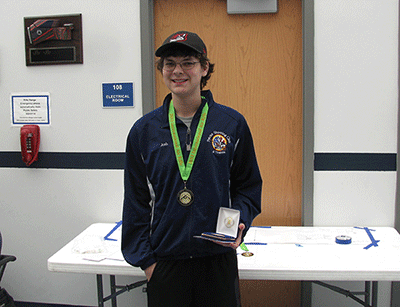 Josh's shooting achievements include National Junior Olympic 3-Position Sporter J2 and J3 Rifle Champion, a gold medal at the NRA Open Sectional, first place at the CMP 3-Position Air Rifle match and gold at the Virginia American Legion Air Rifle Tournament.
Hanna and Josh Black have proven that with hard work, determination and support, anything is possible – within the world of shooting and beyond. Hannah advises those who have strong goals to always continue to work towards them, no matter what they may be.
"Keep plugging along – you'll get there if you really want it!" she said. "And, love what you do."
For Scott and Donna Black, after hopefully going to support at least five more NCAA championships, a few Junior Olympic competitions and Olympic Trials, the future may also hold a trip to a Caribbean Island for a well-deserved vacation in the kids' post-college years.
As for the siblings, Josh looks forward to shooting in college and the years after, in hopes of making a national team. He would also like to try Cowboy action shooting and Olympic style archery one day. Hannah is hoping to make the most of her college career and to shoot the 2016 Olympic trials. And, she'd also like to go skydiving. (But don't tell her parents!)