The 2013 Gary Anderson Invitational (GAI) was held December 6-7 at the CMP Marksmanship Centers in Camp Perry, OH, and Anniston, AL, to a group of 415 competitors from around the country.
The event is a three-position air rifle tournament that follows the 3x20 course of fire. Each shooter fires 20 record shots from prone, standing and kneeling positions, with the top eight shooters from each relay advancing to a 10-shot final. Winners are determined overall, from scores comprised from the CMP North and CMP South competitors.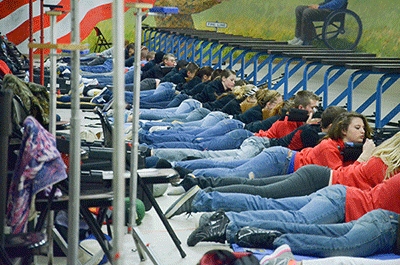 The Gary Anderson Invitational was taken over by the CMP in 2001 and honors DCM Emeritus, Gary Anderson. The event puts juniors through a 3x20 course of fire against shooters from the CMP North and CMP South Marksmanship Centers.
The Top 25 competitors in the sporter and precision classes at each competition center (50 total) received individual gold, silver and bronze medallions. The top three shooters overall are also recognized.
Brandon Thomas, 18, of Winder, GA, led the overall precision competition with his aggregate score of 691.3.
Thomas led going into the final by only his x-count, as Justin Kleinhans, 14, of Port Clinton, OH, followed close behind with a comparable score. Kleinhans finished the final with a score of 690.5, just short of Thomas, to land him in second place, as Michael Steinel, 17, of Lowell, OH, claimed third with 688.9.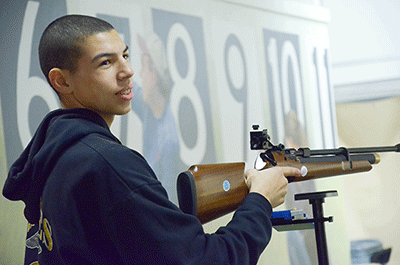 Jaleel Canada of Freeport, IL, was the overall sporter shooter in the competition, firing a 649.
Jaleel Canada, 17, of Freeport, IL, came out on top in the sporter division, firing an aggregate score of 649. John-Keith Verble, 17, of Jonesborough, TN, landed in second place, with 646.7, as Michael Murphy, 18, of Forest City, NC, rounded out the top three, with a score of 641.5.
Canada, having an extremely successful shooting career, recently earned Distinguished badge #667 in October 2013. His teammate, Gabriel Palermo, 16, earned his Distinguished badge at the GAI after he fired an aggregate score of 548-7x. Palermo finished fifth overall in the competition.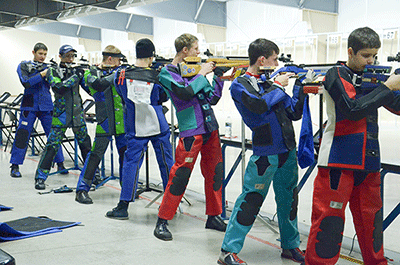 Both sporter and precision shooters compete in the GAI. Juniors fire as individuals and also have the opportunity to combine their scores with others in the team competition.
In the new shooter category, for juniors who started participating in organized target rifle programs after April 1, 2013, Annabelle Stanec, 13, of Wadsworth, OH, fired an impressive 584-39x to lead. Cassidy Fairman, 15, of Indiana, PA, came in second with a score of 576-28x, while Anna Scheer, 13, of Trussville, AL, followed with 568-24x.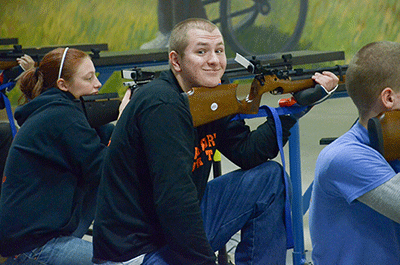 Gabriel Palermo was all smiles after he fired an aggregate score of 548-7x during the match to earn his Distinguished badge.
The Top 15 shooters in the new shooter category also received awards from the CMP.
A team competition was also held concurrently with the individual competition for any scholastic or club teams wishing to participate. Each individual's score of the four-member team was combined to determine overall sporter and precision teams.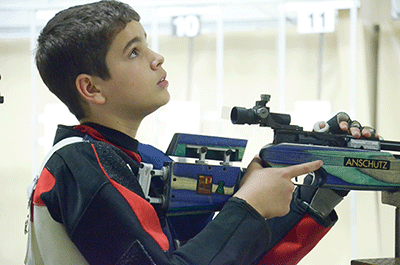 Reid Miller of the Great Trail Musketeers fired a 573-26x overall to help his team reach third place in the overall precision team competition. Miller's team fell short of Hardcore 4 of Winder, GA, which overtook the precision team competition with a combined score of 2330-154x.
David Crockett HS NJROTC from Jonesborough, TN, led the sporter team competition with their combined score of 2156-52x. Team members are John-Keith Verble, Will Anderson, Ashlee Lockwood and Felix Gampe. The team is coached by CDR John Roberts.
Freeport HS NJROTC Team Pretzel of Freeport, IL, earned second place with an aggregate score of 2150-62x, as Zion Benton #1 of Zion, IL, came in third with 2136-57x.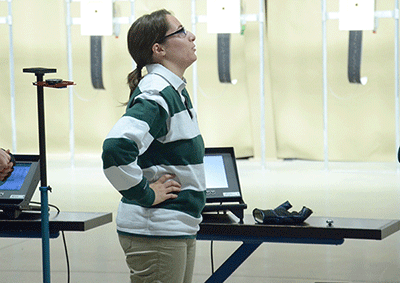 The event was full of determined shooters, such as Julia Franquesa of WRA Rifle Team who climbed from 23rd place in the three-position aggregate to eighth place overall after she competed in the finals at Camp Perry. Franquesa fired an impressive 95.2 and jumped from seventh to second place in the final for her relay.
Hardcore 4 of Winder, GA, overtook the precision team competition, firing a 2330-154x. Team members are Brandon Thomas, Mary Pratt, Maggie Mason and Dana Bowen. Coming in second was Frazier Simplex Center Shots of Pennsylvania with a score of 2321-133x, while Great Trail Musketeers of Ohio landed in third place with 2313-122x.
Winning precision and sporter teams received the Gary Anderson Trophy. Additionally, first place teams received $500, second place $300 and third place $200 from the CMP towards each school or club, to further marksmanship excellence.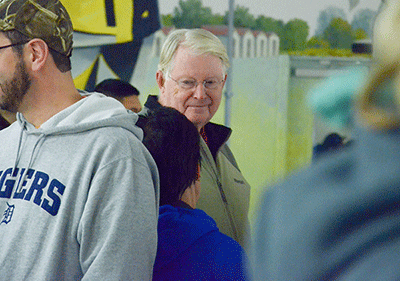 Gary Anderson (center), holder of two Olympic gold medals, six world records, 16 national championships and seven world championships, made an appearance at the event to witness the new generation of talented shooters.
The Gary Anderson Invitational has formally been known as the Atlanta 500 Air Rifle Championship (1996) and the Wolf Creek 600 (1997-2000). It was officially given its current name in 2001 and was taken over by the CMP in 2009. The event is sanctioned by the National Three Position Air Rifle Council and is open as a CMP Cup match.
About Gary Anderson:
Mr. Anderson is a two-time Olympic gold medalist and also holds seven world championships, six world records and 16 national championships. He has won more Olympic and word championship three-position titles than any other American in history. In 1999, Anderson began a ten-year reign as Director of Civilian Marksmanship and retired in December 2009. Today, he serves as DCM Emeritus and remains a mentor for new and experienced, old and young shooters around the country.
For a full list of results, visit http://ct.thecmp.org/app/v1/index.php?do=match&task=edit&match=10574. Photos of the event can be found at http://cmp1.zenfolio.com/.
Top 10 Individual Precision:
1. Brandon Thomas, Winder, GA – 691.3
2. Justin Kleinhans, Port Clinton, OH – 690.5
3. Michael Steinel, Lowell, OH – 688.9
4. Rosemary Kramer, The Rock, GA – 684.3
5. Mitchell Miller, McDonough, GA – 684.1
6. Selina Curren, Pelham, AL – 684
7. Matthew Lovre, Jeannete, PA – 682.5
8. Alana Kelly, Acworth, GA – 680.7
9. Nick Ciccozzi, Atwater, OH – 585
10. Annabelle Stanec, Wadsworth, OH – 584
Top 10 Individual Sporter:
1. Jaleel Canada, Freeport, IL -- 649
2. John-Keith Verble, Jonesborough, TN – 646.7
3. Michael Murphy, Forest City, NC – 641.5
4. Kaitlyn Champion, Charleston, SC – 639.6
5. Gabriel Palermo, Freeport, IL – 639.6
6. Haylee Schoenrock, Cortland, NE – 632.4
7. Isaac Diaz, Flint, MI – 630
8. Angel Reyes, Middletown, NY – 625.5
9. Sergio Napoletano, Middletown, NY – 544
10. Alfredo Gonzalez, Daleville, AL – 544
Top 5 Sporter Teams
1. David Crockett HS NJROTC – 2156-52x
2. Freeport HS NJROTC Team Pretzel – 2150-62x
3. Zion Benton #1 – 2136-57x
4. Middletown Post 151 NY – 2132-62x
5. South Panola AFJROTC #1 – 2131-57x
Top 5 Precision Teams
1. Hardcore 4 – 2330-154x
2. Frazier Simplex Center Shots – 2321-133x
3. Great Trail Musketeers – 2313-122x
4. Ashland Eagles – 2303-136x
5. Riverside Shooting Club – 2294-113x
NEXT ARTICLE