Celebrating its 17th year as a non-profit organization, the CMP has prepared an ever-growing number of shooters with firearm safety and marksmanship skills. Because of the success of its programs and sales, other organizations have decided to join CMP in its efforts by creating their own hometown clubs – some having been affiliated with CMP for over a decade.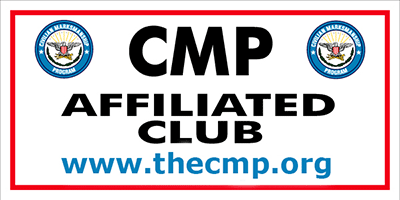 Because of their loyalty, the CMP recognizes these clubs with special "10 Year Club" banners to display at their club homes. Years of affiliation do not need to be consecutive for clubs to be considered.
Last year, over 600 clubs were recognized for their continued affiliation. CMP staff members are currently in the process of determining and processing even more qualified clubs. Currently, 113 new banners have already been delivered, with more to be sent by the end of the year. View the list of new 10-year CMP Affiliated Clubs, visit http://www.odcmp.org/1213/10YearClubs.pdf.
"The CMP affiliated clubs are the most important lifeline CMP has for reaching the young shooters in the U.S.A.," said Orest Michaels, COO of the Civilian Marksmanship Program.
Over the years, more than 5,000 CMP clubs have hosted matches, events and clinics around the country, promoting CMP's mission of safety. Becoming affiliated with the CMP is simple. Just visit our website at http://thecmp.org/Clubs/Affiliate.htm and fill out an application. An annual fee of $30 is to be submitted with the application.
Benefits of becoming a CMP Affiliated Club include a free subscription to our newsletter for junior shooters and coaches, On The Mark, CMP email news and updates, exclusive rights to rifle and ammo sales and the ability to host CMP sanctioned clinics and events. More information on club benefits can be found at http://thecmp.org/Clubs/Benefits.html.
For more information on CMP clubs and how to form a CMP club, visit http://www.thecmp.org/Clubs.htm.


NEXT ARTICLE