The CMP Opens a Year- Round Store at Camp Perry

Once only open during the National Matches and for mail order business, the CMP Store at Camp Perry, Ohio is now open year round. CMP staff member Willard "Junior" Royster "Junior" Royster runs the store five days a week, with the eventual possibility of opening on Saturdays as well. During the National Matches it was open seven days a week.

"Business is good," said Royster, who worked as a mobile equipment technician for 10 years at Camp Perry. While the store still does its best business during the summer National Matches, Royster estimated that the store averages 10 to 20 people a day since they have been open. "I've had people from Atlanta, Georgia....jump on a plane, fly up here, spend the night in a motel room, get here at opening that day, spend the day, then fly back that evening." Royster has had people come from as far away as Florida and Texas just to come to the store.

The store offers a wide range of products (which are listed in the CMP Product Catalog). The main attraction, though, is rifles. Many of the rifles are highly collectible, highly sought after. Still, not everyone who walks in the store is a gun collector. "They know we sell different grades of guns, so when I get a batch of a certain grade in, and if it fits their budget or the purpose they want a firearm for, they'll come in."

Royster pointed out that the store is also picking up a lot of new business, estimating that 25% of the people who walk in the door haven't dealt with the CMP before, or haven't visited in the last seven or eight years.

When Royster gets a fresh shipment of guns in, the CMP places an announcement on their website. Store inventory is constantly updated and rotated. For more information be sure to check the website. Royster suggests that people should call ahead (1-419-635-2141, extension 1115) if they want to know what is currently in stock.

And of course the traditional CMP sales system where customers use the mails to order through the CMP Product Catalog continues to be available and just as active as ever. Request a current copy of the current CMP Product Catalog by emailing custserve@odcmp.com.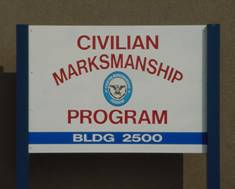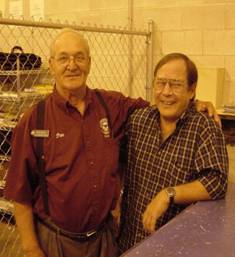 Pete Macko and Willard "Junior" Royster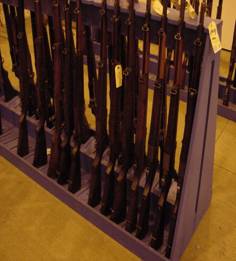 Rack Grade M1 Garand rifles awaiting purchase at the CMP Store at Camp Perry.