On-line Registration Now Open for the First Eastern CMP Games and Creedmoor Cup Matches - The Inaugural Eastern CMP Games and Creedmoor Cup Matches, which will take place at Camp Butner, North Carolina, on 5-13 May 2007, offer an exciting nine-day schedule of training and competition activities. All shooters, especially shooters who live in the eastern and southeastern parts of the U. S., are encouraged to make plans to attend the first east coast version of the Western Creedmoor Cup and CMP Games Matches. The matches will be at Camp Butner, North Carolina, a National Guard installation north of Durham, North Carolina. The North State Shooting Club, whose home range is at Camp Butner, will host the Matches. Creedmoor Sports Inc. will sponsor the Creedmoor Cup Matches and the CMP will sponsor the CMP Games Matches.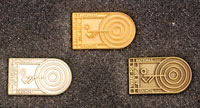 New Match Sanctioning Program for Junior Three-Position Air Rifle Events - Shooting clubs, JROTC organizations and other shooting sports organizations that sponsor three-position air rifle matches for juniors can now obtain National Three-Position Air Rifle Council sanctioning for them through the CMP. Match sanctioning offers a "seal of approval" to potential participants that a competition will be conducted according to high standards with nationally recognized rules.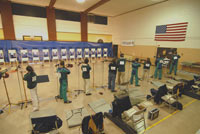 2007 Camp Perry Open Marks a New Chapter for CMP - The Civilian Marksmanship Program supports three-position air rifle matches all across the country. Every year CMP personnel and equipment travel coast-to-coast for these junior events. So it may come as a surprise that a significant three-position air rifle match has never been conducted at Camp Perry, CMP North Headquarters near Port Clinton, Ohio, especially considering that for a century Camp Perry has been a Mecca for competitive shooters from all over the country who attend the annual National Rifle and Pistol Matches. This finally changed on 20 January 2007 with CMP's first Camp Perry Open. This match was the beginning of what the CMP hopes will become an annual series of three-position air rifle matches at Camp Perry.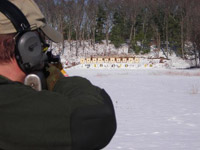 Some Like It Cold! ~ Muskegon "M1 for Vets" Match - While many in Michigan huddled in their homes to stay out of the bitter cold, a record number of shooters attended the Muskegon Pistol and Rifle Club's first "M1 for Vets" match held on Saturday, December 9, 2006. Even a wind chill of 15 degrees did not deter the 30 dedicated shooters who wanted to be a part of this fantastic event. Some eager participants drove several hours just to be able to participate in the 30-round match. Temperatures may have been frigid, but the cloudless sky was a beautiful blue, and spirits were soaring.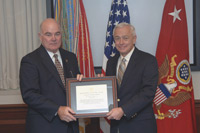 CMP Board Officer invested as Civilian Aide to the Secretary of the Army - Harry A. Sieben was sworn in as Civilian Aide to the Secretary of the Army for Minnesota on October 27, 2006. Francis J. Harvey, Secretary of the Army, administered the oath, presented the CASA flag, and pinned the CASA pin on Mr. Sieben. Following the investiture Secretary Harvey hosted a luncheon in the Pentagon. in honor of the new CASA.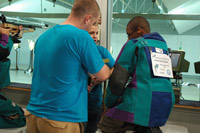 CMP Three-Position Air Rifle Summer Camps Make an Early Appearance in 2007 - Improvement is a constant goal at CMP, from creating the latest technology for tracking scores on the web to making registration faster for the National Rifle and Pistol Matches. We pride ourselves in improving the experience for everyone who participates in our events or purchases rifles and equipment. Our Three-Position Air Rifle Summer Camp program is no exception, and this year the CMP's premier camp program is even bigger and better.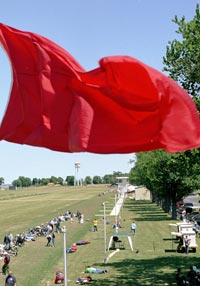 Reading the Wind (Part 2, 600 Yard Firing) - By SSG Emil Praslick, USAMU - In the previous article, "Reading the Wind (Part 1)" we discussed the tactics and strategy needed to negotiate the wind during rapid fire (primarily 300 yards). The goal during rapid fire is to center your group in the 10 and X-ring. Your windage setting must therefore be a compromise between what the wind is doing at the beginning of firing time and what you believe it will be at the end of firing time. The 600 yard slow fire stage needs a slightly different approach and skill set to maximize one's performance. The ability to "read" the conditions, coupled with feedback from your last shot, make this stage one of the most intellectually challenging in highpower competition.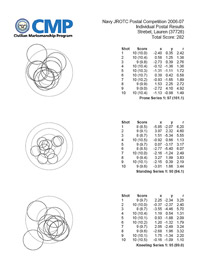 JROTC Postal Competition Goes High Tech in 2006 - 2006 has been a milestone year for CMP Competitions. One of the key factors in this success was the continued development of CMP's innovative system called Competition Tracker or "CT" as it is known by the CMP staff. CT is a computer software program that performs a variety of competition management functions, including maintaining a database of competitors, taking on-line entries for matches and providing real-time score updates from events like the National Matches and CMP sanctioned matches around the country. Now one more feature has been added to Competitor Tracker's bag-of-tricks, electronic scoring of 10-bull paper air rifle targets.