<! Nested Table for picture>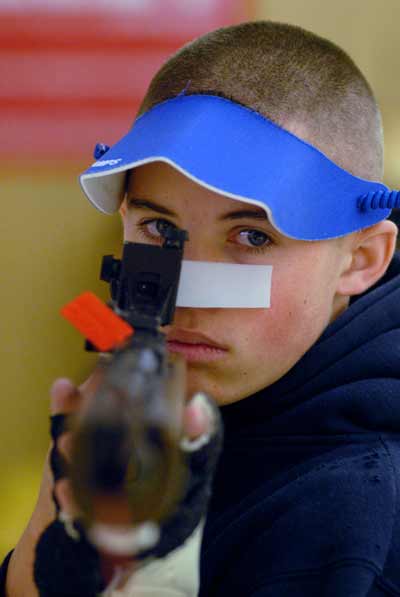 New Mexico's junior sporter air rifle shooter Deckard Day was named the 2009 American Legion Junior Air Rifle National Sporter Champion.
USA SHOOTING RANGE, COLORADO SPRINGS, CO – Deckard Day, a fifteen year-old shooter from Albuquerque, New Mexico captured the sporter crown at the 19th annual American Legion Junior Air Rifle National Championship, August 6-8. Day fired an impressive 2308.9/2509. He shoots for the LaCueva H.S. Marine Corps JROTC marksmanship unit, which is sponsored by Post 49.

Eighteen year-old Emily Quiner of Brooklyn Park, Minnesota won the Precision championship with a score of 2467.5/2509. Quiner, who placed 17th in the qualification round to earn a spot in the national championship match, is a member of the Minnesota Center Shots sponsored by Edward B. Cutter Post 102.

Also observing the competition again this year was 1992 rifle Olympic Gold medalist Launi Meili. Meili, got her start as a youth through a shooting program sponsored by the Cheney, Washington American Legion Post. Meili is the rifle coach for the United States Air Force Academy in Colorado Springs, Colorado.

Rounding out the top five in the two categories were: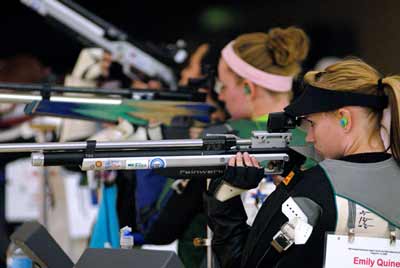 Emily Quiner, right, finished as the top precision junior shooter in the 2009 American Legion Junior Air Rifle Championship. Abigail Stanec, left, finished second overall.
Precision competition – Abigail Stanec shot a 2460.8 to take second place honors. Stanec is from Wadsworth, Ohio and shoots for the Ashland Eagles, sponsored by Frank Bender Post 473.

Emily Holsopple of Wilcox, Pennsylvania fired a 2449.2 to capture third place. She is a member of the Ridgway Rifle Club Jr. Team, sponsored by Edward Lehman Post 0467.

Kyle Rebillion finished in fourth place with a 2442.7. He is from Tacoma, Washington and shoots for the Capitol City Junior Rifle Club, sponsored by Edward B. Rhodes Post 2.

Rounding out the top five was Kaitlin Pennell of Antelope, California who shot a 2442.5. Pennell shoots for the Lincoln Rifle Club sponsored by James E. Fowler Post 264.

Sporter competition - Second place went to Thomas Wheeless of Hampton, Virginia with a score of 2290.7. He is a member of the Lafayette Gun Club of Virginia, sponsored by Post 273.

Courtney Bates of Geneva, Florida fired a 2273 for third place. She shoots for the Oviedo H.S. Navy JROTC marksmanship unit sponsored by Post 112.

Taking fourth was Logan Stribling shooting a 2267.5. Stribling, of Albuquerque, New Mexico also shoots for the LaCueva H.S. Marine Corps JROTC marksmanship unit.

Taking fifth place honors was Alyssa Wolken of Beatrice, Nebraska, with a 2264.1. Wolken is a member of the Homestead 4-H Gun Club, sponsored by Post 27.

Three tournament records were set during the three-day competition. Emily Quiner set a new precision standing record of 788-54/800, breaking the previous record of 785 set by 2006 National Champion Thomas Santelli. Deckard Day set a new sporter kneeling score of 764, breaking the old record of 756 co-held by 2005 National Champion Micaela Jochum and 2004 National Champion Wesley Hess. Kaitlin Pennell set a new precision final shoot-off record of 103.5/109, breaking the previous record of 103.0 set by 2005 National Champion Jonathan Hall.

Additionally Deckard Day's 2308.9 placed him 4th in the all-time top five sporter scores.

The tournament staff selected teammates Courtney Bates and Shayna Thompson as co-recipients of the annual Francis M. Redington Sportsmanship award. The Francis M. Redington Sportsmanship award was established in May 2005 in the memory of Redington, a long time tournament staff member, who passed away in 2003. Bates and Thompson were selected as the athletes competing in the national championship who best exemplified good sportsmanship and fair play.

The American Legion's Junior Shooting Sports program offers junior shooters the opportunity to participate in Olympic-style competition while also providing instruction on the safe handling of firearms.

To view a full list of results, visit the CMP web site at http://clubs.odcmp.com/cgi-bin/report_matchResult.cgi?matchID=4861.