CAMP PERRY, OHIO – Curt Horomanski, 52, of Monroeville, Pennsylvania, says he's happy to provide shooters for the Steel Eagles junior rifle team. His oldest daughter Chessa, 22, recently graduated from the junior ranks but he still has three daughters shooting with the Steel Eagles and members of the Pennsylvania Rifle and Pistol Association.
<! Nested Table for picture>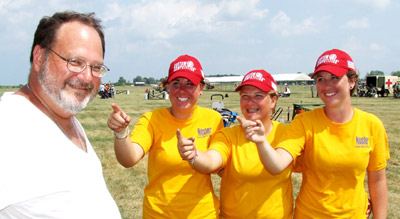 When asked who inspired the Horomanski girls, Elyse, Marie and Jenna to become highpower shooters, they quickly pointed out their father, Curt.


Elyse, 19, Jenna, 16, and Marie, 14 – all point their fingers at dad when asked who's the driving force behind their participation in service rifle competition.

The girls didn't take the traditional route of shooting air rifle or .22 caliber smallbore rifle prior to jumping into highpower. All of the Horomanski girls fired nothing but AR-15 rifles from the start, their dad says.

"They all started at 12," Curt said. "We started in club shooting and they went to the firing line standing and didn't hit the target very much – sometimes they were on paper, but not in the scoring area."

"Of course the tears would roll down, but they got better and better," he said.

<! Nested Table for picture>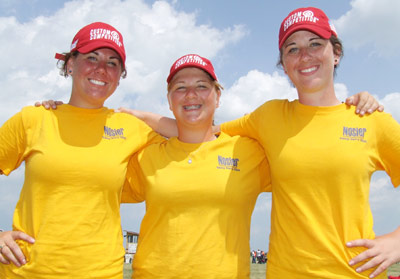 The Horomanski sisters, Elyse, Marie and Jenna have each been shooting highpower since the age of 12. They follow in the footsteps of their eldest sister Chessa and are providing a path into shooting for their younger eight-year-old brother.


Over the years the Horomanski family has traveled to matches in Pennsylvania, Maryland, Ohio, and most recently, North Carolina, improving at each event. The girls attended the Eastern Junior Highpower Clinic and Championship at Camp Butner, North Carolina, and did very well shooting and socializing.

"They went down there and didn't want to leave," Curt said. "They made a lot of friendships at Butner and I think it really helped them a lot."

"I enjoy going to shooting events because I like making friends from all across the country," said Marie, the youngest. "We used to stay to ourselves but now we feel more comfortable meeting new shooters and getting to know them."

The girls admit they are a unique group because many of the shooting events they attend are populated primarily by boys. Each of them learned to load ammunition prior to shooting in competitions, Curt said.

"These events are a great place for them to meet boys – the marrying kind - I'll be honest. These young guys are very polite and very responsible young men."

While dad is traveling with the girls, mom is back home with the girls' younger brother, but she attends matches when she can. "They have an eight-year-old brother helping them load ammo and pretty soon he'll join them on the line, once he's 12," Curt said.

Elyse, who shot her personal best at Camp Perry this year, said "Our mom is learning about shooting and she's really supportive. She always makes sure we have bug spray, sun tan lotion and food and water. I agree that its fun meeting people and getting an opportunity to improve my shooting and being with my sisters."

"I love competing as an individual and team because we're always challenging ourselves to do better. You know what they say, practice makes perfect," Jenna said. "We are always trying to improve and we don't dwell on past mistakes."

Bob Eikey, 41, of Jeannette, Pennsylvania, the Steel Eagles Highpower Director, said he's happy to have families like the Horomanski's involved. <! Nested Table for picture>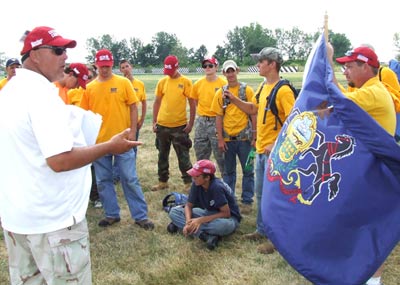 Steel Eagles director, Bob Eikey, addresses his Pennsylvania Rifle and Pistol Association team after a highpower match at the 2010 National Matches. Eikey said the Steel Eagles club is growing at a rapid pace.
"To Curt's credit, he's been doing the job of three parents and I know it's a lot of work dragging three teenagers around to these events," Eikey said. "It's a sibling-oriented sport. We've also got a couple of brothers and some cousins that shoot with us too."

Eikey is assisted by Joe Hendricks, 42, of Wexford, Pennsylvania. Hendricks has a solid history of highpower shooting and coached his own very successful junior team several years ago, Eikey said. "He's one of the best coaches in the country." <! Nested Table for picture>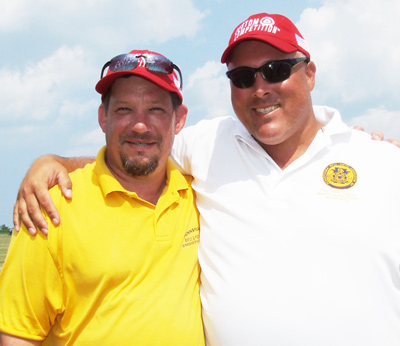 Steel Eagles assistant director, Joe Hendricks, Sr. and director Bob Eikey are growing their Pennsylvania team with the help of dedicated parents, good sponsors and talented shooters who are willing to put forth a strong effort to succeed.


"We're growing as fast as we can grow and improving at every match," Eikey said. A former Ohio State University rifle shooter, he's been participating in highpower for about 10 years and he's enjoying working with juniors, he said.

"You know, shooting is a sport of small numbers, so we're trying to grow our programs and do the best we can. We've been successful attracting new juniors to our program by attending gun shows and distributing information," Eikey said.

He said he has been experimenting with new ways to introduce the program to youngsters and has had success attending gun shows and handing out information about the organization. As a result, he attracted about 400 junior shooters who expressed interest.

"We waited for them to contact us and we've been successful acquiring some promising new shooters. We chased off the Kool-Aid drinkers and those who just wanted to shoot our ammunition and recently we brought on four new shooters," he said.

"I certainly can't do this alone, but I'll do anything I can to help families grow our team. We've got some very generous sponsors and they supply us with gear and we make the most of it."

The Steel Eagles 7 of 7 two-person junior team of John Yates, 18, of Hackettstown, New Jersey, and Brian Deyoung, 15, of Pittsburgh, Pennsylvania, took top honors in the At-Large category of the National Trophy Junior Team Match and won Freedom's Fire medallions.

The Steel Eagles Gold six-person team placed second in the National Trophy Rifle Team Match behind the California Grizzlies Team Seeley. Firing members for the Steel Eagles were Jacob Perryman, 17, of Pleasant Gap, Joseph Hendricks, Jr., 14, of Wexford, Elyse Horomanski, Nathan Evagash, 16, of Glenshaw, Thomas Trent, 16, of Penn, and Garrett Miller, 19, of West Chester.

For complete results of the 2010 CMP National Trophy Rifle Matches, log onto: http://clubs.odcmp.com/cgi-bin/report_matchResult.cgi?matchID=5690. To view photos from the matches, log onto: http://cmp1.zenfolio.com/.