CAMP PERRY, OHIO – Nick Till, 38, of Howell, MI, emerged victorious in the as-issued John C. Garand Rifle Match from a field of 1,112 competitors here on Saturday, 4 August. Till's 291-6X was just two shots off the record of 293-6X set by Kurt Palmer in 2009. Till cleaned his prone slow-fire stage and fired 98 in rapid fire and posted a 93 in offhand.
<! Nested Table for picture>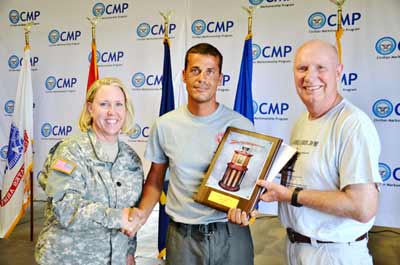 Nick Till, of Howell, MI, won the 2012 John C. Garand Rifle Match in a field of 1,112 competitors at Camp Perry. Till is flanked by Lt. Col. Barb Herrington-Clemens, Camp Perry Garrison Commander, left, and James Adell, representing the Garand Collectors Association.


Kurt Moline, 51, of Oakdale, MN, placed second in the Garand match with an aggregate total of 289-9X and SGT Patrick Saleh, 23, USMC, placed third with a total score of 288-7X. Saleh outdistanced fellow Marine MSgt James Wagner, 42, of Kailua, HI, in an X-ring tiebreaker (7-3).

Robert Hudson II, 16, of Halifax, VA, was the high junior in the match, shooting a 284-5X aggregate. Ethan Marne, 19, of Mt. Pleasant, PA, (282-3X) and Briar Mullally, 15, of Essexville, MI, (275-2X), placed second and third in the junior division, respectively.
<! Nested Table for picture>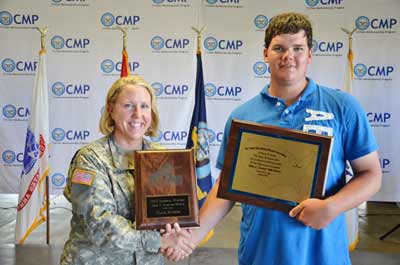 Robert Hudson II, of Halifax, VA, was the high junior in the John C. Garand Match, shooting a 284-5X aggregate. Hudson is congratulated by Lt. Col. Barb Herrington-Clemens.


Donald Tryce, 63, of Austin, TX, was the high senior (287-6X) in the Garand contest and he was followed by Lee McKinney, 65, of Rio Rico, AZ, (286-6X), and Richard Kussman, 60, of Forest Hill, MD (286-2X).
<! Nested Table for picture>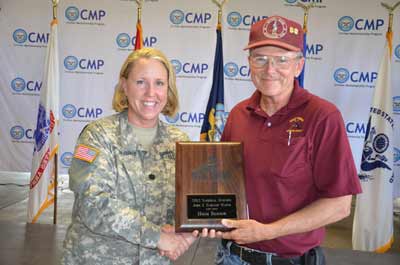 Donald Tryce, of Austin, TX, was the high senior in the John C. Garand Match. He is accompanied by Lt. Col. Barb Herrington-Clemens.


Joseph Greathouse, 43, of Nelson, NH, won the M1903/03A3 Springfield Rifle Match with an aggregate score of 291-9X, topping Brian Tripp, 45, of Kalamazoo, MI, (288-9X) and Michael Butler, 53, of Ridgewood, NJ, who fired a 287-10X. A total of 727 competitors fired in the Springfield match.
<! Nested Table for picture>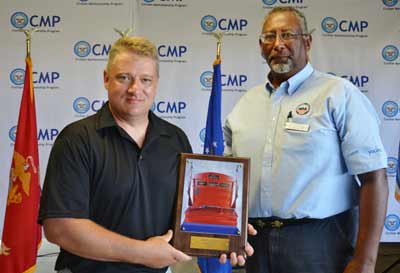 Joseph Greathouse, of Nelson, NH, won the Springfield Rifle Match with an aggregate score of 291-9X. He is pictured with National Matches Deputy Director Ric Russell.


The high junior in Springfield competition was Bradley Petras, 15, of Slidell, LA, (280-6X). Petras was followed by Gabe Rampy, 14, of Bremen, GA,(277-8X) and Alex Thomas, 16, of Greensburg, PA, (275-7X). Robert Langham III, 60, of Tyler, TX, placed first among the senior class with a 287-6X. Michael Bailey Sr., 64, of Plymouth, MI, placed second (286-5X), and Kenneth Stein, 61, of Glenside, PA, placed third in senior competition (285-7X).
<! Nested Table for picture>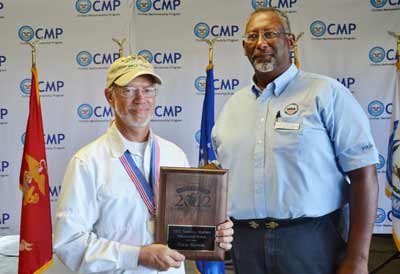 Robert Langham III, of Tyler, TX, was the high senior shooter in the 2012 Springfield Rifle Match. He is congratulated by Ric Russell, Deputy Director of the National Matches.


Dennis DeMille, 47, of Oceanside, CA, won the Vintage Military Bolt Rifle Match firing a score of 290-3X with his U.S. M1917. The victory helped propel him to the top of the GSM "Top Gun" three-gun aggregate ranking with an overall score of 858-17X. A total of 421 competitors fired in the Vintage Military Bolt contest.
<! Nested Table for picture>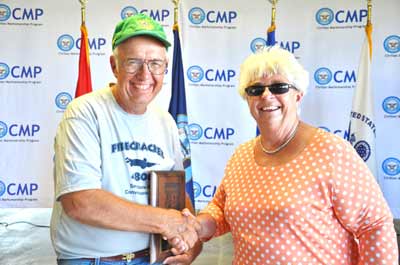 Lee McKinney, of Rio Rico, AZ, is congratulated by CMP Chairman, Judith Legerski, for winning the high senior award in the Vintage Military Bolt Rifle Match. McKinney was fourth overall.


Thomas Dean, 58, of Perry, MI, placed second (287-6X) with a Swedish Mauser and David Thompson, 50, of Keyser, WV, took third place using an M1917. The high junior in Vintage Bolt gun was Ethan Marne, (279-7X) and the high senior was Lee McKinney (286-9X), who finished fourth overall.
<! Nested Table for picture>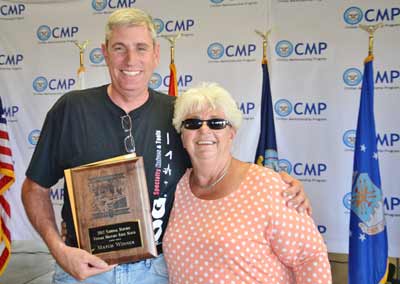 Dennis DeMille, of Oceanside, CA, winner of the 2012 Vintage Military Bolt Rifle Match and winner of the GSM "Top Gun" award, is pictured with presenter Judith Legerski, Chairman of the Board, CMP.


The GSM Top Gun includes aggregate scores from the as-issued John C. Garand, Springfield and Vintage Military Bolt rifle matches. The GSM aggregate combines the disciplines of firing semi-automatic M1 Garand plus bolt-fed military rifles from earlier military history. The Vintage Military Bolt match features an open class of bolt guns from around the world and produced in the 18th and 19th centuries, including the British Lee-Enfield, the U.S. .30-40 Krag, Russian Mosin-Nagant and many more.

The winner of the GSM aggregate needn't win all three matches outright, but success relies on high representative scoring across the board. Winning at least one of the three matches gives that GSM competitor a leg up in the overall competition, which DeMille did by firing a 290-3X in the Vintage match. He compiled a fifth-place finish in the Garand match (287-9X) and a 44th place finish in the Springfield match (281-5X). The GSM Top Gun competition included 271 shooters who fired all three rifle types.
<! Nested Table for picture>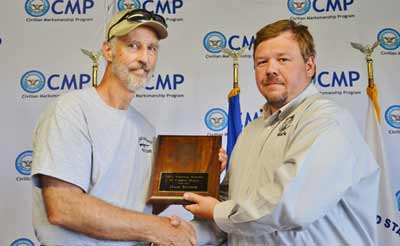 William Aten, of Kingwood, TX, is congratulated by Mark Johnson, CMP Deputy Chief Operating Officer, for posting the highest score by a senior shooter in the M1 Carbine Match.


Stephen Sciarabba, 56, of Geneva, NY, won the 2012 M1 Carbine Match, setting the new match record of 375-5X out of 400 points possible. Sciarabba fired stages of 95-1X, 95-1X, 94-3X and 91 in prone slow-fire, prone rapid-fire, sitting rapid-fire and standing, respectively.

Mark Stout, 43, of Waterford, MI, came up one point short of Sciarabba, firing a 374-8X. George Eberhardt, 59, of Mt. Washington, KY, placed third with an aggregate score of 370-2X. Stephen Tupta, 20, of McMurray, PA, was the high junior in the Carbine Match with an aggregate total of 357-1 X. William Aten, 60, of Kingwood, TX, placed first in the senior circuit with an aggregate score of 358-4X.
<! Nested Table for picture>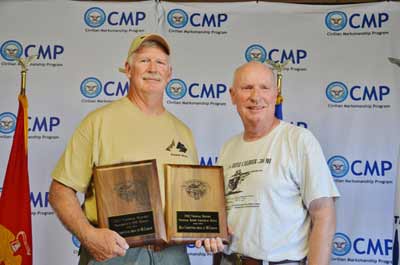 Robert Steketee, of Haslett, MI, was recognized for posting the highest score using an M1 Garand rifle in the 2012 President's Rifle Match and National Trophy Rifle Match. The Garand Collectors Association's James Adell congratulated Steketee at the awards presentation, Saturday, 4 August at Camp Perry.


In Unlimited Garand competition, Lynn Richter, 70, of Fort Wayne, IN, fired a 295-6X to top all shooters and was also the high senior in his division. Billy Besgrove, 53, of N. Liberty, IA, placed second (293-9X) and Jeffery Haneline, 56, of Norton, OH, took third (290-8X). David Twibell, 18, of Guyton, GA, was the high junior shooter in the match (268-6X). A total of 43 competitors fired in the Unlimited category.

In the President's Rifle Trophy Match and National Trophy Individual Match fired earlier in the week, Robert Steketee, 62, of Haslett, MI, fired a 281-3X and 468-8X, respectively, to claim first place in the Garand class of those matches.
<! Nested Table for picture>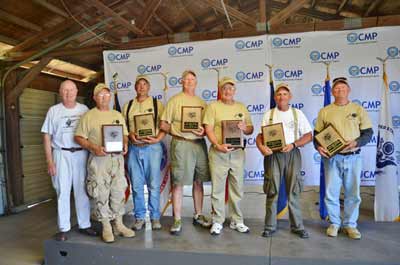 The GCA Michiana Team placed 1st in the M1 Garand Award for the National Trophy Team Match. GCA's James Adell presented the award plaques.


The top team in the National Trophy Team Match firing M1 Garands was GCA Michiana - 2645-27. Team members were Robert Steketee, Franco Scarpino, Brian Quillen, Thomas Dean, Andrew Giegold and Gregory Foster. The team coach was James Swartz and team captain was Andrew Giegold.

For complete results of the National Trophy Individual and Team Matches, log onto http://clubs.odcmp.com/cgi-bin/report_matchResult.cgi?matchID=7982. To view, download or order photos from the event, log onto our photo Web site at http://cmp1.zenfolio.com.