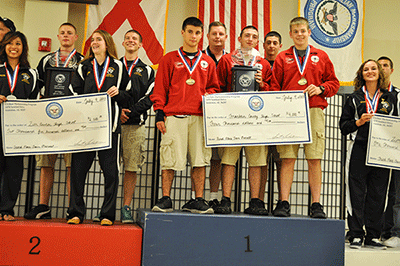 Franklin County High School brought home first place in the overall sporter team competition at the CMP National 3P Air Rifle event, while Zion Benton Teams 1 and 2 took home third and second place, respectively.
Thousands of young shooters across the U.S. excelled as the Civilian Marksmanship Program reached out to them with numerous firearm safety and marksmanship clinics, camps and competitions over the past year.
The National Junior ROTC three-position air rifle season kicked off in the fall of 2012 with postal matches and concluded in March 2013 at the National Championships at the CMP Marksmanship Center in Anniston, AL.
Individual champion Hunter Kushman, 16, of King George High School in King George, VA, won the overall sporter competition – setting two new Navy JROTC National records. Carl Hayden High School in Phoenix, AZ, overtook the sporter team championship with their impressive aggregate score of 4354-117x.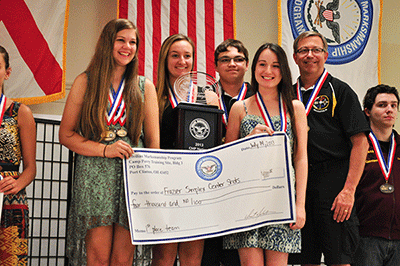 Frazier Simplex Center Shots overtook the first place position in the overall precision team competition.
Army JROTC precision air rifle competitor Marissa Furney, 17, of Columbus High School in Columbus, GA, fired the top score to become the overall precision air rifle competitor in the competition. Fellow precision shooter Mary Pratt of Monroe Area High School in Monroe, GA, set a new Air Force JROTC 3x20 and the 3x20 plus record with her third place finish. Ozark High School from Ozark, MO, put on an outstanding performance as they claimed the precision team title for the second year in a row. The team also set a new Army JROTC National record with their score of 2346-142x.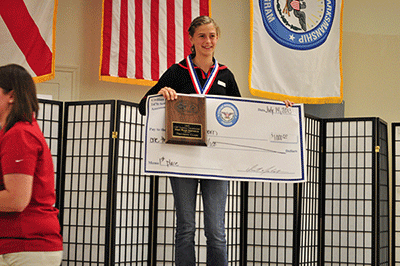 Sarah Osborn was brought to tears after she became the first-ever individual champion of the CMP National precision match.
During the summer, juniors once again flocked to a series of CMP summer air rifle camps held at Anniston, Camp Perry and several Western outreach clinics, with an average attendance of 50 shooters.
In July, the CMP held its Inaugural National Three-Position Air Rifle Championship at the CMP South Marksmanship Center in Anniston, AL. The competition began with the Postal Championships, with the top shooters advancing to Regional events. From there, 380 competitors qualified and participated in the prestigious National Championship.
Kyle Morales, 16, of Bordelon Rifles in Texas, overtook first place in the sporter competition, while Sarah Osborn, 14, of Patriot Rifle in Virginia, claimed the first place spot in the precision match. In team competition, Franklin County High School in Rocky Mount, VA, topped the other sporter teams with their combined score of 2180-72x, while Frazier Simplex Center Shots in Pennsylvania overtook first in the precision competition, firing a 2339-162x.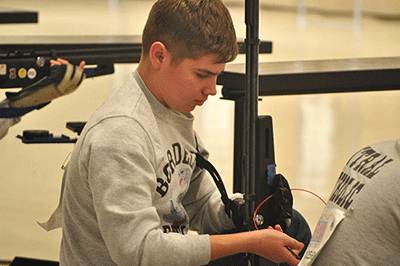 Kyle Morales of Bordelon Rifles in Texas took home the individual sporter gold medal after firing 646.8-21x.
Also recognized was the South African National School Shooters Union, for traveling overseas to participate in the National event. The team finished with an aggregate score of 2186-70x, and was presented with the high visitor award.
The Civilian Marksmanship Program awarded $209,000 in award checks to winning teams and shooters throughout the competition. MidwayUSA, sponsor of the championships, also presented generous awards, with $5,000, $3,500 and $2,500 endowments to the top placing teams.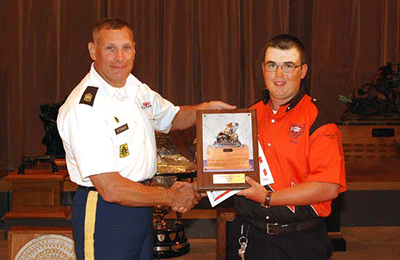 Glenn Zimmerman, of Waterville, Ohio, won the G.P. Perry DeFino Trophy with a total score of 283-11X out of 300, which signifies the high scoring junior in the National Trophy Individual pistol match. Presenting the DeFino Trophy plaque is U.S. Army National Guard SGM Robert Stanek.
At the 2013 National Matches at Camp Perry, several talented juniors again exceeded expectations. Alexander Chichkov, 19, of Tampa, FL, won the Junior President's Pistol Match, while Glenn Zimmerman, 16, of Waterville, OH, claimed the G.P. Perry DeFino Trophy as the high junior in the Individual Pistol Match. Robert McClain, 15, of Walkersville, WV, was the first place shooter overall in the M16 highpower match, followed in second place by junior Makayla Douthit, 15, of Walden, CO. Isaac Dow, 20, of Grand Junction, CO, placed fourth in the President's Rifle Trophy Match and was the high junior. In team competition, the CA Grizzly Team Heidi's Dream, from California, won the National Trophy Junior Team Match and set a new record with their score of 974-32x.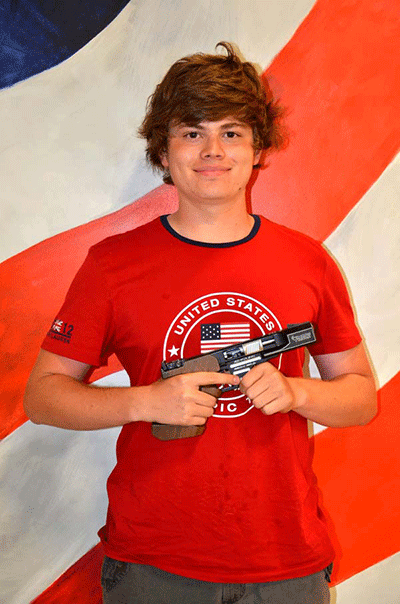 Alexander Chichkov, of Tampa, Florida, won the prestigious Junior President's Pistol Match Trophy with an aggregate score of 369-4X. The 19-year-old also placed second in the Junior National Trophy Individual Pistol Match.
The Dixie Double, held at the South Range in Anniston, AL, Nov. 8-10, showed the talents of even more junior shooters. Ronnie Pierson, 17, of West Blocton, AL, led the juniors in the overall air pistol competition – firing a 1029-7x. Zachary Miller, 13, of Syiacauga, AL, claimed the second place spot with his score of 1019-7x, while Jessie Jenkins, 15, of Loranger, LA, fired a 1017-12x for third.
In the air rifle competition, Brandon Muske, 19, of Burton, TX, secured the top spot with his score of 1228.4, followed by Quintin Wotring, 16, of Kingsport, TN, with a scored of 1225.1. Elizabeth Gratz, 17, of Sigel, IL, was third overall, firing a 1224.4.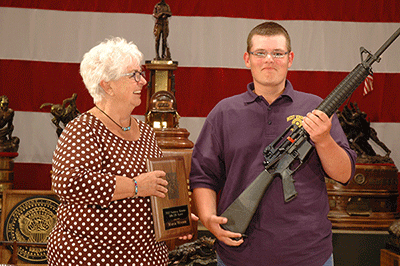 Robert McClain, 15, of Walkersville, WV, won overall in the M16 Match during the Small Arms Firing School at Camp Perry.
During the Gary Anderson Invitational, fired at the CMP North and South Marksmanship Centers Dec. 6-7, Brandon Thomas, 18, of Winder, GA, led the overall precision competition with his aggregate score of 691.3.
Thomas led going into the final by only his x-count, as Justin Kleinhans, 14, of Port Clinton, OH, followed close behind with a comparable score. Kleinhans finished the final with a score of 690.5, just short of Thomas, to land him in second place, as Michael Steinel, 17, of Lowell, OH, claimed third with 688.9.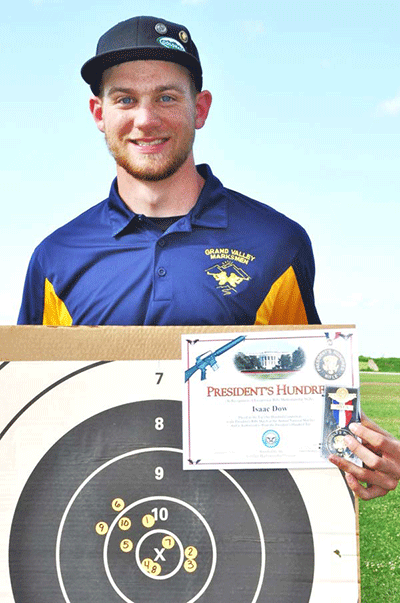 Isaac Dow shot a stunning 392-11x to earn fourth place in the President's Rifle Trophy Match
Jaleel Canada, 17, of Freeport, IL, came out on top in the sporter division, firing an aggregate score of 649. John-Keith Verble, 17, of Jonesborough, TN, landed in second place, with 646.7, as Michael Murphy, 18, of Forest City, NC, rounded out the top three, with a score of 641.5.