CMP North Customers Enjoy Appreciation Day and Open House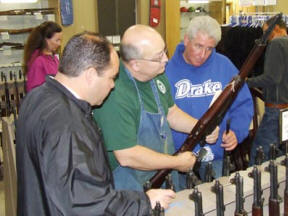 CAMP PERRY, OHIO – More than 150 M1Garand rifle collectors, shooters and enthusiasts enjoyed free hot dogs, giveaways and more at the CMP North Store Customer Appreciation Day and Open House on Saturday, 2 October. <! Nested Table for picture> The Open House gave visitors an opportunity to view products and ask questions of CMP staff and armorers while enjoying a little CMP hospitality. It was a great day to visit," said Mike Conrad, CMP North Store manager. "In addition to Boy Scout troops and clubs, we had a lot of new and repeat individual customers stop in to say "hi" and see what's in stock." <! Nested Table for picture>
Flint River Council determines Webelos Top Gun!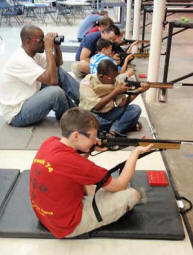 Griffin, GA – August 28, 2010 - The Boy Scouts of America's Flint River Council held their first annual Webelos Top Gun Competition on Saturday, August 28th at the Ole Mill Range Complex in Griffin, GA. The 4th and 5th grade Webelos Scouts spent the morning session learning BB gun safety, marksmanship techniques, competitive shooting positions, and practicing with the Daisy Avanti 499 Competition BB gun, the most accurate BB gun in the world.
Enthusiastic Junior Range Crew Keeps its Goal on Target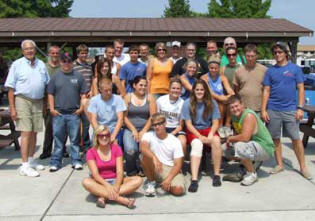 CAMP PERRY, OHIO – Pistol and highpower rifle shooters may not realize it, but there's a dedicated crew of approximately 60 junior target workers who toil from May through mid-August each year, providing virtually all target-related services for competitors during the NRA National Rifle and Pistol Championships and CMP National Trophy Matches and Games Events. <! Nested Table for picture> Employed by the NRA and working in conjunction with the Civilian Marksmanship Program and the Ohio National Guard, the summer range crew supplies most of the labor needed to set up, change and eventually dismantle the pistol and rifle ranges for thousands of shooters.
Gunny R. Lee Ermey Unplugged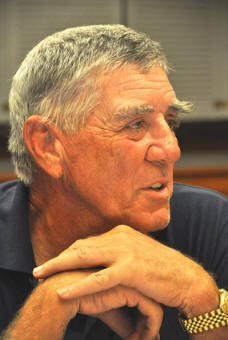 CAMP PERRY, OHIO – Revered to this day by millions for delivering perhaps the most riveting verbal tirade in war film history as Marine Corps senior drill instructor Sgt Hartman in the 1987 Stanley Kubrick film Full Metal Jacket, retired US Marine GySgt R. Lee Ermey remains a hot commodity in the entertainment industry and a popular highpower rifle competitor at Camp Perry. In addition to his June reprisal as the voice of 'Sarge' in Toy Story 3, the 66-year-old Ermey can also be seen daily as a short-fused drill instructor-turned-dispassionate therapist in a witty GEICO insurance television commercial. GEICO liked it so much, they asked him back to record five radio spots. In most of his roles Ermey plays hard-edged authority figures, thanks to his early film work.
CMP Anniston Operations: Series Four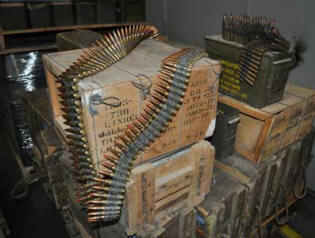 In the final segment of our CMP South series we discuss the future of the rifle sales program and what CMP in Anniston means to southeast US program participants and surplus rifle enthusiasts. ANNISTON, ALABAMA - The future of CMP South remains bright as evidenced by increased attendance at marksmanship events on the programs side and sustained interest in rifle and ammunition purchases on the sales side. The Anniston Marksmanship Center continues to attract a growing spectrum of shooters to matches and clinics ranging from 4-H club beginners to Olympic hopefuls. Like its Camp Perry cousin, the MEGALink-powered, 80-firing point indoor range is among the premier shooting venues worldwide. It's the newest of its kind in the southeastern US.
Buy a Lottery Ticket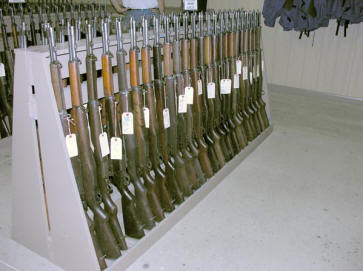 One of the most common statements I hear in the few pleasant years I've worked in the CMP North Store is "All they have is a bunch of junk". To me, that's the most ridiculous statement ever. Both the North and South Stores are packed with treasures. <! Nested Table for picture> The perspective depends on what you are looking for, a tack driver, a beautiful stock, or a correct grade rifle. It is not unusual to find a ME of -1 or a crisp, sharp WWII cartouche on a rifle nestled among the field and service grade selections on any given day. Countless times, the late George Ball, would sit on his stool, shake his head and wisely remind me, "You can't get 'em all". Many times, I've watched excellent pieces walk out the door under someone's arm and wish I had found it first. And contrary to established belief, we don't get to scour the gun racks and save the beauties for ourselves. During the National Matches, we are hard pressed to unload the crates from Anniston and restock the gun racks so that customers have an ample selection to browse through.
Freedom Group's Bushmaster Firearms International Remembers Its Roots by Supporting Shooting Sports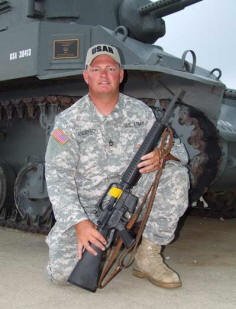 CAMP PERRY, OHIO – As part of the one of the world's largest group of firearms and ammunition marketers, Bushmaster Firearms still hasn't grown too big to remain supportive of popular target-shooting activities like the CMP's National Trophy and Games Matches. <! Nested Table for picture> Established as a quiet operation 32 years ago in Windham, Maine, the family-oriented company grew steadily over the years and in 2006 caught the eye of Wall Street giant Cerberus Capital Management who purchased the company. Former owner Richard Dyke said at the time that Bushmaster had grown to the point where it needed someone with deeper pockets to manage its potential growth. <! Nested Table for picture>
Targets Now Available as JROTC Postal Season Opens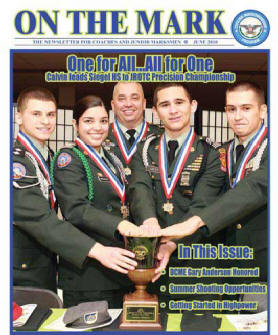 CAMP PERRY, OHIO – If you have aspirations of becoming the next individual or team JROTC Service Champion and possibly a National Champion, your preparation period begins now as fellow Army, Marine Corps, Navy and Air Force JROTC Cadets across the country begin preparations to compete in the 2010-2011 Air Rifle Postal Competitions. <! Nested Table for picture>
2010-2012 Three-Position Air Rifle Rules Now Available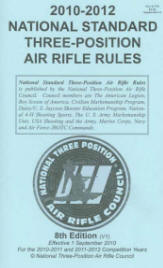 The 2010 – 2012 8th Edition National Standard Three-Position Air Rifle Rules were released in September 2010. The National Three-Position Air Rifle Council, which governs most three-position air rifle shooting in the USA, releases a revised rulebook every two years. Rule changes are based on decisions made by the Council, which held its most recent annual meeting this past June. The 2010-2012 version of the rules includes several rule clarifications that are based on interpretations issued during the last two years. A few changes were also made to bring three-position rules in line with International Shooting Sport Federation (ISSF) rule changes. <! Nested Table for picture>
CMP North Store Celebrates Appreciation Day and Open House on 2 October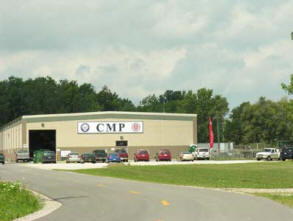 CAMP PERRY, OHIO – Plan to join us at the CMP North store for our Customer Appreciation Day and Open House with complimentary coffee and donuts in the morning and hot dogs and chips in the afternoon on Saturday, 2 October. The store opens at 8:30 a.m. and closes at 4 p.m.