We want your feedback! Please let us know what you think about TFS. Do you have an interesting story or article that you would like to share? If so, please let us know!
Upcoming CMP Events:
Tuesday & Thursday Night Open Public Shooting

CMP Marksmanship Centers,
Port Clinton, OH
Anniston, AL

Shooters, including aspiring new shooters are invited to take advantage of a new opportunity to do practice shooting. Both ranges consist of 80-point, 10-meter air gun range and are fully equipped with electronic targets that accommodate air rifle, air pistol or National Match Air Rifle shooting. Instruction and equipment are also available. Visit http://www.TheCMP.org/3P/
MarksmanshipCenters.htm for additional information.
---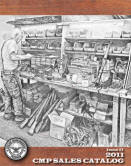 Download a CMP Sales
Catalog Today
---
National Match Air Rifle Marksmanship Competition

Camp Perry, Ohio
NOVEMBER 3, 2012

The Civilian Marksmanship Program (CMP) invites you to participate in the CMP's NMAR Match at the CMP's North Marksmanship Center. The competition will feature a National Match Air Rifle Garand
Course and Highpower 3x20 Course events. For more information, visit http://www.thecmp.org/
Competitions/NMAR.htm.
---
2012 Dixie Double
November 9-11, 2012

International Air Rifle & Pistol Competition
Anniston, Alabama

The Civilian Marksmanship Program (CMP) invites you to participate in its fourth annual Anniston Marksmanship Center Dixie Double. This match offers 60-shot international air rifle standing and 60-shot air pistol events for open men and women and junior men and women. USA Shooting is sanctioning this match as a PSA/PSI match sanctions; it is also sanctioned as a PTO.

http://www.odcmp.com/3P/
DixieDouble.htm
---
CMP Applications & Software

The CMP currently offers three Apps for shooting sports. Each download supports the Civilian Marksmanship Program. For more information, visit http://www.thecmp.org/
Comm/Apps.htm.
---
The Civilian Marksmanship Program (CMP) invites you and your club rifle team to participate in the CMP's Monthly Matches. The matches will take place on 20/27 Oct and 17 Nov at the CMP's Marksmanship Centers North and South. The competitions will feature a Junior Air Rifle 3x20, 60 Shots Air Rifle Standing, 60 Shots Air Pistol, a 20 shot Novice Prone stage a National Match Air Rifle 20 Shot Standing, Garand Course and 3x20 events. For more information, please visit http://www.TheCMP.org/3P/
MonthlyMatches.htm.
---
National Match Air Rifle is a new shooting discipline with something to offer all rifle shooters—NMAR offers three competition classes with real challenges for shooters of all ages and competitive interests. The CMP will hold Monthly NMAR matches at the CMP Marksmanship Centers. Please visit http://www.TheCMP.org
/Competitions/NMAR.htm for more information.



Grabowski and Cress Win Individual Championships at 2012 Gary Anderson Invitational 3P Air Rifle Event

ANNISTON, AL & CAMP PERRY, OH – Ariana Grabowski, 17, of Altoona, PA, won the 2012 Gary Anderson Invitational (GAI) precision air rifle class competition and Jacob Cress, 16, of Winthrop Harbor, IL, was the winner of the sporter division in the three-position match held simultaneously at the CMP's twin marksmanship centers in Alabama and Ohio on 1 December. Grabowski qualified with a 60-shot score of 591 and finished with 690.4 aggregate points to outlast Benjamin Estes, 17, of Ozark, MO, who claimed second place with a combined qualification and final score of 687.1. Estes fired the high final score of the precision class (102.1), but came up three points shy of Grabowski.

Christenson and Gratz Shine in Air Rifle as Brown and Pierson Win Air Pistol at Anniston's Dixie Double

ANNISTON, AL – Dempster Christenson, 22, of Sioux Falls, SD, grabbed the early lead in the open division of the fourth annual Dixie Double and never looked back, winning by 16 points over the next closest open division competitor, SPC Erin Lorenzen, U.S. Army. Elizabeth Gratz, 16, of Sigel, IL, won the junior division, leading both days and scoring high enough to place second among junior AND open shooters, which included a field of notable U.S. and international competitors.

Western CMP Games Heat Up after Cool Start in Phoenix

PHOENIX, ARIZONA – Several new shooters attended the ninth annual Western CMP Games at Ben Avery Shooting Facility, 13-16 October, helping boost the total number of games entries to 521 compared to 495 last year. The fast-growing Vintage Sniper Rifle Team Match helped swell the numbers, growing by an additional14 teams to a total of 40 compared to 2011.

USA Shooting President and Two-Time Olympic Gold Medalist Gary Anderson Receives IOC's Olympic Order

USA Shooting President and two-time Olympic gold medalist Gary Anderson (Oak Harbor, Ohio) was awarded the International Olympic Committee's (IOC) Olympic Order on Thursday. <! Nested Table for picture> International Shooting Sport Federation (ISSF) President and IOC member Olegario Vazquez Raña had the honor to award the IOC Olympic Order to Anderson during ISSF Meetings taking place in Alcapulco, Mexico, on behalf of IOC President Jacques Rogge.

Development of CMP's New Competition Tracker Will Expand Users' Ability to Update Profiles and Research Database


The Civilian Marksmanship Program recently rolled out elements of its new Competition Tracker database program, which will allows competitors and clubs to update their own information, enter matches, get results, view historic match records and more.

CMP Offers $1,000 Scholarships to Qualified High School Students Participating in Marksmanship

CAMP PERRY, OHIO - The Civilian Marksmanship Program is taking applications for its $1,000 annual college scholarship program, available to all graduating high school seniors who participate in rifle or pistol marksmanship competitions. <! Nested Table for picture> Last year the CMP awarded 59 scholarships to non-JROTC students. It was the first year of the CMP's expanded scholarship outreach program.