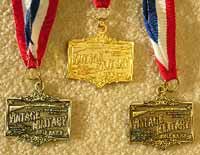 CMP Announces 2007 Achievement Medal Scores - One of the CMP's most popular award programs allows shooters in sanctioned CMP Games competitions to earn gold, silver and bronze Achievement Medals or Pins. CMP Games events are recreation-oriented shooting competitions that include the John C. Garand, Springfield, Vintage Military Rifle, M1 Carbine and Rimfire Sporter Matches. CMP Achievement Medals and Pins are awarded to all shooters who equal or exceed established Achievement Medal Scores. Score levels for these awards are established with the intent of enabling approximately 40% of all competitors to receive awards. New Achievement Medal Scores for 2007 have now been established and are shown in the chart.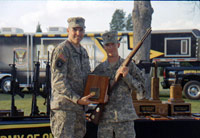 CMP ROTC Scholarship Recipient Tops Military Cadets in All-Army Matches - Each year, the CMP awards 100 $1000 scholarships to college ROTC cadets based on their leadership, academic and marksmanship accomplishments. Cadet Michael Mann, who is now a senior in Army ROTC at Virginia Tech has been a CMP ROTC Scholarship recipient each of the four years he has been in college. One week ago, Cadet Mann was one of two dozen military cadets who competed alongside 160 Active, Reserve and National Guard soldiers in the 2007 U. S. Army Small Arms Championship. In these service rifle and pistol competitions that took place at Fort Benning, Georgia on 5-12 March, Mann finished as the overall high scoring cadet. He also won a "leg" that counts towards being awarded the prestigious Distinguished Rifleman Badge.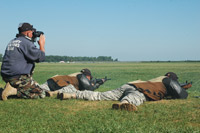 So you want to shoot Infantry Trophy? - By SFC Norman Anderson, USAMU Service Rifle Team Member - It is "that day;" the day when you can drink all the coffee you want; the day when it is okay and even encouraged to be pumped. This is the day when the command "Load and Be Ready" might just as well be "Gentlemen, Start Your Engines." It is a Coach, a Captain, six shooters, eight targets, four yard lines, 50 seconds at each yard line, 384 bullets and no alibis!! Once your team is called to the line, there is no looking back, so you had better be ready when you get there. Here's how to prepare yourself, your equipment and your teammates in order to make sure that you show up with your "A" game for this "spray and pray" event. First, a review is in order to cover all that the Infantry Trophy Team Match involves.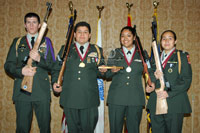 Western Region JROTC Championship - The numbers say it all for the Western Region JROTC Championship which took place this past weekend, 1-3 March, at the Olympic Training Center in Colorado Springs, CO. The 344 competitors were the largest number ever to fire in a single event at the Olympic Shooting Complex, and it took five relays on a 72 firing point range held over two days to accommodate everyone.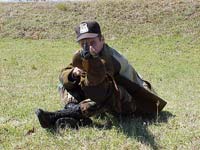 Crossed-Ankle Sitting Position - By SFC Grant Singley, USAMU Service Rifle Team Member - There are two primary variations of the sitting position that are used during Highpower competitions. The variations are crossed-ankled and crossed-legged. This article covers the crossed-ankled sitting position. You may want to try the crossed-ankled position if you have excessive pulse in the crossed-legged position and/or your body type prevents you from getting into the crossed-legged position. I would also like to say that all the cool people to include myself shoot the crossed-ankled position. Note: This article is written from a right-handed shooter's perspective.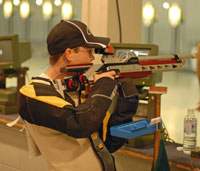 Eastern Region JROTC Championships - The Army Marksmanship Unit's air rifle range at Fort Benning, Georgia was filled to capacity with many of the best junior shooters in the country this past week. On 15-17 February, 275 JROTC cadets representing XX JROTC units from the Eastern part of the United States competed for honors in the Army, Marine Corps and Navy Eastern Region JROTC Air Rifle Championships.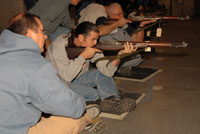 Master Instructor Course Completed at CMP South - The largest CMP Military Rifle Master Instructor Course so far took place at CMP South in Anniston, Alabama on 10-11 February. 41 students from 13 states attended the two-day training course designed to train and certify Master Instructors to teach CMP-sanctioned Garand-Springfield-Military Rifle Clinics at their home clubs and ranges. Course students came from as far away as Colorado, Illinois, Louisiana, Pennsylvania and Wisconsin. Large student delegations represented the Aurora Sportsmen's Club, Aurora, Illinois; the River Bend Gun Club, Roswell, Georgia and the Revolutionary War Veterans Association, Ramseur, North Carolina.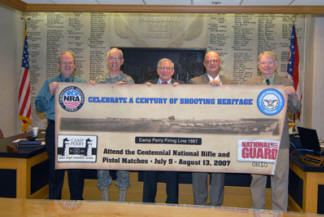 2007 National Matches Kick-Off - The 2007 National Matches will celebrate 100 years of National Matches at Camp Perry. On 8 February, in one of the first official acts involving this celebration, the Ohio National Guard's Fort Ohio Commander, Colonel Jim Chisman, and the Director of Civilian Marksmanship, Gary Anderson, presented a banner recognizing this significant anniversary to the Board of Commissioners of Ottawa County, Ohio.