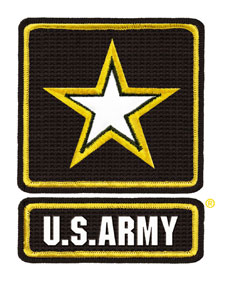 New U. S. Army Junior Air Rifle Postal Announced - Fort Benning, Georgia. The U. S. Army Accessions Command, which includes the U. S. Army Marksmanship Unit, announces the inauguration of a new national junior air rifle championship that is sponsored by the U. S. Army. The Army is actually taking over the sponsorship of a postal and national championship program that previously was sponsored by the National Guard Bureau. The program begins with a State Championship Postal competition that offers three-position air rifle sporter and precision standing events for school-age junior shooters. The match is open to teams and individuals representing any junior shooting team or club that wishes to enter. The culmination of the 2007 program will be a National Championship competition that will take place at the Army Marksmanship Unit ranges at Fort Benning in August.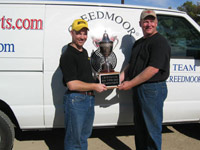 2006 Creedmoor Cup Matches - The 2006 Creedmoor Cup Matches took place 8-12 November 2006 at Camp Pendleton, CA. The matches were held in conjunction with the Western CMP Games and were conducted by Creedmoor Sports Inc. of Oceanside, California and the Santa Margarita Gun Club. Match entries were managed by the CMP through its Competition Tracker on-line results system; CMP staff members were at the match to statistical operations and post results on the CMP website.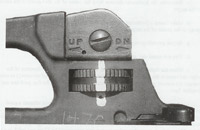 No-Wind Zero and Marking Your Sights - By SFC Jason St. John, USAMU Service Rifle Team Member - There is no question about it, to consistently hit the X-ring you need accurate elevation and windage zeros. These zeros change as you increase distance, and may possibly change as you gain experience. These changes are apparent in a well kept Data Book. To calculate your zeros, starting points are needed. You can establish starting points for your service rifle sights by marking them to give you a reference point for calculating your zeros.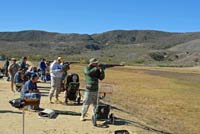 Western CMP Games Matches - Shooter entries were up at the 3rd Western CMP Games Matches that took place on 4-5 November 2006 at Camp Pendleton, California as over 200 competitors and clinic attendees participated in a full six days of training and competitions. The Western Games competitions, which were conducted by the CMP in cooperation with Creedmoor Sports Inc. and the Santa Margarita Gun Club, benefited from excellent weather and a smooth-running match organization. Competitors had plenty of opportunities to enjoy the camaraderie of CMP Games events, experience the challenges of firing World War I and II battle rifles in a unique series of rifle matches and take part in the gun buying and social activities that are part of these matches.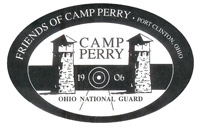 Friends of Camp Perry - If you live around Port Clinton, Ohio there is a good chance you are familiar with historic Camp Perry, which was established in 1903. Located just five miles west of Port Clinton on Hwy #2, Camp Perry is the home of the Civilian Marksmanship Program which hosts the National Matches along with the NRA and the Ohio National Guard. Camp Perry is also the home to the 200th RED HORSE Squadron and the Camp Perry Training Site Detachment, which manages the Camp and provides support to military and non-military users. The Friends of Camp Perry (FOCP), a non-profit support organization, can now add their name to the list of organizations housed on base year round.
Delaware - back for Gold after 29 years - By Charles L Fletcher - I drove in the pouring rain on Sunday, 27August 2006 starting at 5:30 AM heading to New Castle, Delaware to shoot the Delaware State Outdoor Pistol Championship and CMP EIC Leg match. Twice during my 133 mile drive to New Castle I seriously considered turning the car around and heading back home to my warm bed in NYC. But I said to myself, "keep going...keep going...maybe it will be less rainy down there...keep going...you never quit before…don't start now."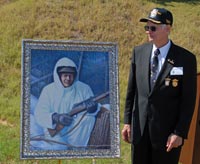 Krilling Range Dedicated at Fort Benning - A highly decorated war hero in the Korean War who subsequently became a national and international champion shooter and world-renowned rifle coach was honored at Fort Benning, Georgia, on 21 October, when a new combat pistol range was named in his honor.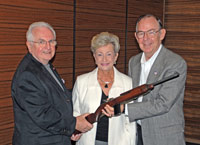 CMP Board Honors Retiring Inspector General - Minneapolis, MN. The CMP Board of Directors honored its retiring Inspector General, Brigadier General Wallace Green (ANG, Ret.), when it met in Minneapolis, Minnesota on 13 October 2006. General Green began serving as one of the CMP Board's two Inspector Generals in 1996, shortly after Congress privatized the Civilian Marksmanship Program. After serving in this position for ten years, General Green recently submitted his resignation so that he could spend more time pursuing family and other retirement interests.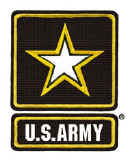 Don't Be "That Guy" - By SFC Norman Anderson, USAMU Service Rifle Team Member - You know the guy, he's still talking at the coffee jug when his preparation period begins, then his magazines aren't loaded when the command "Stand" is given, and finally, he doesn't know the rules when he argues with the block officer as his target comes up marked "9 and No." Although this guy might be the highlight of the "after match" activities, he is the proverbial bad apple on the firing line. With this example fresh in your mind, let's go over how not to be "that guy".