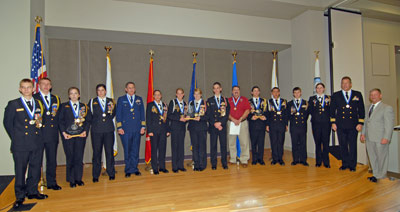 Eastern Region JROTC Championship - JROTC Rifle Shooting Continues to Grow - There could be no better proof of how much junior rifle shooting is growing in the USA than to see the signs of growth on display at the 2008 Eastern Region JROTC Air Rifle Championship. The Championship was conducted by the CMP on U. S. Army Marksmanship Unit facilities at Fort Benning, Georgia on 15-16 February.

Keep it Steady-The Elements of a Good Prone Position - Part 1-Building the Position - By SPC Matthew Sigrist - Imagine the following scenario: You are at the last stage of fire in the National Trophy Individual Match, firing at the 600 yard line in the prone position and every point matters. What should you reflect on as you prepare to shoot this final string? As your eyes cloud from sweat, you realize that all you have to rely on is your experience and knowledge of the fundamentals. During the National Trophy Individual Match, you will fire 60 percent of your shots from the prone position. This article will address the fundamentals of a good prone position and help you learn the techniques required to be successful in both the slow and rapid-fire stages of National Match competition.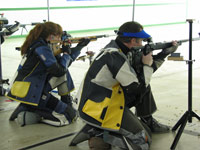 2008 Palmyra Invitational - The 9th Annual Palmyra Invitational took place over 12-13, 19-21 and 26-27 January 2008 at the Palmyra Sportsman's Association in Palmyra, PA. This smallbore and air rifle match has gained tremendous popularity in recent years attracting some of the top collegiate and junior shooters from across the country.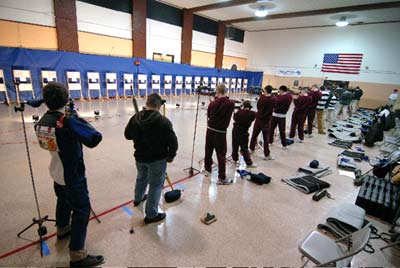 CMP Hosts 2nd Annual Camp Perry Junior Open - For the second year in a row CMP's newest three-position air rifle event, the Camp Perry Junior Open, was filled to capacity with juniors from different parts of the country. Travelers from as far away as Auburn, Alabama and Waukegan, Illinois made the trek to Camp Perry, Ohio, the home of CMP North, for the sanctioned precision and sporter air rifle match.

8th Annual SMGC/CMP "SNOW SHOOT" Vintage Rifle Match - The cold snowy weather didn't stop the diehard shooters from enjoying the friendly competition and supporting the M1 for Vets Program, which provides M1 Garand Rifles to disabled vets of the War in Iraq and Afghanistan. In all a total of 52 shooters participated in rifle match, along with 20 pistol shooters and 15 period dressed competitors, and over $1000 dollars was raised for the M1 for Vets Program.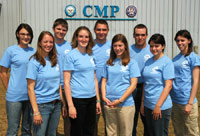 2008 Camp Counselor Announcement - The Civilian Marksmanship Program is seeking qualified individuals to fill counselor positions for its Three-Position Air Rifle Summer Camps. This premier program has a long established history of providing the highest quality air rifle instruction for high school athletes in the country.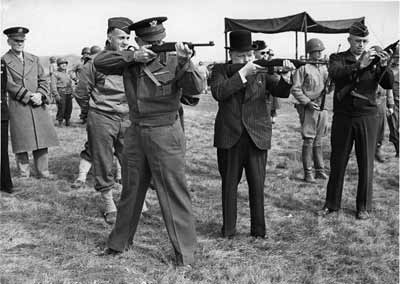 The First Allied Carbine Match? - A little-known sidelight in the history of the U.S. Cal. 30 M1 Carbine during WWII is an impromptu "Carbine Match" that was precipitated by Great Britain's Prime Minister Winston Churchill. He was an avid firearms enthusiast and owned several carbines, including a pre-production prototype.

Registration Opens for 2008 Eastern CMP Games and Creedmoor Cup Matches - In 2007 the Inaugural Eastern CMP Games and Creedmoor Cup Matches drew over 300 competitors to Camp Butner, North Carolina for the nine-day shooting event. The Eastern Games was modeled after the popular Western CMP Games and Creedmoor Cup Matches that have been held each Fall in the Western United States since 2004. This event is co-sponsored by the Civilian Marksmanship Program and Creedmoor Sports. North State Shooting Club (NSSC) hosts the event at their home range at Camp Butner, North Carolina, which is located north of Durham. The 2008 Eastern CMP Games will take place on 3-6 May, followed by the Creedmoor Cup Matches on 7-11 May.

Junior Smallbore Rifle Available Through Special Purchase Program - The CMP and Savage Arms Company have just announced a new special purchase program that makes the Savage Mark I-FVT junior smallbore rifles available to CMP-affiliated organizations sponsoring junior shooting activities. This program is part of a CMP effort to make it possible for more of its affiliated junior clubs and youth marksmanship programs to obtain the basic target shooting equipment they need to expand their programs and serve more youth with rifle instruction. The CMP tested numerous rifles that might fulfill this need and concluded that the Savage Mark I-FVT offers the best overall combination of features and price that make it especially suitable for junior training and entry-level competition.