The First Shot Archives
Listed By Date
2014

2013

2012

2011

2010

2009

2008

2007

2006

2005

2004

2003

2002

2001

DECEMBER 04
Do You Have Guns or Shooting Memorabilia You No Longer Want? A Donation to CMP Can Give New Life to Old Shooting Equipment - A new CMP donations program could be just what you are looking for if you have guns, shooting equipment or shooting sports memorabilia that you no longer want or if you have shooting related items you would like to share with your fellow shooters, especially if you can receive a tax deduction for donating them.
A Book Review - Marksmanship in the U.S. Army: A History of Medals, Shooting Programs and Training, By William K. Emerson - There is a saying in the shooting industry, "Shooters don't collect and collectors don't shoot." The means, supposedly, that true shooters are only interested in equipment that will help them hit their targets more accurately, while true collectors are not interested in shooting their guns because this could lessen their value. However, this is not entirely true. More and more, shooters are beginning to appreciate the history of their sport; many are becoming interested in researching and collecting memorabilia important to shooting's past.
CMP North Staff Spreads Christmas to Local Air National Guard Squadron - Six members of the 200th Red Horse Squadron deployed to Southwest Asia on December 15th, while another 172 await deployment in January, 2005. Their mission will involve several engineering and construction projects for the U.S. forces and their allies. Upon receiving word that Red Horse members would deploy shortly before and after the holiday season, members of the Civilian Marksmanship Program staff decided to do something special for Squadron members and the families they will leave behind for at least six months.
2004 Gary Anderson Invitational - Colorado, Indiana, New York, Texas, and Wyoming were just a few of the places competitors traveled from to compete in this years Gary Anderson Invitational at Fort Benning, Georgia. Juniors, Collegiates, and their families traveled from all over the country to participate in the event which was held over two weekends, November 19-21 and December 3-5, 2004. Over those two weekends the GAI had more than 200 competitors, down 150 shooters from initial registration due to the Navy and Army JROTC stand-downs. Despite the smaller numbers the event was full of excitement and close matches.
For Whom the Bell Rings: CMP Employees Ring the Bell for Charity - Besides the Christmas carols piped into every store in the United States, the most common sound a shopper hears from Thanksgiving until the New Year is the sound of a Salvation Army bell ringer stationed in front of grocery stores, department stores, malls and discount stores. Follow the sound and you will see the bellringer and the ubiquitous red kettle. Each year, this Christmas tradition of giving is found throughout the country. For the second year, the CMP staff has participated in this program. On Friday, December 3rd, CMP North employees took turns as Salvation Army bell ringers to give a little back to the people less fortunate than themselves.
From Small Beginnings: Montgomery Bell Academy Rifle Classic Continues as a Shining Example in Youth Marksmanship - The Montgomery Bell Academy Rifle Classic began very much like the school that plays host to it each year. Both began small and have grown to become premier examples in their fields. The Montgomery Bell Academy can trace its roots to 1867. The Rifle Classic, traces its roots back to a much more recent 1995. Nevertheless, since that time, the MBA Rifle Classic has become the herald of the beginning of the scholastic shooting season and a shining example of how scholastic marksmanship competitions should be conducted.
New York Juniors Featured in National Television Broadcast on Sport Shooting - (ALBANY) New York's champion junior rifle teams are featured on an upcoming nationally syndicated television show focused on teens. Teen Kid News (TKN) featured the New York teens in an effort to show how high-powered rifles are often used in sport.
New High School JROTC Range Has Electronic Targets - Enterprise High School in Enterprise, Alabama has become the first public school in the nation to have electronic air rifle target systems installed in their Army JROTC air rifle range.
Mike Anti, Olympic Silver Medalist Keynote Speaker at National Youth Shooting Sports Leadership Conference - Less than two months after the United States' successful showing at the Athens Olympics, the 2004 National Youth Shooting Sports Leadership Conference was full of Olympic excitement. The conference, hosted by the CMP and held in partnership with USA Shooting and the NRA, took place in October at Camp Perry, Ohio. It featured several Olympics-related presentations. One of the most compelling and challenging of those presentations was given by the conference keynote speaker 2004 Olympic Silver medalist Major Mike Anti, U. S. Army.
NOVEMBER 04
USOC Names Michael English as Director, Colorado Springs Olympic Training Center - COLORADO SPRINGS, Colo. – The United States Olympic Committee (USOC) recently named Michael D. English (Colorado Springs) as the Director of the Colorado Springs Olympic Training Center (CSOTC). English will direct the Center's overall training service functions and operations, including housing, transportation, training and meeting facilities, food services, and sports programming.
Showing Support: CMP Employees Give Back to U.S. Fighting Men and Women - CMP customers are always complimenting us on the efficiency and the speed of our shipping practices. It's one of the things the company prides itself on. Recently, some CMP employees began to ship some things other than rifles.
How to make a Kneeling Roll - A homemade pattern of a kneeling roll submitted by Nancy Jochum, Nebraska CMP State Junior Director.
Winchester Canyon Gun Club hosted 1st CMP Meet - The Winchester Canyon Gun Club, Santa Barbara, California, hosted its 1st CMP meet on October 23rd. The meet was held at the club's 100-yard outdoor rifle range from 9am to noon under sunny skies. Attending were five youth and seven adults.
Army Marksmanship Unit Inducts New Hall of Fame Members - More than 300 past and present Soldiers who were assigned to the U. S. Army Marksmanship Unit gathered at Fort Benning on 22-23 October to celebrate the 48th anniversary of the founding of the unit. Since its founding in 1956, pursuant to an executive order by President Dwight Eisenhower, the elite Army unit has led the United States back to prominence in international competition and has been the leading military marksmanship program during most of its 48 years of existence.
USA Shooting Names 2004 Athletes of the Year - USA Shooting announced that Kim Rhode of El Monte, California and Matt Emmons of Browns Mills, New Jersey, are its 2004 Athletes of the Year. These selections are determined according to which shooting athletes had the most outstanding performances in major international competitions during the year. The program of selecting Shooting Athletes of the Year is part of a U. S. Olympic Committee program that honors the overall most outstanding female and male athletes for all Olympic sports.
Eastern Nebraska Gun Club Makes a Difference - On October 23rd, the Eastern Nebraska Gun Club in Papillion, Nebraska recently held a match based on the course of fire for the CMP Games John C. Garand Match…however, there was one twist. While most clubs require some sort of entry fee to help cover range costs, the cost of targets and the cost of ammunition if it is provided, the guys at the Eastern Nebraska club did something different – they asked for toys.
OCTOBER 04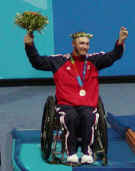 USA's Dan Jordan Wins Silver Medal at the 2004 Paralympics - First-time Paralympian Dan Jordan of Franktown, Colorado broke a 20-year U.S. medal drought in Paralympic shooting action today, clinching a silver medal in the Men's 3-Position Rifle event. Jordan's silver marks the first American Paralympic shooting medal since 1984.
Anti wins Olympic Silver in Three-Position Rifle Shooting - Maj. Michael Anti, a marksman in the U.S. Army World Class Athlete Program, won a silver medal Aug. 22 in men's 50-meter three-position rifle shooting in the 2004 Summer Olympic Games.
2004 National Youth Shooting Sports Leadership Conference - The 2004 National Youth Shooting Sports Leadership Conference took place at Camp Perry, Ohio on 8-10 October. The conference is a bi-annual affair with its companion, the National Shooting Sports Coaches Conference, taking place at Colorado Springs in odd-numbered years. This year's conference attracted 100 youth shooting leaders and coaches from around the country.
NGB Junior Shooters Enjoy Success at International Matches - Ten junior shooters from precision rifle clubs in Palmyra, Pennsylvania and Spokane, Washington represented the United States at the 12th Annual Junior International Match held at Bisley, England 10 – 13 August. The 6 females and 4 males, aged 13 to 18, had been among the top finishers at the junior championship hosted earlier in the year by the National Guard Marksmanship Training Unit.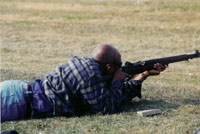 2004 National Youth Leadership John C. Garand Match - The National Youth Leadership Conference took place at Camp Perry the weekend of 8-11 October 2004. Many shooting sports leaders came to learn and exchange valuable information. One of the activities at the Youth Leadership Conference that attendees could participate in was the National Youth Leadership Garand Match.
SEPTEMBER 04
2004 John C. Garand Match Was A Sell-Out - Alfred Hitchcock's classic thriller, "The Birds" has given moviegoers the willies for decades since its debut in the 1960s. For competitors at Camp Perry shooting the John C. Garand Match on August 7th, the birds had an entirely different meaning. More accurately, it was one bird that caused anxiety for shooters and match officials. With Camp Perry's proximity to Lake Erie, it is a natural hunting and breeding ground for a number of hawks and eagles.
2004 Springfield and Military Bolt Rifle Match Sets Attendance Record - Each year for two days in August, fans of vintage military rifles take over the National Matches ranges at Camp Perry, Ohio in what has become the most popular two days of the matches. This year, the 3rd Annual Springfield and Military Bolt Rifle Match and the 6th Annual John C. Garand Match took place at Camp Perry, Ohio on August 6-7. They, were once again the biggest draws of the National Matches with a record 816 shooters entering the Springfield Match and 1401 shooters registering for the Garand Match.
CMP Employees Hang Yellow Ribbons for Deployed Troops - CMP employees took an hour out of their day on September 9th to converge on Oak Harbor and festoon the light poles and signs that line Water Street, the main street that passes through downtown Oak Harbor, the next town west from Camp Perry and the home of the 200th Red Horse Squadron. The yellow ribbons will remain as a symbol of the pride and appreciation that the local community has in the 200th Red Horse Squadron and as a wish for a quick and safe return of these men and women to their families, homes and country.
Junior Makes President's Rifle Match History - Chris Atkins, a 17-year-old junior from Brunswick, Georgia was the first junior and only the second civilian since 1976 to win the prestigious President's Rifle Match at Camp Perry.
National Trophy Rifle Matches: Even the Weather Can't Stop Them - Despite the weather at Camp Perry, the National Trophy Rifle Matches were a huge success. The Army Marksmanship Unit out-shined their competitors; they took top honors in both National Trophy Rifle Team Match events and Army Staff Sergeant won the National Trophy Rifle Individual Match.
New M-16 EIC Match Scores a Hit at Nationals - Since the CMP began adding new matches to the National Matches, the number of new shooters participating in highpower service rifle shooting has gone up significantly. Matches such as the John C. Garand Match, the Springfield and Military Bolt Rifle Match, as well as the Rimfire Sporter Match have become great attractions to the National Matches, bringing in shooters who previously were put off by the thought of competing at Camp Perry.
AUGUST 04
CMP Employee "Jailed" for Muscular Dystrophy Association - Recently, there was a slight disturbance at CMP South Headquarters in Anniston, Alabama. It seems that the Civilian Marksmanship Program had been harboring a person of questionable character for quite some time.
Marine Corps Junior Highpower Rifle Clinic
Developing Excellence through Education - Walking into the Marine Corps Junior Highpower Rifle Clinic, it was immediately apparent that things will be done only one way throughout the three days of the course…the Marine way. It is also immediately clear from the popularity of this annual junior clinic which starts the National Trophy Rifle Matches week that the young people who attend like doing things the Marine Corps way.
JULY 04
National Pistol Matches Close with Drama and New National Champions - As quick as the wind coming off of the water of Lake Erie, the first stage of the National Rifle and Pistol Matches at Camp Perry have drawn to a close. With the CMP National Trophy Pistol Matches, and the awards ceremony that followed, pistol shooters from all over the country departed Camp Perry and left it to the smallbore shooters who will gather here in the coming days…but not before new National Champion pistol shooters were crowned and trophies presented.
Pistol Competitor Killed in Tragic Accident
Returning Home from Camp Perry - In a community as large as the competitive shooting family that comes to the National Matches at Camp Perry every year, tragedies that strike one of their members are always hard to take. On Wednesday, July 21st, Ken Saucier, a pistol shooter, Seattle Police Officer and father, died in a single-car accident in Northern Idaho . Mr. Saucier was en route home to Seattle after attending the 2004 National Pistol Matches at Camp Perry .
Rimfire Sporter Story - For shooters new to the competition world, coming to Camp Perry can be daunting. Many think that you have to be a potential national champion to compete here. However, nothing could be farther from the truth. To encourage more people to try target shooting and come to the National Matches, the CMP created the Rimfire Sporter Match in 2002. On July 24th, 143 Rimfire Sporter shooters experienced why Camp Perry is considered one of the most challenging places to shoot in the United States – wind!
Camp Perry Eagles Update - The pair of eagles that nest on Camp Perry have become well-known to the shooters who come to the National Matches. Last year, the pair fledged two young eagles that frequently flew over the ranges and occasionally caused "cease fires" long enough for Camp Perry Range Operations staff to chase them out of harms way in the range impact areas. The Camp Perry eagles hatched one new eaglet this year that was banded by Ohio DNR Division of Wildlife staff on May 28, 2004. To see a series of photos and captions of the 2004 eagle banding at Camp Perry, click here.
Champion Marine Corps Marksman Launches 2nd Century of National Matches - Olympic silver medalist and many-time national champion Jim Hill was the guest of honor at the 2004 National Matches First Shot Ceremony on July 12 at Camp Perry, Ohio. Hill, a retired Marine, was invited by the CMP to be the First Shot Ceremony speaker and fire the ceremonial first shot that inaugurates each annual National Matches.
Nebraska 4-H Team Dominates Junior Olympic Sporter - The leading team in the 2004 National Junior Olympic Three-Position Air Rifle Championship was the Homestead 4-H Shooting Club from Beatrice Nebraska. The Nebraska team's rise to the top is part of a dramatic change in which parts of the country produce the best sporter class three-position air rifle shooters. Just two or three years ago, most winning sporter juniors hailed came from the southeast U. S. In the 2004 championship seven of the top eight individuals came from the Plains states of Nebraska, South Dakota , Kansas, Oklahoma and Minnesota , while only one came from a southern state, Louisiana .
Junior Olympic Precision Championship Heats Up in Corvette City - Bowling Green, Kentucky is best known for two things: being the home of the Chevrolet Corvette and the Western Kentucky University Hilltoppers. On July 13th, it became the center of the most important junior three-position air rifle competition in the United States as the National Junior Olympic Three-Position Air Rifle Championships came to a close.
Safari Club International Helps Many Youths Attend CMP El Paso Camp - Over 70 school-age campers attended the second CMP Junior Rifle Camp of the summer in El Paso, Texas. Many of those participating were able to do so due to the efforts of the local Paso Del Norte chapter of the Safari Club International who provided full scholarships for many campers in attendance.
First Shot Ceremony to Kick Off 2004 National Matches at Camp Perry - On July 12th, yet another chapter in the history of American competition marksmanship will begin with the First Shot Ceremony that has become the traditional beginning of the National Matches held each year at Camp Perry, Ohio. A marksmanship Mecca for thousands of competition shooters in the United States, Camp Perry has hosted this event since 1907. This year's First Shot will be fired by Jim Hill, one of the National Matches most respected champions.
2004 CMP Junior Rifle Camp Season Starts at Camp Perry - While for most young people in the U.S. summer brings images of baseball leagues, swimming classes, football and soccer camps and a myriad of outdoor adventure camps, summers also bring opportunities for youth to participate in shooting camps. The biggest and most popular shooting camps are the CMP Junior Three-Position Air Rifle Camps that take place in different locations throughout the summer. The first two of six 2004 CMP Junior Camps have now been completed.
JUNE 04
45th Annual Interservice Pistol Championship - The National Guard Marksmanship Training Unit hosted the 45th Annual Interservice Pistol Championship at Camp Robinson, Arkansas on 14-17 June 2004. Staff Sergeant James Henderson, U.S. Army Reserves, shot well throughout the long competition to achieve a new match record of 3536-184X in the Individual Championship Grand Aggregate. The U.S. Army Blue Team was the leading team; they won three of the four team events and the Overall Team Aggregate.
Pennsylvania and Nebraska Teams Win National Guard Junior Championship Titles - The 2004 National Championship took place at Camp Joseph T. Robinson, North Little Rock, Arkansas on 9-12 June. The National Guard Bureau Junior Air Rifle National Championship is one of the major annual three-position air rifle national championships now available to school-age junior shooters throughout the nation. To compete in the championship, teams must qualify through a postal competition that takes place in the months of January through March; 156 teams and nearly 1,300 individual juniors fired in that phase of the 2004 competition.
Summer Shooting Opportunities for Juniors - For many junior shooters, summer is the time to take a break from shooting. But for many other juniors, summer offers some of the best and most rewarding shooting opportunities of the whole year. Summer can be a time for national championships, junior shooting camps and several national junior invitational competitions. Without the time demands of school work, summer vacation periods offer more time to do extra training and have time to travel to other parts of the country to compete in the most important championships of the whole year. All of these opportunities can combine to raise shooting scores to a higher level and let young shooters experience some of the most enjoyable experiences in shooting.
MAY 04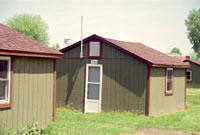 Camp Perry Improvements - Shooters who come to Camp Perry this summer for the National Matches will see lots of new improvements. This First Shot On-Line article tells about new Camp Perry roads, rebuilt huts and modules and a new CMP commitment to keep the National Trophy Matches at Camp Perry for many years in the future.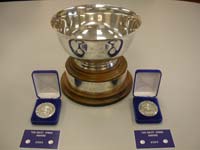 Guns of the National Matches Wins Major Award - The Guns of the National Matches display that was seen by 4,000 competitors during the 2003 Centennial National Matches was recreated for the 2004 NRA Convention. There the display was not only seen by many of the 61,000 convention visitors, but it won the NRA Gun Collectors Trophy awarded annually to the most outstanding display in the show.

CMP ROTC Scholarship Winners Announced

- Each year the CMP cooperates with the Army, Navy and Marine Corps cadet commands to award up to 100 one thousand dollar college scholarships to high school and college students who demonstrate outstanding academic, leadership and rifle marksmanship qualifications. The complete list of 2004-2005 scholarship winners is published in this edition of The First Shot On-Line.

Junior Distinguished Shooter Number One Awards New Junior Distinguished Badges - When PFC Brandon Green graduated from Bogalusa , Louisiana High School in the spring of 2003, he had become one of the most successful three-position air rifle shooters in the country. In March 2004, after completing U. S. Army basic and advanced individual training, he reported to Fort Benning as a new member of the U. S. Army Rifle Team. He arrived at Fort Benning during the 2004 National JROTC Championship where, as the first junior shooter to earn the Junior Distinguished Badge, he was invited present new Junior Distinguished Badges to two of the most recent juniors to go Distinguished. Click on "More Details" below to read The First Shot story on Brandon Green and the increasingly prestigious Junior Distinguished Badge Program.

West Virginia University Reinstates Rifle Program - In spite of having the most successful college rifle team in the country, the President of West Virginia University decided to cut the rifle team for what was described as budgetary reasons in the spring of 2003. This decision led to a public outcry among the media and public in the State of West Virginia . Now, one year later, the West Virginia Legislature and Governor have led an effort to reinstate the WVU Rifle Team. Click on "More Details" to read The First Shot report on this unprecedented action and current efforts by West Virginia citizens to raise funds to secure the future of this fabled program.

APR 04

Sniper School Comes to Iraq - For the first time since 1968, a sniper school was held on foreign soil during combat. The National Guard Marksmanship Training Center sent the cadre of its sniper course instructors to northern Iraq to train the soldiers of the 101st Airborne Division (Air Assault) in skills that have proven to be useful during combat operations.

Members from Boy Scout Troops 313 & 322 Earn Rifle Merit Badges - Members of Boy Scout Troops 313 and 322 of Greenville, Texas participated in rifle shooting in order to earn their Rifle Merit Badge.
National JROTC Air Rifle Championship - With calls of "Pull!" and the distinctive clap of shotgun fire on the range next door, and the crack of military rifles in the distance, young shooters from all over the country and one American high school team from Germany converged on Ft. Benning, Georgia's Pool Range Complex to vie for team and individual honors in the 2nd National JROTC Air Rifle National Championship.
Navy JROTC Air Rifle Championship - March 22nd and 23rd saw the Navy establish a unique presence at Ft. Benning, Georgia. As most readers know, Ft. Benning is one of the largest and most active Army bases in the United States. As the home of the U. S. Army Marksmanship Unit, it has some of the finest shooting facilities in the country. It was these facilities that brought the best Navy JROTC air rifle shooters from around the country to compete for Navy JROTC Championship.
MAR 04
2004 Army JROTC Regional Three Position Championships – In February, the best Army JROTC rifle shooters in the country converged on the Pool Range at Ft. Benning, Georgia and the U.S. Shooting Complex in Colorado Springs, Colorado to compete in the first-ever Army JROTC Eastern and Western Region Championships and to decide who would earn the honor of representing Army JROTC in the National JROTC at Ft. Benning later this month.
GAI Match Report - The Gary Anderson Invitational three-position air rifle championship that is now hosted by the Wolf Creek Young Shooters Association at Fort Benning, Georgia is one of the two largest junior rifle competitions in the country. The 2003 GAI competition took place at the USAMU Pool Complex ranges on 21-23 November and 5-6 December.
CMP Pairs Clinic in Pennsylvania - CMP Director Gary Anderson conducted a two and one-half day "Pairs Clinic" at the Palmyra Sportsmen's Association.
JAN 04
Hawaii State Championships Go To Lancers and Saints: Sacred Hearts High School girls and Saint Louis High School boys continue to dominate Hawaii High School Athletic Association air riflery. The two schools won the Civilian Marksmanship Program-sponsored Hawaii State High School Boys and Girls State Air Rifle Championships in November.

Rimfire Sporter is Growing: The CMP introduced Rimfire Sporter in 2002 as a new recreation-oriented target event. It continues to gain recognition as a great game for shooters who own smallbore plinkers and smallgame rifles, but who have little or no formal target experience.

National Guard Junior Nationals--Every Event Was A Cliff-Hanger--Three Teams Tied for a Trip to England: The National Guard Bureau Junior Position Air Rifle Championship at Ashley High School in Wilmington, North Carolina was the last of the 2003 "Triad" championships. It was held on June 24-28. National Guard competition began with postal matches in the first three months of the year. The top ten "state champion" teams in sporter three-position and the top ten state champion teams in precision standing qualified for the nationals in Wilmington.

The 2003 National Matches were the biggest since 1990: Over 3800 Marines, Soldiers, Sailors, Airmen and civilians, young and old, men and women, competed in this year's National Trophy matches or participated in its Small Arms Firing Schools and clinics. Hundreds more competed in the NRA National Championships that are also part of the National Matches. Their efforts to learn new skills in the schools and clinics or to demonstrate their marksmanship skills in the competitions surely exemplified what President Roosevelt intended when he spoke of encouraging rifle practice.

South Dakota and Nebraska Juniors Win Olympic Sporter Titles: The 2004 Junior Olympic Championship was the second of a "triad" of junior championships staged at Wilmington, North Carolina's Ashley High School during the last two weeks of June. The Junior Olympics began with sporter class competition and concluded the following week with its precision air rifle phase.

How Has the Civilian Marksmanship Program Benefited the Community? This article was sent to us by Kyle Phillips, an eight grader at Stockbridge Middle School in Stockbridge, Georgia. We at the CMP applaud Kyle's interest in scholarship and research on the CMP. Through grassroots efforts such as Kyle's, word about the CMP and its mission is being spread in many unexpected ways. Thank you Kyle for your interest in the CMP and helping to tell others about our efforts to promote youth marksmanship and firearms safety throughout the United States!

USAMU Firearms Shop Chief Honored with Meritorious Civilian Service Award: FORT BENNING, Georgia; November 2003 – William O. Harden, a civilian employee with the U.S. Army Marksmanship Unit, was recently awarded the Meritorious Civilian Service Award for his part in the war against terrorism. This prestigious award is the equivalent to a military Legion of Merit. Harden is the Chief of the USAMU Custom Firearms Shop. For the past five years, he also has served as USAMU's director of the pistol and rifle Small Arms Firing Schools at Camp Perry. Lt. General Dennis Cavin, Commanding General, U.S. Army Accessions Command at Fort Monroe, Virginia, presented the award to Harden when General Cavin and USAAC Command Sgt. Maj. Perry L. Roberts visited USAMU's Easley Range at Fort Benning on November 20th.

CMP News: Check out the latest news from the CMP.